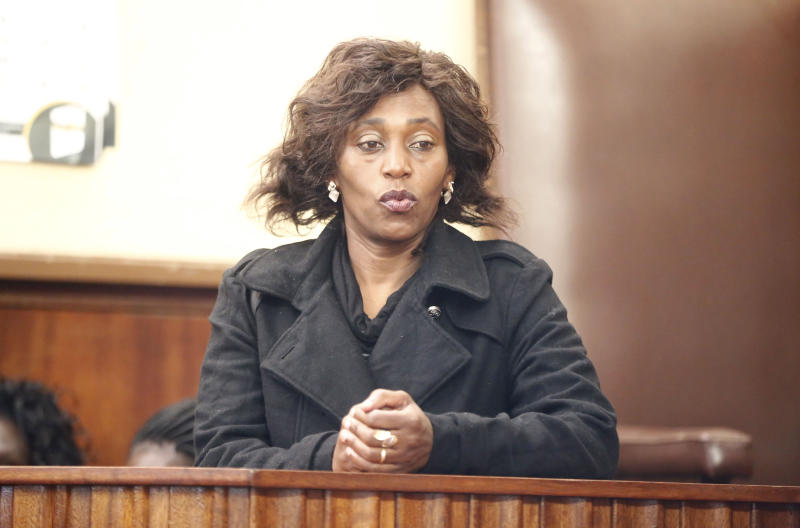 A former school principal is staring at life imprisonment after being found guilty of masterminding the murder of her husband in 2016.
Jane Muthoni, formerly the principal of Icaciri Girls Secondary School, was yesterday found guilty of murder and conspiracy to commit murder, in the death of her husband, Solomon Mwangi, who was the principal of Kiru High School in Nyeri County.
Nakuru High Court Judge Justice Joel Ngugi observed that although Muthoni did not commit the murder herself, she was the mastermind of the killing that occurred between November 6 and 11, 2016.
"It is true that the first accused person (Muthoni) did not physically strangle the deceased leading to the asphyxiation that ultimately killed the deceased. However, the evidence has demonstrated that the first accused person was the author of the plot," he stated.
The sentence hearing is scheduled for May 18.
The plot to eliminate Mwangi started sometime in June 2016 when Muthoni sought the services of Joseph Kariuki, one of the suspects who later became a prosecution witness following a plea-bargain deal.
On November 4, 2016, a woman only identified as Damaris called Kariuki with a 'job' offer.
According to the judgement, Kariuki recruited two other people – Nelson Njiru and Isaac Ng'ang'a – to carry out the murder. Njiru disappeared shortly after Muthoni, Kariuki and Ng'ang'a were arrested.
Kariuki gave a blow-by-blow account of how they planned and executed the murder. He was sentenced to seven years for manslaughter.
He testified that he recruited Njiru and Ng'ang'a on behalf of Muthoni who was ready to pay for their services. The trio were paid Sh50,000 in advance with the balance to be settled when the killing was done.
Having an affair
Kariuki testified that Muthoni suspected her husband of having an affair with a woman who was referred to in court as MWK (or M-Pesa Lady). The plan was to eliminate Mwangi's lover and then kill him.
Justice Ngugi relied on 18 short text messages between Muthoni and Njiru adduced as evidence to conclude that Muthoni had masterminded her husband's murder.
Two experts, Sergeant Faisal Juma, an officer attached to Safaricom Limited, and Vincent Mbaabu, a security liaison officer at Airtel Kenya, played a crucial role in unearthing the elaborate scheme to kill Mwangi.
As part of their testimony, they produced data for phones registered in the names of Kariuki, Njiru and Mwangi.
Juma showed that Mwangi's mobile phone number was linked to two lines registered in Muthoni's name, and one line registered to Njiru. Mbaabu produced data from two mobile phone numbers registered to Kariuki and Ng'ang'a.
Faisal and Mbaabu testified that call data can be used to not only trace the people a subscriber communicates with, but also identify their location by looking at the cell towers that processed the cell phone signals.
Regarding the events of November 4, data from the six mobile phones showed that Kariuki spoke with Ng'ang'a six times between 8.43am and 3.08pm.
Between 9.10am and 5.12pm, Kariuki spoke with Njiru 14 times. There was a lull in communication between the two until 9.02pm when Njiru called Kariuki.
Between 9.12am and 7.54pm, Njiru had at least seven phone conversations with Muthoni. He also called her on her second line at 7pm. Njiru later called Ng'ang'a at 8.21pm. The next day, Njiru exchanged at least 18 SMS with Muthoni between 11.58pm and 1.03pm.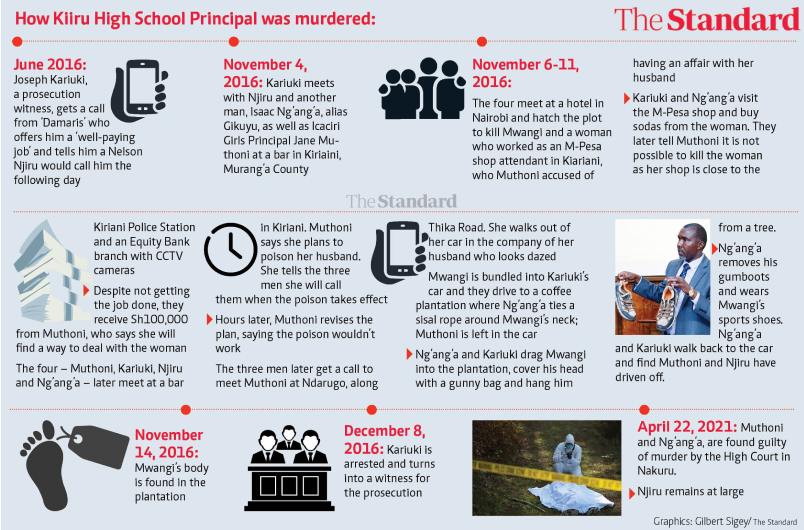 Kariuki's Airtel line also showed his movement on the evening of November 4. At 5.29pm, he was in Ruiru in Kiambu County, which as about 95 kilometres from Kiriaini.
At 6.46pm, Kariuki was in Saba Saba in Murang'a County near Makuyu and 56 kilometres from Kiriaini.
At 7.18pm, he was in Muranga town and about 38 kilometres from Kiriaini. At 8.40pm, he was in Gekoe near Gakuya, which is about 25 kilometres from Kiriaini.
At 8.52pm, Kariuki was in Gatuya and 25 kilometres from Kiriaini. At 2:12am, on November 5, he was in Tumu Tumu and about 32 kilometres from Kiriaini. At 6:15am he was in Murera.
Ng'ang'a's Airtel line showed that that between 7.22pm and 7.43pm on November 4, he was in Muranga town. At 8.08pm he was in Mugeka, which is about 25 kilometres from Kiriani. At 8.21pm, he was in Gatuya, which is also about 25 kilometres from Kiriaini.
At 8.21pm he was around Kanunga and 20 kilometres from Kiriaini. At 8.46pm he was around Gekoe and at 6.14am the next day he was in Kalimoni along Kenyatta Road in Kiambu.
Muthoni's Safaricom line showed that at 8.34pm on November 4, she was in Kabati in Murang'a. At 8.43pm she was in Saba Saba and at 10.34pm she was in Kiria-ini.
Njiru's Safaricom line showed that he was in Kabati at 8.34pm. At 9.05pm he was around Makuyu; at 9.52pm he was in Gekoe; and between 10.09pm and 10.31pm he was around Kiria-ini. Between 10.32pm and 1.03am, Njiru was around the Gekoe-Gitugu area. By 2.15am Njiru was in Othaya, Nyeri. By 6.55am he was back in Gatundu, Kiambu.
Regarding the events of November 6, phone data produced in court showed that Mwangi received a call from Muthoni at 1.53pm and 1.54pm. They were both in the Witeithie-Ngoingwa area near Thika.
On the same day, Kariuki had at least 35 phone conversations with Njiru between 8.13am and 9.24pm. Kariuki later called Ng'ang'a about 24 times between 11.54am and 3.31pm. Kariuki also spoke to Muthoni eight times between 1.45pm and 2.32pm. Njiru called Muthoni at least 20 times between 8.08am and 4.12pm. He also made two calls to Ng'ang'a at 9.07am and 9.21pm.
"The data for Njiru's phone and that of the 1st accused person (Muthoni) further shows that the two communicated before November 4, and November 6 no less than 200 times on both voice calls and SMS messages," read the judgment in part.
Inspector Clement Mwangi, a detective, said analysis showed there was 'persistent' communication between Njiru and Muthoni between 11.58 pm on November 4 and 1.03am on November 5. The officer said Muthoni was at her husband's home at Kiru Boys Secondary School and claimed she had a bad headache due to the side-effects of medication.
The 18 short messages exchanged between the two, Inspector Mwangi said, were evidence that there was a conspiracy between Njiru and Muthoni. The officer said the pattern of communication showed that after Njiru communicated with Muthoni, he would immediately communicate with Kariuki and Ng'ang'a.
"On November 6 at 4.02 pm, the 1st accused person (Muthoni) received an SMS which shows that she was at Mukurwe shopping centre, which is barely 500 metres from the scene where the body was found. This, Detective Mwangi said, was evidence of opportunity," read the judgment.
The court noted that phone call log data placed Kariuki and Ng'ang'a at the same place near Karakuta Coffee Estate on November 6. A pair of shoes found in Ng'ang'a's possession placed him at the scene of the murder. The khat dealer, however, said the arresting officer had taken away his shoes.
Kariuki, the prosecution witness, had confessed that after they killed Mwangi, Ng'ang'a had removed the principal's shoes and worn them.
Bernard Karugia, a sports gear supplier, testified that he sold Mwangi a pair of shoes labelled CAT. He identified the shoes that were produced as evidence.
"This is the same pair of shoes that the 2nd accused person (Ng'ang'a) had on when he was arrested. The shoes were of the brand CAT," read part of the 78-page judgment.
Justice Ngugi said that after analysing the evidence, the court made a finding that Mwangi was killed on November 6 at Karakuta. He said the killing was instigated by Muthoni, and that Ng'ang'a caused the killing pursuant to an agreement between them.
"That the killing of the deceased was principally instigated by the 1st accused person who procured the 2nd accused person (and PW4) to execute the homicide pursuant to an agreement where the 1st accused person promised to pay the two for the killing," read the judgment.
Related Topics