Woman denies killing spouse for Sh10m loan he had taken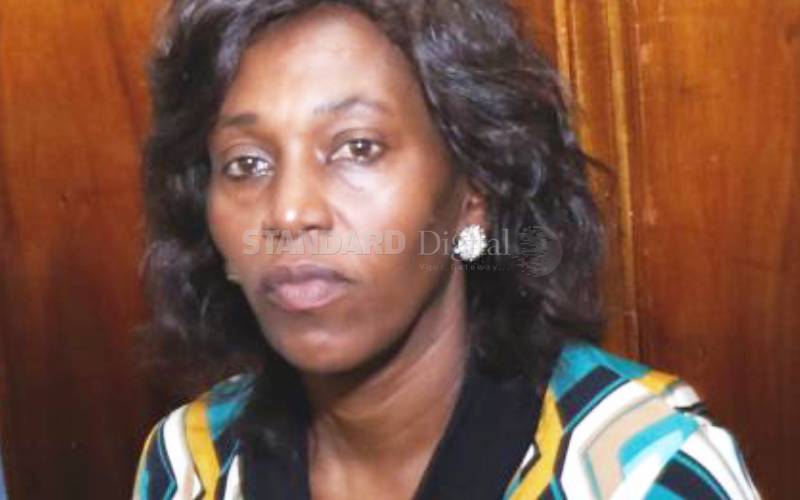 A woman standing trial for the murder of her husband has denied delivering him to his killers.
Jane Muthoni, the widow of Kiru Boys High School principal Solomon Mwangi, denied claims that she participated or planned the killing of her husband as claimed by the prosecution.
In the second day of her defense hearing before Justice Joel Ngugi, Muthoni broke down in tears as she gave an account of the events surrounding her husband's disappearance and death.
She said that she learnt Mwangi was missing from the Murang'a sub-county director of education on November 7, 2016.
"The education official called me at around 7am to inquire why my husband had not reported to the examination centre to pick up exam papers. The sub-county education director then went to Kiru Boys and broke into his house, but he was nowhere to be found," said the widow.
Muthoni testified that she had last seen her husband on the weekend of November 5 and 6, 2016. "I was in the company of our three children and house-help on that Sunday. Mwangi bade us goodbye and went back to work in Murang'a."
The widow told the court that they had stopped calling each other after discovering their phones had been hacked. Instead, she said, they used to communicate using messaging apps such as WhatsApp and IMO.
Phone signal
She also said that detectives from the Directorate of Criminal Investigations had told her that a signal from Mwangi's mobile phone had been picked up at Kiriaini area at around 8.40pm on Sunday.
Muthoni claimed that her family helped to search for her husband but only one in-law took part in the exercise.
Recounting her movements on the day Mwangi was reported missing, the accused said that the chairman of Kiru Boys accompanied her to the CID department of the Kasarani Police Station where she filed a missing person's report.
They later drove to the Thika mortuary after receiving a call that a body had been found and she was required to identify it. It later turned out that it wasn't her husband.
Muthoni said that she filed another report at the Ruiru CID office and was directed to the Gatundu Police Station where she also reported that her husband was missing.
The widow told the court that she also stopped at Mukurwe on her way back to their home in Gatundu. "On November 8, I was also at Mukurwe, a place I frequently visited to pick traditional vegetables. I was never near the place where my husband's body was found."
Muthoni said that word soon started spreading that she had killed Mwangi so that she could benefit from a Sh10 million loan he had taken.
"I received a phone call from the secretary of Murang'a Woman Representative Sabina Chege who said that she had heard rumors about me killing Mwangi. The lady told me that some principals were questioning why I had reported my husband's disappearance at the Kasarani Police Station."
Muthoni told the court that word had also gone round that she had had an affair with a CID officer who she wanted to use to kill Mwangi.
"The officer in question is Nelson Njiru, who was a supplier not only in the school I managed but also Kiru Boys, where my husband taught," she said.
She added: "I communicated with Njiru using my husband's number, which I had inserted in his laptop, from 11pm to 1am on the night of November 5 and 6. I would also chat with him using my number to inquire about the Internet."
Muthoni's defense hearing resumes on March 18 and 19 at the Kiambu Law Court.