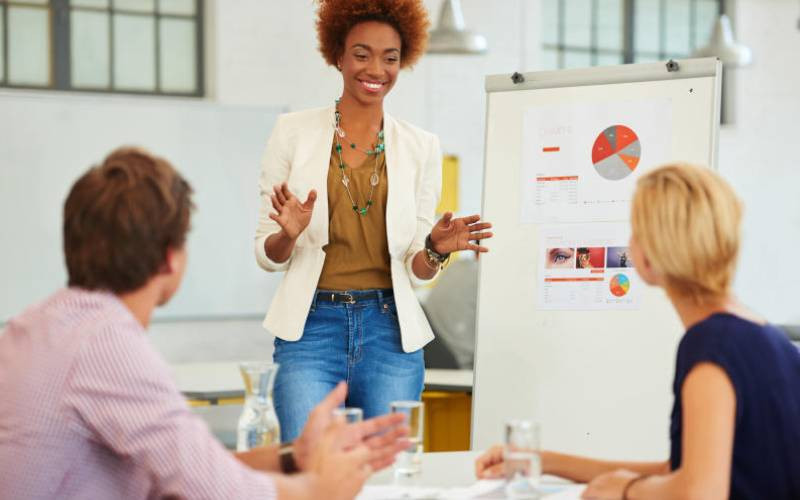 In the ever-evolving landscape of modern business, women are not merely breaking through the glass ceiling, but reshaping the foundations of leadership.
However, only a handful make it up to the top of corporate Kenya. Less than 10 of the 62 companies listed on the Nairobi Stock Exchange are women-led.
Why don't more women get that number one job?
According to Prof Hazel Gachunga, a certified change leadership consultant and practitioner, women missing in the C-suite is not unique to Kenya; it is a global phenomenon.
"There are few women in senior leadership positions as compared to the number of women in formal employment. This runs to the board level," she says.
Prof Hazel also brings attention to a new way of thinking, introduced by James Kouzes and Barry Posner in their book The Leadership Challenge, which posits that "leadership is everyone's business."
In light of this, the urgency to increase the number of women in corporate leadership is evident, but where exactly are women going wrong? Could the unconscious biases and outright discrimination be derailing many women's race to the top?
TEN-YEAR SPRINT
Prof Hazel says the timing could also play a key role in women's likelihood of reaching the corner office. For anyone aiming for a position at the C-suite level, the first 10 years of their careers will determine whether they achieve this goal or not as the chances decline after that.
"Women should begin working to occupy senior management positions from early in their careers. Leadership foundations are best established early on in life," she adds.
This sentiment is bolstered by Karin Kimbrough, Chief Economist at LinkedIn, who conducted the research into the 10-year window to leadership.
The study found that women who embark on the journey to leadership within the first 10 years of their careers are more likely to attain those positions. Kimbrough's findings indicate that women who wait longer face higher hurdles, often attributed to entrenched biases and barriers.
Ruth Wanjugu's journey to becoming General Manager, of Human Resources at Dimension Data, East Africa, mirrors this concept of the 10-year sprint.
"I was an outstanding performer throughout my career and therefore when promotions came, it was easier for me to gain the confidence of the senior leadership that I could take on the role," she says.
Her experience underscores the value of early exceptionalism, as it paves the way for future leadership.
While the 10-year sprint holds promise, it is important to acknowledge the pros and cons of this path. Prof Hazel elaborates on the factors that contribute to gaining leadership positions, including exposure, availability, and networks.
She also highlights the challenge faced by women who are simultaneously establishing families during their early careers.
However, the benefits of early leadership aspirations are backed by research. According to Gallup, gender diversity in corporate leadership leads to better financial outcomes.
McKinsey & Company's study adds weight to this, revealing that companies with gender-diverse executive teams tend to have above-average profitability.
The challenges women face in the pursuit of leadership roles are not confined to external barriers. Self-doubt can be just as formidable an obstacle. Prof. Hazel believes that fostering self-belief is paramount.
She also underscores the importance of women becoming outspoken about their aspirations, finding role models to guide the way, and dispelling self-limiting beliefs that can hold them back.
"The impostor syndrome is real for many women," she says, adding that it is a common hurdle women face as they strive to break through.
Ruth's advice aligns with this approach, emphasising that women should "put in the work without thinking of the obstacles. Let your work speak for itself and you can get to the senior position out of merit."
In a world where the climb can look steep, their voices inspire and urge young women to stay the course, fostering a sense of camaraderie and empowerment.
Whether men and women exhibit markedly different leadership styles has intrigued researchers for decades.
Kimbrough's research echoes Prof. Hazel's perspective: "Men and women do not have very significantly different styles of leadership." Kimbrough's findings indicate that while differences exist, they are nuanced, with communication styles being a focal point.
Women are often heralded for their collaborative, participatory approaches, while men tend to adopt task-oriented methods.
ROLE OF MEN
In the quest for gender equality, the role of male colleagues and leaders is instrumental. Kimbrough's research highlights the importance of male allies in promoting women's leadership.
Ruth, too, stresses the significance of male participation. At Dimension Data, a programme called "Women Mentorship" was initiated by male senior leaders to help aspiring women ascend to senior leadership positions.
This programme has successfully propelled many women into leadership roles throughout the Middle East and Africa, signalling a tangible shift toward gender diversity.
Both Prof. Hazel and Ruth agree that mentorship plays a pivotal role in their leadership journeys. The guidance of a senior female leader influenced Ruth's trajectory.
"She saw my potential and when an opportunity arose, she put my name forward and held my hand as I navigated my way into the leadership role," she says. It is a testament to the power of mentorship in not only shaping careers but also paving the path to leadership.
Both experts provide invaluable insights when asked about the essential skills and attributes women should develop.
Prof Hazel emphasises the importance of self-awareness, communication with influence, and the building of a robust network.
Ruth narrows it down to "integrity, dependability, boldness, and hard work."
Their shared perspective underscores that these attributes transcend gender boundaries, serving as the bedrock of effective leadership.
MOTHERHOOD AND LEADERSHIP
However, the motherhood penalty, an unfortunate reality, has been a significant hurdle for women aspiring to leadership roles.
Prof Hazel's sentiments align with Kimbrough's research, highlighting the disparity faced by women who choose to embrace motherhood and leadership.
"There is no reason why organisations should discriminate against women who have taken career breaks to bring up children," she says.
Ruth, having experienced this penalty herself, underscores the importance of speaking out and catalysing change.
However, even with such unconscious biases, Prof Hazel says women sometimes self-sabotage their careers. She cites self-limiting beliefs and the fear of taking risks as common pitfalls.
To avoid such missteps, she says women should cultivate a growth mindset, think big, and find their sense of purpose. With this in mind, women can overcome self-doubt and push their boundaries.
"Leadership is about taking risks without always knowing what the outcomes will be, but believing they will be positive," she says.
Self-awareness also plays a pivotal role. "Lack of self-awareness is also self-sabotaging, as sometimes women do not know their strengths and weaknesses," says Prof Hazel.
This is where mentorship and coaching can be transformative, helping women identify and overcome their limitations. It is about having the courage to step forward, embracing challenges, and embracing their full potential.
According to Prof Hazel, the journey to leadership for women is no mere sprint — it is an intricate marathon requiring strategy, resilience, and a supportive ecosystem.
As the corporate world evolves, she says, women must realise their potential and redefine leadership. The first 10 years of a woman's career journey are not just a sprint, but a foundation for the future.
Kimbrough's research underlines the critical importance of this foundation, showing that the earlier women embark on the journey to leadership, the greater their chances of success.
The 10-year sprint school of thought might make women's path to leadership roles appear bleak, but experts remain optimistic that the corporate world is becoming more aware of what women bring to the table when given a chance to lead.
Related Topics