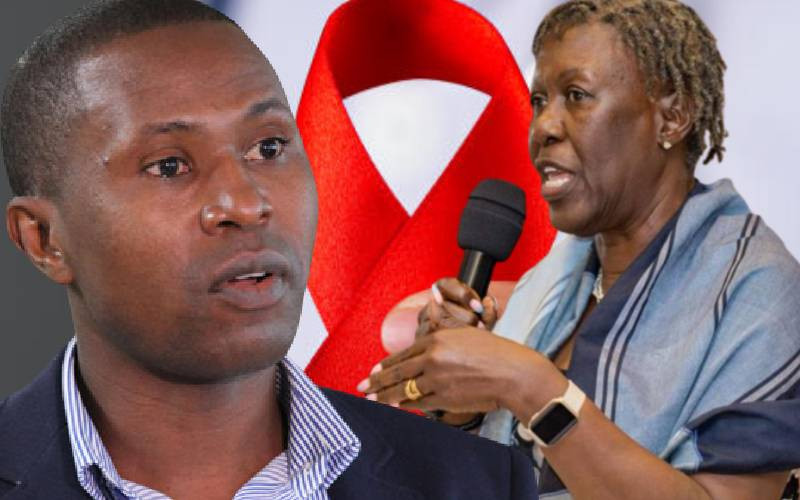 Dorothy Onyango the CEO of Women Living with HIV in Kenya, now 66 years old, was diagnosed with HIV in 1990, at the time there was no medication and stigma was high.
"Those 33 years ago you could not talk publicly about HIV. We used to meet secretly as women with HIV to talk about challenges we were facing, there was no medication then, and those that came along were expensive"
The first case of HIV was reported in Kenya in 1984. For those who tested positive, their days were numbered.
Many had to bear the brunt of stigma, and isolation from family and friends. Most children became orphans, and women were widowed.
But there is a group of people who were diagnosed with the disease in the early 90s, lived the challenges, and are now aging with the virus.
Ms Onyango lived for 15 years without any medication surviving on trials and errors that people came up with.
"Out of desperation, I took anything I was told could cure HIV. I took Kemron, Palm Omega, and at some point, I took my urine. I attended a meeting in Japan and some Indian said that he takes his first urine in the morning, after coming back I tried taking my urine twice or thrice but I couldn't," she says adding that she even participated in a study where they used to take Septrin to avoid opportunistic diseases and chest infections like pneumonia.
After a long struggle, she and other women confronted the then-health CS advocating for the availability of affordable drugs to those living with HIV.
" I am glad now that health facilities have comprehensive care including psychosocial support for those living with HIV, at WOFAK we have empowered a lot of women to continue living positively"
She has lived half of her life with HIV and she says she feels younger and more energetic than before.
Caren Wambui Omanga from Limuru is 58 years old. She is married and a mother of six. She had no signs or symptoms of HIV but decided to go for testing in 2004, and her life took a surprising turn.
"I was found positive but I didn't tell anyone. I was in denial and did five more tests until 2006 when I started my medication," Ms Omanga says.
She says it was not an easy journey, especially for a mother like her as she kept thinking about what would happen to her children if she wasn't there.
"Those days HIV was like a death sentence but I am glad that since I started medication, all has been well. I now have grandchildren," she says.
Ms Omanga says that just like other ageing persons who get complications with their health, those living with HIV are not spared as they are prone to non-communicable diseases.
"Diseases like hypertension and hypotension are common among those ageing with HIV. I am now wearing glasses, so for those ageing with HIV, their eyesight gets affected. Ageing lowers one's immunity and if you don't adhere to your medication then your immunity will be compromised too," she says.
She explains that HIV targets the body's white blood cells, weakening the immune system. This makes it easier to get sick with diseases like tuberculosis, infections and some cancers. She urges those ageing with HIV to watch their diet and eat nutritious food including doing exercises for their good.
"Most people who age have been thinking all their life about children and work, but if you are getting old with HIV you need to start thinking about you and your health," she adds.
Julieta Nyagothie from Laikipia County has been living with the virus for 26 years now. She is currently 66 years old. She says she was the first woman to go public about her HIV status in Laikipia.
"it was challenging, I got sidelined, people could point fingers at me and call me the HIV lady, but I was not shaken, I was determined to make people aware about the disease"
She was diagnosed with HIV in 2002, a time when ARVs were not easily accessible, until 2004 when she got access to ARVs through a donor.
"I started medication with a CD4 count of 8, I was half alive and half dead at the time, but I was consistent in taking my medicine. I am now ageing positively and healthy and I now have great-grandchildren," Ms Nyagothie says.
She narrates that ageing with the virus is not easy, especially for those who started taking ARVs when they came to the market.
"The drugs affect us, we become prone to conditions like arthritis, high blood pressure, and many more. Since one ends up taking the medicine at the same time, they end up being affected and moved from one line of care to another, and sometimes there is lack of information on adherence and using other medicines too," she says.
She attests to how the HIV landscape has improved from limited access to drugs to now having to take only one tablet daily compared to before when one used to take three. She also mentions that support groups were important in those days for sharing information, and challenges and keeping them alive.
"The drugs we were using at the beginning had a lot of side effects. They used to make me hungry all the time. I had to eat in the middle of the night. They made me lose weight but I was later given another regimen that was better," she says.
Ignatius Makokha an HIV champion from Busia County, specialising in stigma and treatment literacy is now 53 years old. He tested HIV positive in 2002.
"The testing experience was traumatising. The nurse who tested me collapsed. I was the first patient she was testing that turned positive," Mr Makokha narrates.
He says at the beginning the medicines they were given were not so friendly and had an ageing effect on the users but they have been improved. "Just like any other drugs, the prolonged use of ARVs is affecting the liver and kidneys of some people but there is no concrete research as to what extent," he says.
Unlike before, Mr Makokha says the magic in the new regimen Dolutegravir (DTG) he is using suppresses the virus in three months to undetectable levels. The drug works by decreasing the amount of HIV in your blood and increasing the number of immune cells that help fight infections in your body
"Most of us, including myself at the moment, cannot transmit the virus anymore, that's why we are talking about undetectable is equal to untransmissible " he says, referring to U=U, a global public health campaign by UNAIDS explaining how the sexual transmission of HIV can be stopped.
He adds that most people who know their status and adhere to medication rarely transmit the virus and the new infections in the country are being exacerbated by those who don't know their status, advocating for people to get tested.
"Getting NCDs as a person ageing with HIV depends on the life one leads, if you eat in hotels and junk you will have more problems compared to those who eat natural foods. I am very lucky I am very healthy with no complications"
He calls on those above 50 with HIV should reduce alcohol consumption and embrace exercise.
But as the population of those ageing with HIV grows, questions abound on how the affected senior citizens can live fulfilling lives.
Dr Lazarus Momanyi a technical advisor at Nascop says so far, there are more than 10 people above 80 years in Luo Nyanza living gracefully with HIV.
He expounds that out of the 1.3 million Kenyans on HIV treatment at the moment, 27 per cent of them are 50 years and above.
"Despite this group being on medication and virally suppressed, some complications arise with ageing, and are at high risk of getting non-communicable diseases," he says.
Dr Momanyi says they are predisposed to get diabetes, High blood pressure, and malignant diseases like cancer. People who have HIV also age faster according to research, this is due to the chronic inflammation the virus causes over time.
He adds that screening of HIV clients for noncommunicable diseases earlier should be employed, to identify the cases and put them on treatment early enough.
Dr Momanyi says as a country there is a need to emphasise lifestyle modifications and dealing with risks that might bring noncommunicable diseases like being obese and using alcohol and tobacco.
Related Topics