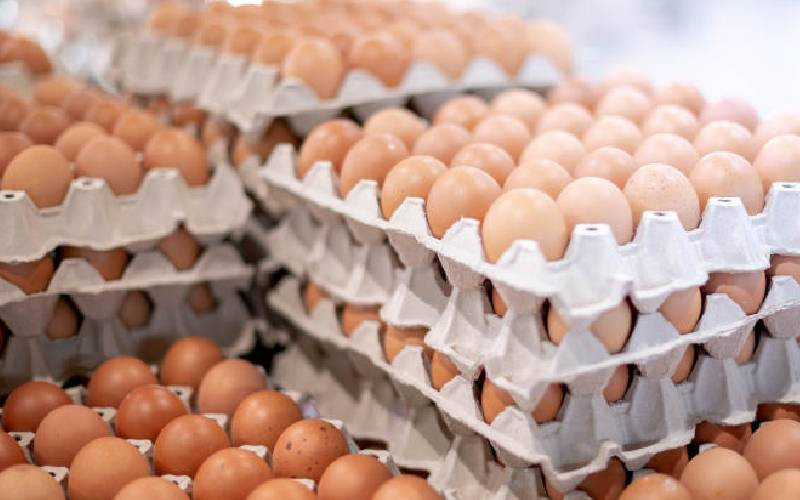 Data shows there's a significant decline in the production of eggs in Kenya in the last two years.
Several households that have been seeking refuge in eggs as the prices of beef, chicken and fish remain high, have now been left with fewer options as the cost of eggs continue to rise.
"There has been a significant decline in the Kenyan chicken egg market since 2021 by negative 13.8 per cent," says the Index Box, a market intelligence platform.
Is it that the low production against demand has caused the spike in the price of eggs? We seek to find out.
The average price of an egg in many middle-class estates in Nairobi is Sh20, a significant increase from Sh11 that it was going for in the last one year.
Joe Mwangi, a shop owner at Ngara Market in Nairobi, said he's been struggling to find egg suppliers of late.
"My egg suppliers no longer stock the commodity. They've resorted to trade other produce after it became hard for them to access eggs from local farmers," Mwangi told The Standard.
The retailer recounted having several suppliers scrambling to sell eggs to him in 2017 when the commodity was in abundance.
"Now they (egg suppliers) are hardly found," said Mwangi.
Back in 2017, a crate of egg would cost a retailer Sh230. Today, the wholesale price averages Sh400 for a crate.
Chrispine Mutheu, who runs a shop in Lang'ata, Nairobi, says the egg trade has many middlemen who affect the profit margins for most sellers, thus making the business less lucrative.
Uganda imports
"The production of eggs in Kenya is generally expensive; from the chicken feed, taxation on produce, to the middlemen waiting to cash in on sales," said Mutheu.
The trader said due to the scarcity of eggs in the Kenyan market, he has been forced to buy the commodity from dealers who import eggs from the neighbouring Uganda.
"My former egg suppliers said the cost of production in Kenya had increased significantly due to the high levies on chicken feed. Some of them had to abandon the egg business, while those who stayed on, transferred the extra cost to the retailers and customers," said Mutheu
Ugandan eggs are cheaper, and most Kenyan traders prefer importing. In March 2019, former president Uhuru Kenyatta's administration banned egg imports from Uganda, saying the government needed to protect local farmers.
On average, Uganda produces about 3 million eggs daily, with 70 per cent of them, landing in the Kenyan market.
Bakery
Joyce Otieno, who operates a bakery in Utawala, Nairobi, and uses eggs as a key ingredient in pastry, says she's been forced to increase the prices of cakes to cover for the extra costs she incurs during the purchase of eggs.
"I use at least 14 crates of eggs in baking; that's a big number. I'm now forced to pass on the cost to the customer if I'm to make any profits," said Otieno.
Lilian Kwamboka, a resident of Utawala, told The Standard that she's had to reduce her egg consumption because of the high price of the commodity.
"It's true eggs are rich in proteins, but I'm now forced to cut down on its consumption because of its high price. I have children. I, therefore, need at least ten eggs per meal to satisfy all of us. That means that at the current cost of Sh20 per egg, I need at least Sh200 for eggs alone. That's expensive," said Kwamboka.
"I've now resorted to replacing eggs with Omena or beef, whose prices remain largely unchanged," she added.
Mark Wanjala, a resident of Kibra in Nairobi, says the price of eggs is beyond reach for him.
"I'm now concentrating on satisfaction first, nutritional value is secondary. Spending Sh20 on an egg is just too much," said Wanjala.
"Eggs are convenient and easy to cook, but the current cost is just a turn-off," he added.
High chicken feed prices
Most eggs sold in the Kenyan market come from layers, who consume large amounts of chicken feed daily as they are caged and rely solely on human feeding.
Martin Kinoti, the Secretary-General of the Association of Kenya Feed Manufactures, said in April 2022, that the price of 70-kg bag of feed had increased by Sh400.
The 70-kg bag can serve about 100 layers for five to six days.
The bag could go for as much as Sh7,000, while there are some mash brands that retail at about Sh3,000.
Kinoti said the increase in the cost of chicken feed can be attributed to the spike in prices of key ingredients, which include maize and soya.
"The prices of both grain and byproducts used in the feed milling has risen by over 40 per cent in the international market," he said.
The association now wants the Ministry of Agriculture to intervene and help reduce the cost of production.
Layer chickens receive three diets during the growing phase: starter (0-6 weeks), grower (6-20 weeks), and developer (6-20 weeks).
Once your chickens start laying eggs (around 20 weeks of age) they should be switched to a layer feed.
On average, the layer chicken produces an egg per day, with most layers laying eggs up to when they are 14 months' old.
The other key cost incurred in raising the chicken is veterinary care, which could be extremely expensive.
The feeding, medical care and supervision costs in poultry farming are generally expensive, and are passed on to the consumer, hence the high cost of eggs in the market.
Related Topics