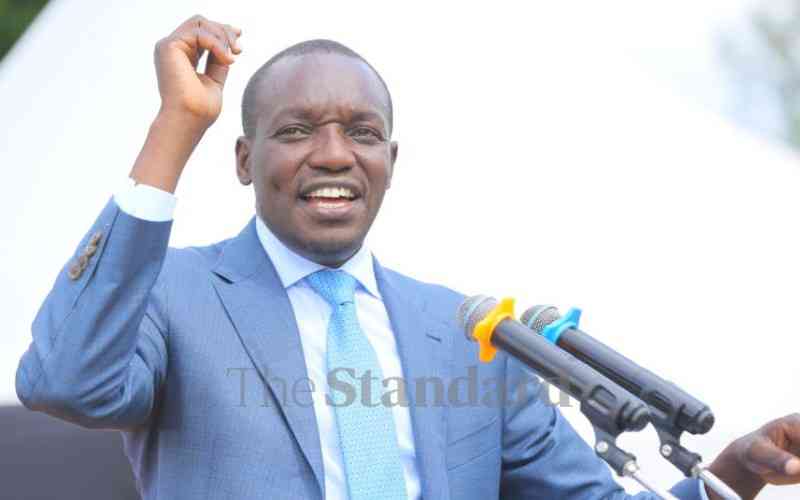 The Kisii County Government and Kisii University are partnering with Kibos International Health Foundation to promote healthcare services with collaboration, especially in areas of cardiovascular diseases.
Speaking when he hosted doctors from Japan, Singapore, Canada and India under the Kibos International Health Foundation at his Kisii rural home, Governor Simba Arati said he was keen to improve healthcare services in the area through engagement with various stakeholders.
The Kisii Governor said that there was an urgent need for infrastructural development of state-of-the-art cardiovascular facilities, training and capacity building for doctors to improve their services, and awareness campaigns on the prevention of cardiovascular disease in the region calling for support.
"It is a matter of great concern that many patients with cardiovascular and cancer-related ailments from this region are seeking medical attention in India which is expensive and inconvenient. It could be of great value to them if they have an institution handling their ailment near them," said Arati.
The governor promised to work with various stakeholders to ensure that the health sector in his county is improved during his tenure saying that most patients were suffering since they could not afford treatment for ailments such as cancer and that having health institutions catering for them is a priority.
Arati said that he had started equipping and refurbishing public healthcare facilities in the county as he seeks to change the lives of the residents saying that residents having quality medical care close to them would be a legacy he would love to leave when his tenure as Governor comes to an end.
The Governor said that he would not be distracted in his agenda of serving the area residents whom he said elected him overwhelmingly and that he will not allow the stealing of drugs in public hospitals and health care staff failing to adhere to ethics while performing their duties.
"A good health care system is one of the most important things that my administration can bequeath to the people of Kisii, that is why I am ready to collaborate with various partners to ensure that residents have the best medical care cheaply and closer to them as soon as possible," said Arati.
Kisii University Vice Chancellor Nathan Ogechi said the institution will work closely with the Kibos International Health Foundation to achieve the health needs of the area residents and that his institution will do its part to ensure that this is actualized with the support of the county government.
Prof Ogechi said that they were grateful that a team of medical experts from Japan, India, Singapore and Canada under Kibos International Health Foundation were committed to working with Kisii University to ensure enhanced medical services delivery to the people of Kisii and neighbouring counties.
Dr Ambrose Kibos who led the team of doctors said the focus of the foundation was to increase primary care outreach to rural Africa saying that this can be achieved through improved health care services with well-trained and interconnected cardiovascular workforce through provision of a central cardiovascular simulation, training and education Centre.
"It is a matter of concern that Kenya is not benefitting from medical tourism with small investments in the health sector hampering the efforts of African states including Kenya to develop strong healthcare systems that are independent, that is why we need to collaborate with partners who will support us," said Dr Kibos.
Prof Teresa Kieser, Cardiac surgeon at the University of Calgary, Canada, said it is through partnerships that institutions can learn from one another on the best way to address problems related to cardiovascular diseases.
The team is in Kisii County until Wednesday before it proceeds to Trans Nzoia County on the invitation of Governor George Natembeya on a similar programme.
Related Topics