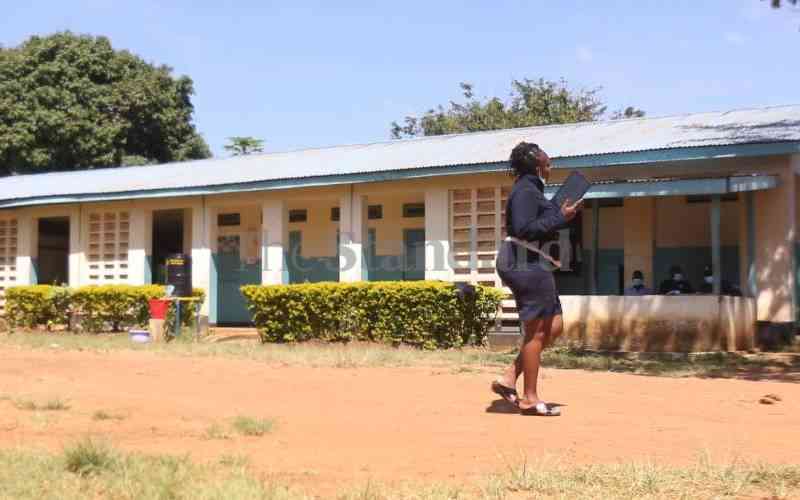 Kenya has intensified its preparedness following an outbreak of Marburg in Tanzania.
Screening of suspected cases will be conducted at the Kenya Medical Research Institute (Kemri) and National Public Health laboratories.
Daniel Lang'at, the head of department of disease surveillance in the Ministry of Health, said the laboratories were activated in October last year, following an outbreak of Ebola in Uganda.
Ebola and Marburg have similar presentations, which make tests similar.
Both are viral diseases, which present with high fever, severe headache, severe malaise, muscle aches, watery diarrhoea, abdominal pain and cramping, nausea and vomiting.
"Kenya has a capacity of testing Marburg and Ebola. And the technical team running the laboratories are well-equipped to collect samples and have them tested," said Dr Lang'at.
With proper sample collection and handling, laboratories are expected to issue results within 24 hours.
In Tanzania, where the disease has killed five people, it took more than five days to get results.
"Our laboratory and technical team is well-equipped for quick tests, which will enhance diagnostic of Marburg, in case of a suspected outbreak," said Lang'at.
Busia County has set up an isolation and treatment centre at Alupe Hospital.
"Busia being a border county, we have already set up a centre where people presenting with symptoms of the disease shall be isolated, tested and treated," said the county health executive Beatrice Nakholi.
A team of public health officers, technical teams and healthcare providers have also been deployed at the facility.
"We have adequate human resource, to help in contact tracing, sample collection and testing, in case of a suspected case," added Nakholi.
Prof Omu Anzala, a virologist in the department of medical microbiology, College of Health Sciences, University of Nairobi, said that all the border points should have screening stations.
The clinical centres, he said, will help in sample collection, should there be a suspected case.
"We need to step up screening at the border because we have high volume of engagement with Tanzania, including trade," said Prof Anzala.
Surveillance has also been revamped at the border points between Kenya and Tanzania, and Kenya and Uganda.
But more focus has been placed at the Kisumu maritime because of strong business ties among locals along Lake Victoria, and at Isibania in Migori County.
Screening at Kisumu airport and Jomo Kenyatta International Airport, has also been intensified because of passengers jetting in from Bukoba, the epicentre of the disease, in Tanzania.
According to the health ministry's statement issued by Acting Director General Patrick Amoth, Bukoba is the second-largest port after Mwanza on Lake Victoria in Tanzania.
There are regular ferry connections to and from Mwanza from Kisumu. There are also a number of buses that ply the Bukoba-Kampala route daily and some of the passengers end up in Kenya.
Further, it has been established that at least two buses with a capacity of 100 passengers come to Kenya from Bukoba.
"We have activate emergency operating centres, at the port, and along Lake Victoria, which borders Tanzania," said Lang'at.
Further, visitors, including long-distance drivers and traders, will be screened at the border points to contain a spill of the virus in the country.
Also, informal entry points are monitored, through nyumba kumi leaders and local administrators.
Community sensitisation on the disease, mode of transmission, and prevention is also being conducted through chief barazas.
"It is only by equipping the community with knowledge about the disease, that we can get quick communication, in case of a suspected case," he said.
According to WHO, fatality the rate of Marburg is 88 per cent. It is from the same virus family as Ebola.
The disease is transmitted from one human to another through droplets, including saliva, blood, tears and human faeces.
It can also be transmitted from animal to human, if someone touches an infected animal.
According to the ministry, individuals exhibiting signs of sickness will be isolated.
Prof Anzala noted that Kenya and Uganda might be a reservoir of Marburg disease.
Though it is the first time for Tanzania to report the disease, Kenya has reported an outbreak twice, in the Western region.
An outbreak of the disease was reported in Western region of Kenya in 1967, 1970s and 1980s, outbreaks which killed several people.
"Kenya has a reservoir of Marburg because of previous cases which were reported. This is why we need to be vigilant in ensuring we keep our surveillance system clear and keep the borders clean," said Anzala.
To break the chain of Marburg transmission, prevention measures should be applied, namely handwashing, sanitising and avoiding contact with the sick.
Although no licensed vaccine or approved treatment for Marburg is available, supportive management improves survival.
Prevention and control protocols for Ebola and other viral haemorrhagic fevers can be used to prevent transmission of the viral disease.
Anzala said several trials are ongoing by a team of researchers in Nairobi.
"Marburg and Ebola do not have treatment, but Ebola has a vaccine. Clinical trails for Ebola vaccines and Marburg is ongoing, and we anticipate to have a break through sooner, to fight the infectious diseases," said Anzala.
WHO and Africa CDC have dispatched a team of experts to beef up surveillance in Tanzania.
Currently, two African Union Member States (Equatorial Guinea and Tanzania) are reporting active MVD outbreaks.
Related Topics