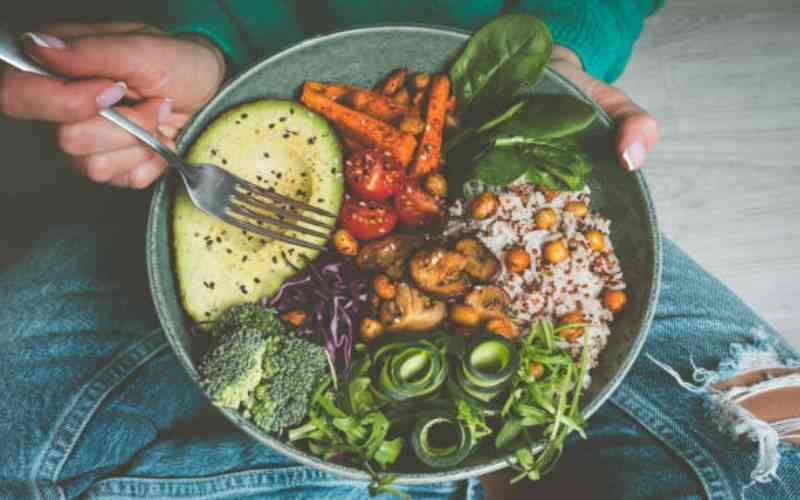 Samson Chemai, a 46-year-old farmer from Salabani in Marigat, Baringo county is a vegetarian and does not eat any form of meat since childhood - white or red.
As a vegetarian, Chemai risks not getting enough of certain nutrients, including proteins, omega-3 fatty acids, and vitamin B-12. However, his lifestyle also has a few benefits including a lower risk of heart disease, diabetes and some cancers.
A study of 15,000 vegetarians and vegans conducted by researchers at the University of California School of Public Health found that pure vegetarians eat a greater quantity of food in order to meet their calorie needs.
They also spend a lot of money on purchasing non-livestock-derived foods.
While vegetarians don't eat meat, poultry or seafood, vegans don't eat any animal products, including honey and gelatine. Another group, lacto-ovo vegetarians don't eat meat but eat eggs and dairy products.
Samuel Maina, a clinical health nutritionist, says that, without careful planning, the risks of eating a plant-based diet may outweigh the benefits.
"It is truly a plant-based diet that improves health and lowers the risk of getting certain diseases. However, ignore honey, milk, meat and eggs at your own peril," says Maina.
He says that mild symptoms of the flu and common colds like sore throat and dry coughs can be eased by taking a spoonful of honey.
Maina adds that livestock-derived foods like meat, eggs and milk have 12 times the nutrition quality provided by vegetables and grains.
According to Easter K'Ojwang, a nutritionist, ageing adults need certain livestock-derived foods to prevent memory loss, healthy bones and to prevent loss of muscle mass.
Livestock-derived foods also contain several important bio-nutrients that are essential for growth and brain development including the amino acids in milk and eggs, which have three times the nutrients in rice, maize and wheat.
"Though there is an established link between bad cholesterol and heart disease and eggs contain high levels of cholesterol, they have not been shown to increase the risk of cardiovascular disease unequivocally as eggs may even have beneficial effects by increasing high-density lipoprotein, but more evidence is needed," says K'Ojwang.
Similar to human milk, animal milk is lower in iron and zinc content. However, these nutrients may be more readily absorbed than from plant-based foods.
Nevertheless, experts reveal that dietary requirements change over the course of a person's lifetime, in line with his/her physiological needs.
"For instance, pregnancy and lactation require greater energy and nutrient intake to support a baby's growth and development, while infants and young' children need foods with both a high nutrient density and greater bioavailability," says K'Ojwang.
She notes that school-aged children and young people who are growing rapidly may also have a high physiological need for nutrients to support neurological, hormonal and other developmental processes that require livestock-derived foods at the stage.
According to Maina, children's bodies require a steady supply of the bio-nutrients found in livestock-derived foods. Similarly, during pregnancy and lactation, high nutrient demands can be met by consuming livestock-derived foods.
Molecular biologist Dr Steve Waluande says that one should plan his/her diet to include sources of all nutrients in order to stay healthy, and have a balanced diet for essential overall good health.
"Eating only vegetarian foods can put one at risk of not getting enough of certain nutrients including proteins, omega-3 fatty acids, vitamin B12 and vitamin B2", he says.
He adds that eating too much-processed carbohydrates can lead to strong deficiencies of minerals such as calcium, iron and zinc and low blood pressure.
"Iron deficiency leads to the risk of anaemia and this can impact negatively on a woman's fertility and pregnancy," says Dr Waluande.
In Kenya, undernourishment causes stunting in growth in approximately 22 per cent of children while many women suffer from iron deficiency or anaemia.
Vegetarian diets require careful planning if health risks are to be minimised and health benefits maximised.
According to Dr Waluande, cases of vitamin B12 deficiency continue to appear among strict vegetarians because it is not found in plant foods.
He says that Vitamin B12 and calcium supplements are mandatory for the breastfed infants of vegans.
Studies show the prevalence of iron deficiency anaemia or indices of low iron stores is higher among vegans than non-vegetarians.
"Strict vegetarians may be deficient in Vitamin A and C which can lead to diseases like scurvy," he says.
Related Topics