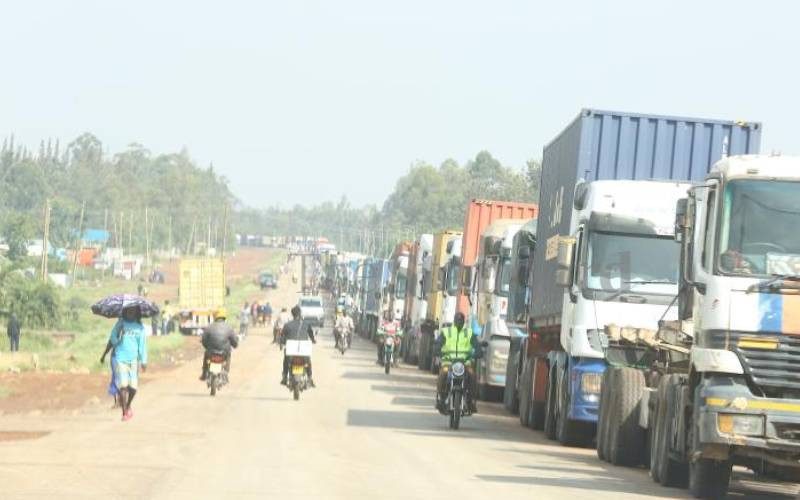 Residents of Busia County want surveillance intensified along the porous border in the fight against Ebola disease.
A section of the residents claimed that people were using panya (illegal) routes at Lwakhakha, Sofia and Swam in Kitale to cross into Kenya from Uganda without being screened.
"We want the panya routes sealed off by security agents so that people can be screened at designated centres before they are allowed in," said Wakabin Musafa, a hawker based at Malaba border town.
The Ministry of Health in collaboration with the Busia County government have been screening truck drivers and people crossing the border into Kenya at Malaba and Busia town border points since last week in order to avert the transmission of Ebola Virus Disease (EVD).
Busia County Commissioner Samson Ojwang said they intend to establish special holding rooms for individuals who test positive.
"We have intensified screening in Busia and Malaba where truck drivers and everybody else visiting the country must undergo mandatory testing and we are in the process of establishing holding sites for Ebola victims," Mr Ojwang told journalists yesterday.
Fishermen in Budalang'i urged the government to intensify surveillance at Lake Victoria beaches in the area. "The Ministry of Health ought to deploy officers on the ground to screen people coming in from Uganda every day," said Omondi Ndege, the secretary of Maranga-Omena beach.
He said precautionary health measures seen at Malaba and Busia border towns must be applied at the beaches in Budalang'i because "our people visit Uganda every day, meaning they intermingle with their hosts freely."
Omondi said fishermen and business people plying their trade along the beaches were living in fear of possible Ebola infections due to the free movement of people to and from Uganda which has reported Ebola deaths.
Governors Fernandes Barasa (Kakamega) Kenneth Lusaka (Bungoma) and George Natembeya (Trans Nzoia) cautioned residents against crossing into Uganda through the illegal entry and exit points.
Natembeya said his administration in partnership with the national government will seal off all illegal entry and exit points to minimize movement from Kenya to Uganda and vice versa.
In Kakamega, Governor Barasa advised residents to take precautions because the county neighbours Busia border point.
"Ebola is a deadly disease and we must be careful because Uganda has confirmed several deaths," said the county chief.
"Our counties and national government should collaborate and deploy more health and custom officials alongside the police officers to heighten surveillance at border points that could be used by some unscrupulous people to sneak in and out," said Muzafa.
Muzafa said hawkers and other traders were at high risk of contracting Ebola because they meet their counterparts from Uganda and even Congo more often in their daily activities.
Peter Wasike, a resident of Sofia along the Malaba border said authorities must map out all entry points and have screening machines deployed at strategic points to ensure all those crossing into the country are screened and given a clean bill of health.
"Most of the people you see around do not use the designated border points of Malaba One Stop Border Point and Lwakhakha, they use shortcuts because some of them are engaging in illegal business and fear being napped by the police," said Wasike.
Last week Kenyan authorities at border points and health officials heightened surveillance at designated border points of Kenya and Uganda.
Busia Deputy governor Arthur Odera said they are working with the national government for screening and testing at border points alongside creating awareness of the disease.
"We are working closely with the national government because the state is one that has Epidemiological policy that enhances screening and recording of data at border points to ensure there is high surveillance in all border points alongside creating awareness to people about the disease," said Odera.
Related Topics