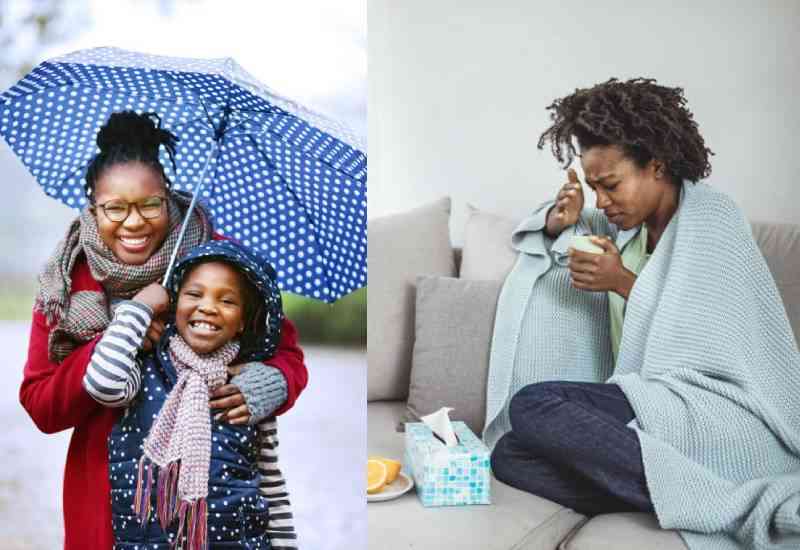 The long-awaited wet season is here with us.
From a health perspective, newer medical matters come with every season. It helps to be aware of seasonal health variations and to take adequate precautions and keep yourself free from conditions that may be prevailing.
Wet seasons tend to be colder. This is a recipe for common respiratory conditions that include colds and flu. Poorly maintained drainage systems pose water-borne health risks as well. There are issues with flooding and potential contamination of water meant for domestic use. Free-standing water and newer bushes provide breeding grounds for mosquitoes and other pests. In emergency situations, you may take longer to reach healthcare facilities due to inevitable road snarls ups that are inexplicably associated with heavy downpours.
Do yourself some good and keep warm. This is especially so for children and the elderly who are more vulnerable in the wet and cold seasons. Seasonal vaccines are available to prevent flu. It's never too late to get vaccinated. Most colds will be self-limiting and can be managed by controlling the congestive symptoms with simple remedies. If you have a persisting and severe cold, it might actually be the flu. Best to seek medical advice and appropriate treatment. Seasonal flu can be lethal, more so in children, the elderly and pregnant women.
Those with chronic respiratory conditions are at higher risk in the cold and wet seasons. Conditions like asthma can become exacerbated when it's wet and colder, and in the presence of blooming plant allergens. If asthmatic, or afflicted with a related respiratory condition, make sure you have adequate stocks of your medication. If you notice newer symptoms, despite adherence to your meds, best to get reviewed by your physician. Ignoring any acute episodes leaves you in a very precarious situation.
Common sense precautions will keep you away from potential water-borne diseases. Only use clean water for cooking and drinking. If unsure about the source of your water, either boil or sanitize it before drinking. Wash your hands with soap and water, or use a disinfectant gel, especially before handling foods. Drain away standing water and clear thick bushes within your compound, this will limit breeding grounds for mosquitoes. Use mosquito nets as appropriate, or commonly available and safe repellants.
There's much good that comes with the rainy season that we should embrace. We must however be vigilant about potential health hazards that may also come our way. All you need is to be pre-emptive, and quick to act if some seasonal health condition comes your way. Your health, and that of your family members, shouldn't be any worse when transiting from one season to another.
Dr Alfred Murage is a Consultant Gynecologist and Fertility Specialist. [email protected]
Related Topics