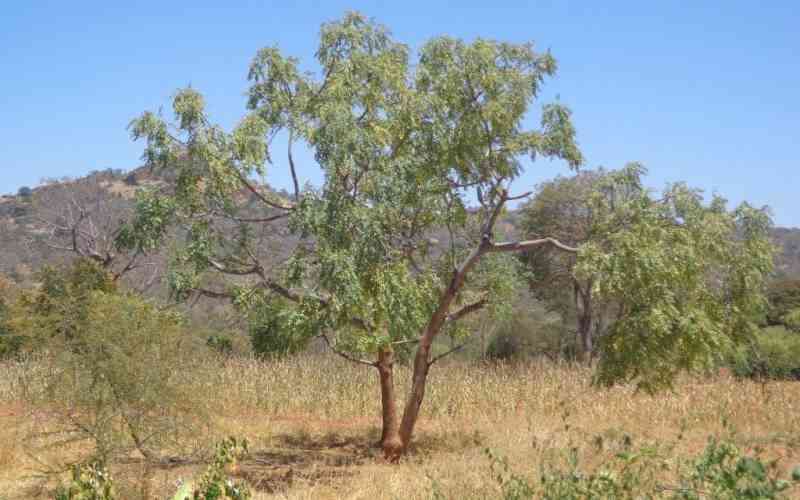 Jonathan Kituku has been watching helplessly as diseases ravage his 30 hectares of melia volkensii, a highly prized dryland tree with multiple uses.
Kituku who hails from Kibwezi, Makueni County, relies on growing, and selling poles from the trees to state corporations for electric and postal poles. But diseases known as fusarium wilt and colletotrichum leaf bright, are threatening the growth of this indigenous tree species.
"Melia volkensii is a potential multipurpose tree, which grows and matures within six years," says Kituku.
Melia volkensii, according to Kituku, is a hardwood tree whose timber is termite resistant, durable and above all attractive.
The leaves and twigs of the tree are also used as fodder for livestock, especially goats and the leaf extract is used as insecticide, especially against ticks and fleas.
The leaves are rinsed, mixed with water and sprayed on ticks and fleas and the concoction kills the insects immediately, reveals Kituku at his farm, two kilometres from Kibwezi town along Kibwezi, Mutomo and Kitui road.
According to Kituku other uses of melia volkensii include timber/poles for telephone and electricity, wood curving, making furniture, providing shade, wind protection, animal feeds, firewood and building poles and its products are stronger and more expensive than from other tree species.
For example, a stool made from melia tree goes for Sh2,500 compared to Sh1,500 of those made from terminalia browni, balanaid egytica, eucalyptus, cedar, obeche, cyprus, gravelia, croton mangelecapus and acacia mellifera.
According to forestry and agricultural researcher, Prof Daniel Nyamai of Rongo University, fusarium wilt was first detected in 2018 in young melia trees in Embu, Mbeere, Kitui and Kibwezi.
Prof Nyamai, a former assistant director with Kefri, says the pathogen was identified as other forms of fungi such as colletotrichum powdery mildews and ganoderma. The researcher says the diseases have caused havoc to the pre and post germination chambers.
"Research on the diseases started three years ago to study their epidemiological effects on the tree with the affected areas. It was established that the diseases affected 18 per cent of melia production" says Robert Wafula, a research officer with the National Agriculture and Livestock Development Programme (Nalep) Kibwezi office.
"Fusarium wilt is broad ring soil inhibiting fungi that feeds on melia volkensii trees. It can survive adverse temperatures and is highly pathogenic and causes havoc on a wide range of plants," explains Wafula.
Wafula, however, says it can be controlled through the use of fungicide spray.
Kituku says the burn on affected trees are removed manually as one way of controlling the spread of the diseases.
The progress of melia volkensii depends on how farmers, researchers and scientists are prepared to handle, control and counter the diseases.
Through a multi-discipline project the government is exploring ways of helping people in Asals to benefit from farming to overcome perennial food shortages caused by poor rainfall brought about by climate change.
Related Topics