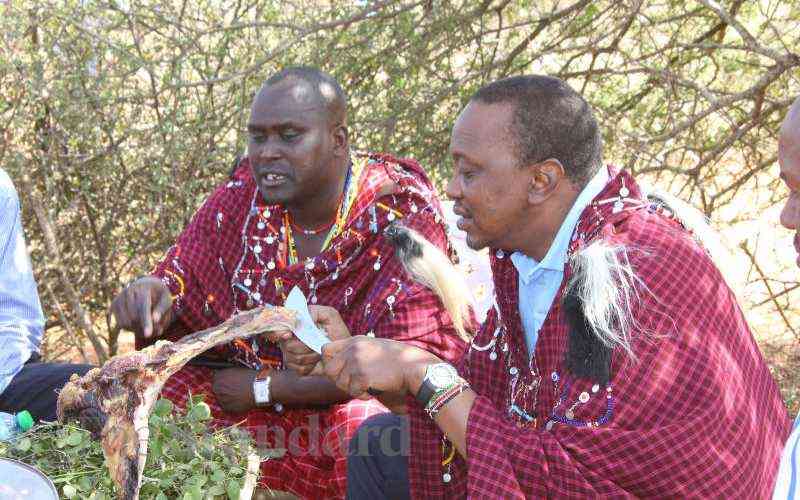 Nutrition is very important to the health of a president whose personal physician checks on what's on his plate, besides physical health and other medical issues.
Founding President Mzee Jomo Kenyatta, for instance, could not stand sukuma wiki and githeri, according to Elizabeth Madoka, his Social Secretary after independence in 1963.
In her memoirs, Miss Uhuru 1963: Working for Mzee Jomo Kenyatta, Ms Madoka notes that Jomo had no palate for sukuma and githeri, but loved nyama choma despite medical warnings putting his two physicians- Dr Eric Mngola and Dr Njoroge Mungai- at loggerheads.
Jomo's aversion for sukuma wiki and githeri was from the seven years hard labour suffered at Lokitaung Prison in April 1953 alongside Fred Kubai, Kung'u Karumba, Paul Ngei and Bildad Kaggia.
The seven years of githeri, government posho and sukuma wiki which aggravated stomach problems were enough at Lokitaung of which he said "there was nothing green, nothing cool, nothing creative, nothing demanding, nothing at all.'
Jomo often told Dr Mngola, a specialist in general internal medicine: "I have never seen a lion with gout" upon which Mngola would encourage Burning Spear: "You are Head of State, eat what you want" to the chagrin of Dr Mungai then lamenting "You are slowly killing the old man!"
Jomo loved mixing herbal broth with roast goat ribs worsening his gout which coupled with his eczema's (a skin disease) permanently condemned him to open leather sandals. He had also suffered eczema since his prison days.
Roast ribs went well with VAT69, bottles of which Jomo stocked in his limo and drank from a special elongated glass before switching to muratina en route to quitting alcohol. We have this on the authorities Duncan Ndegwa's memoirs, Walking on Kenyatta's Struggles and James Murray-Brown's Kenyatta.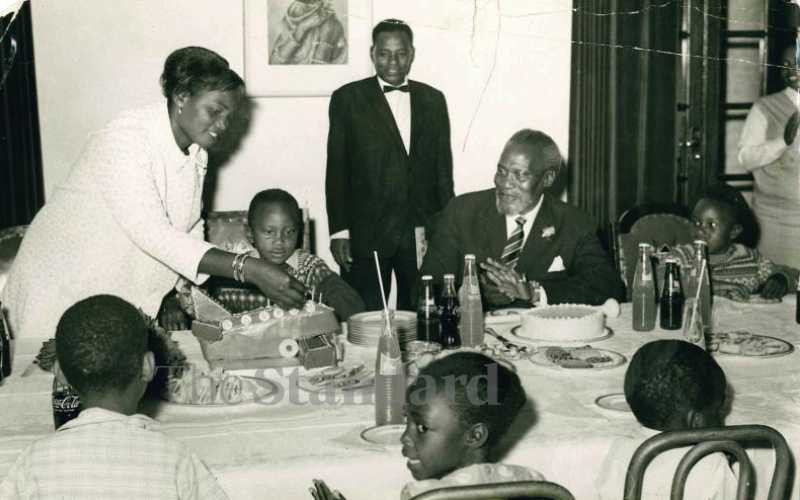 As President, the 15 years spent in England influenced his culinary preferences: cream of tomato soup, fish and sirloin steak medium done with English potatoes, vegetables and Yorkshire pudding with gravy as accompaniments. No pork please! He also loved cheese after meals and often ate them as a snack in his official limo!
President Daniel Moi, a teetotaler, didn't follow Kenyatta's cuisine as President: Proteins were never mixed with starch. Moi's ugali was served with sukuma wiki. In case of meat- lean lamb- sukuma was sacrificed. He also disliked spices.
President Mwai Kibaki loved Weetabix, croissants, tea and fruits for breakfast and chicken, and fish for lunch, he also didn't mind samosas and muteta soup. Once in a while, he was not averse to Whitecaps.
And what else do you imagine President Uhuru loves besides lamb chops, beef steak, roast goat and fish served with mukimo, roast potatoes or rice and Fanta Orange?
And it is not just in Kenya. In the USA, Dr Ronny Jackson, a former White House physician, recalled going to extremes to ensure President Donald Trump maintained a healthy diet by sneaking cauliflower in his mashed potatoes and denying him access to ice cream.
As for Mzee Daniel arap Moi, we have it on the authority of Baringo Senator Gideon Moi that the old man was not averse to goat ribs,karasta, he told mourners during a requiem the president. Of course, Mzee would not allow talk of doctors when enjoying his meat, Gideon told mourners in a light moment.
Related Topics