Home
/
Health & Science
Be more careful, Kagwe warns as Omicron lands
Health & ScienceBy Patrick Beja And Mercy Kahenda | Thu,Dec 16 2021 10:10:00 UTC | 2 min read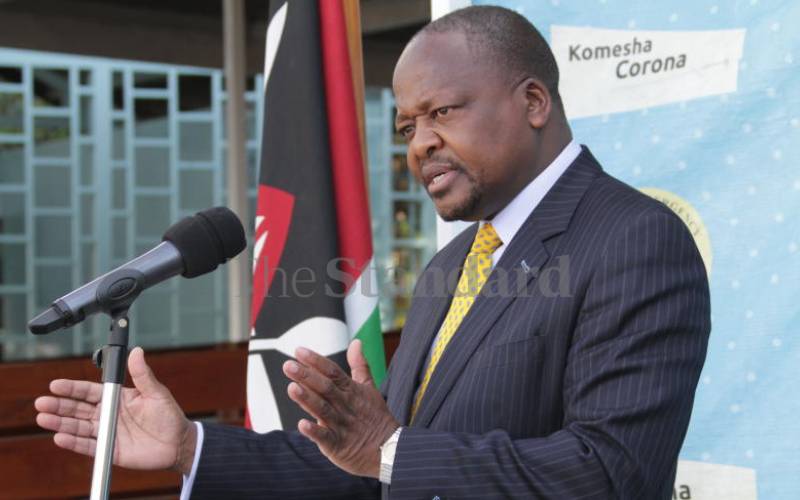 Health Cabinet Secretary Mutahi Kagwe yesterday put county governments on red alert after he confirmed three cases of the Covid-19 Omicron variant in Kenya.
The variant was detected on a Kenyan and two South Africans on arrival from South Africa at the Jomo Kenyatta International airport in Nairobi.
The three travelers have been quarantined.
Kagwe said the ministry will establish the extent of the spread of the Omicron variant in the country in the next two days following the ongoing sequencing.
"In the next two or three days, we shall tell the country, if it is necessary to pick the measures. Every measure that is necessary shall be taken to safeguard lives of Kenyans," Kagwe said in Mombasa, at the Council of Governors consultative forum.
The CS was accompanied by Council of Governors chair Martin Wambora and other governors.
Kagwe said the risk posed by Omicron was its fast spread and that it was becoming the dominant variant globally.
The CS said the government will intensify the testing of travelers at all border points in an effort to stop the variant from spreading.
"We have started the process of sequencing and we will establish the extent of spread of the Omicron variant. We will intensify Covid 19 testing in all border points," he said.
Kagwe said those infected with Omicron variant must go for quarantine to avoid the risks of its spread.
The CS added that omicron was not as deadly as the Delta variant but it could plunge the country into a health crisis if Kenyans do not embrace Covid-19 vaccination to raise the level of immunity.
"Omicron can spread fast and hence we need to vaccinate as many people as possible to avoid lockdowns. If people are vaccinated, Omicron variant will have low health impact," he said.
Symptoms of Omicron variant include breathing difficulties, loss of taste and smell, tiredness and muscle ache, scratchy throat and headache.
Other symptoms are high temperatures dry cough, and high pulse rate. "We are not forcing people to be vaccinated but those who do not heed our call can end up footing huge hospital bills. They will threaten their lives and livelihoods," he said.
The CS who consulted with the governors on challenges in the health sector, told the county chiefs to adequately prepare to deal with a possible surge in Covid-19 cases following the confirmation of Omicron.
Wambora said county governments were ready to deal with the emerging health challenge as they have ensured the availability of oxygen and hospital beds.
"We are ready to enforce the Ministry of Health measures and to deal with the situation.
"Our oxygen plants are functioning and hospital beds are available," Wambora said.
Kagwe warned those refusing to go for Covid vaccination that they would restrict themselves from international travel.
Related Topics