Home
/
Health & Science
Why Sunday worst day for heart attack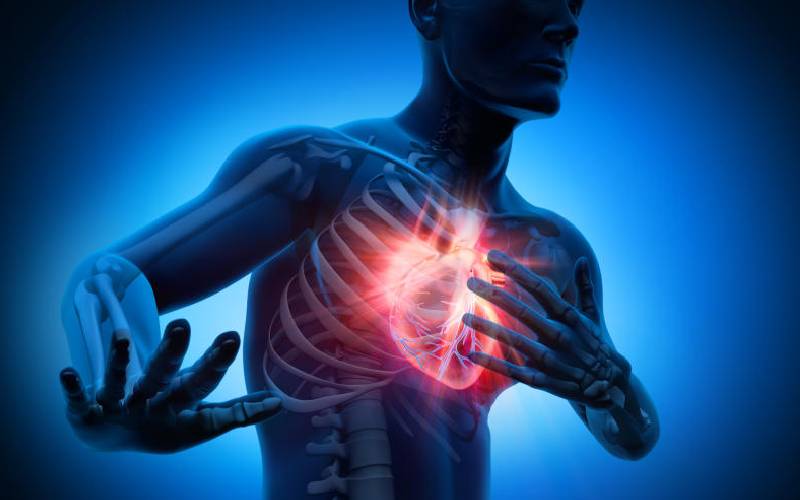 Sunday is one of the worst days to suffer a heart attack, and for various reasons: scarcity of specialists and reduced onsite staffing most weekends increases the time taken to attend to patients. What is more, most people who suffer heart conditions on Sundays normally have other underlaying conditions.
In Kenya, most people are unfamiliar with heart attack symptoms, which, coupled with thinning finances, only makes matters worse.
Indeed, medical research found that patients admitted with Acute Coronary Syndrome (ACS) on weekdays had better recovery outcomes than those treated on weekends, especially Sundays.
Irrespective of demographics, comorbidities and hospital characteristics, patients admitted on weekends showed significant differences in treatment, length of stay, in-hospital mortality and major procedural complications.
The Timelier Revascularization Study by three American medical researchers took 11 years and data analysis from over 10 million patients. It was published in 2017 and among the recommendations was a Sunday rest for cardiologists who work 50 to 60 hours on weekdays.
Lead researcher, Prof Vanessa K Martin, the chief surgical pathology fellow at the University of Southern California, Los Angeles, says 'the Weekend-Effect' on heart patients was worsened as most cases had more comorbidities and other chronic ailments.
Prof Nasim Murnateghi, a cardiology researcher at the University of California, Irvine, also says heart patients during weekdays were "more likely to get a procedural intervention" but on weekends they fair worse due to "decreased onsite staffing", which in turn "increased door-to-procedure time, which can have disastrous results."
But Dr Ruguru Nyaga, a cardiologist at Kenyatta National Hospital, says cardiologists work throughout and when off-duty have standby specialists to treat patients as it's impractical for some specialists not to work on Sundays.
Heart conditions in Kenya also have other issues unrelated to availability of specialists.
In a 2017 article titled, Alarming projections of heart attacks in Africa by 2030, Dr Mohamed Jeilan, a cardiologist and Director, Cardiac Programme at Aga Khan University Hospital, says "the main challenge in Kenya is that patients suffering from a heart attack do not receive timely treatment."
Signs of a heart attack, says Dr Jeilan, include discomfort in the chest and painful sensation that may be felt in the arms, jaws and neck. "Sometimes, it feels like 'gas' in the upper stomach, sweating and shortness of breath."
But he says many victims have "poor knowledge of the seriousness of the symptoms and poor accessibility of acute medical services and financial barriers."
One can call an ambulance for first aid, but taking aspirin "reduces the clumping of the blood clot within 30 minutes", which is not usually a sufficient remedy and a hospital visit is advised.
There, two methods are used: clot-breaking drugs (thrombolysis) to unblock the artery, but "many centres in Kenya do not stock this medicine" and the second method is the "gold standard" involving specialists using special X-ray to find the clot."
Related Topics