Home
/
Health & Science
COP26 climate talks: Bridge too near yet too far to cross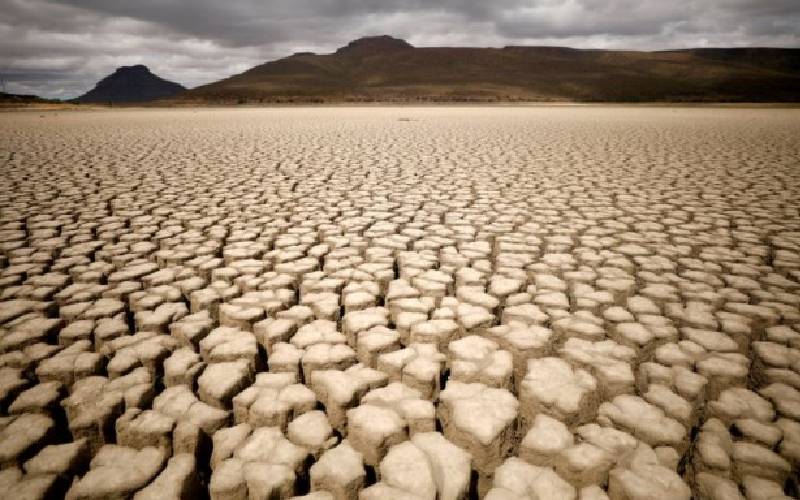 The negotiations on climate action in Glasgow, Scotland may end up being little more than a series of broken promises, urgency without action or hot air.
The delegates from around the world at the United Nations Framework Convention's 26th Conference of Parties (COP26) was another attempt to limit the climate crisis, which in Kenya has manifested itself in the form of unpredictable rain patterns, drought, flooding to mention a few.
The crisis has knock-on effects on food, poverty reduction, resulting in migration, conflict and derailed economic growth, with figures at the National Treasury's Planning Department indicating that climate related disasters costs Kenya between 2 per cent and 2.8 per cent of Gross Domestic Product annually.
As a result, the department has launched the Financing Locally Led Climate Action (Flloca) programme for the next 10 years. The programne's manager Maurice Pedo reckons this will promote a paradigm shift to ensure the country builds climate resilience that leaves no one behind.
On October 26, the World Bank approved $150 million to support Flloca, which was launched on November 8 and hot on the heels of COP26 with Kenya being the first National scale model of devolved climate finance to drive locally-led climate action.
Flloca will be officially launched during the upcoming Devolution Conference, as "a national launch is critical to give the programme visibility and stakeholder engagement from the national level to the grassroots level," said Dr Pedo.
Back in Glasgow, much of the optimism that followed the first few days was quickly dampened by an alarming analysis of how global warming might not slow down in line with the hopes of attendees.
Research from Climate Action Tracker (CAT) shows global temperatures are likely to rise, nosing north towards 2.4°C this century, way above the current for 1.8°C, which is causing all the hullaballoo, considering it is way above the pre-industrial levels of 1.5°C that the world needs to achieve.
Rising temperatures will mean unmitigated disasters, effects that will be felt around 2030 when global greenhouse gas emissions will roughly be twice as high as what is necessary to limit warming to 1.5°C — a threshold scientists have said the planet should stay under to avoid the worst consequences of the climate crisis.
This grim prognosis has reinvigorated calls for nations whose plans are not in line with a 1.5°C future to do more, faster, to correct their planned courses of action.
Though the Net-Zero goals of 40 countries account for 85 per cent of global emissions cuts, CAT found only 6 per cent of those emissions were backed by concrete plans and the reason Bill Hare, CEO of Climate Analytics, said: "The net zero targets are just lip service to real climate action". He said the COP26 had a "serious credibility gap."
Experts warned that bringing the world closer to limiting global warming to 1.5°C might be an uphill task despite more than 130 countries that represent more than 85 per cent of the planet's forests pledging to reverse deforestation and land degradation by 2030-the first big deal of the COP26, as destroying forests increases emission of carbon dioxide.
In another breakthrough, more than 25 countries agreed to stop financing fossil fuel projects abroad, which should also be in their home countries, according to critics who argue that Africa releases relatively small amounts of greenhouse gasses, but its people are the biggest victims of natural disasters.
African climate experts demanded that the continent must be allowed to develop and build up its infrastructure - something that requires more energy. They need to simultaneously have more power for rapid economic growth and quickly find alternatives to fossil fuels to provide the energy.
Developed countries pledged $100 billion per year by 2020 for climate action in developing countries. This goal was shifted, with the same countries saying the goal will be achieved by 2023, to the irk or vulnerable countries in the global south.
African Negotiating Group and the continent's leaders said the $100 billion was only a portion of what was needed to deal with climate change locally, and it should be reviewed urgently to match the extent of the financing gap. And even with more innovative financing models, new financing instruments should not replace the $100 billion per year.
Africa is taking proactive stances and committing to shift to renewable energy pathways. African countries thus need to develop low carbon models to complement available climate funds.
Kenya's Flloca, for instance, had the World Bank approving $150 million in October to supplement a $21.4 million grant from the governments of Denmark and Sweden's social sustainability initiative, and Kenya's $80 million.
Related Topics