Home
/
Health & Science
Under feeding leads to height loss
Health & ScienceBy Ayoki Onyango | Mon,Nov 08 2021 00:00:00 UTC | 2 min read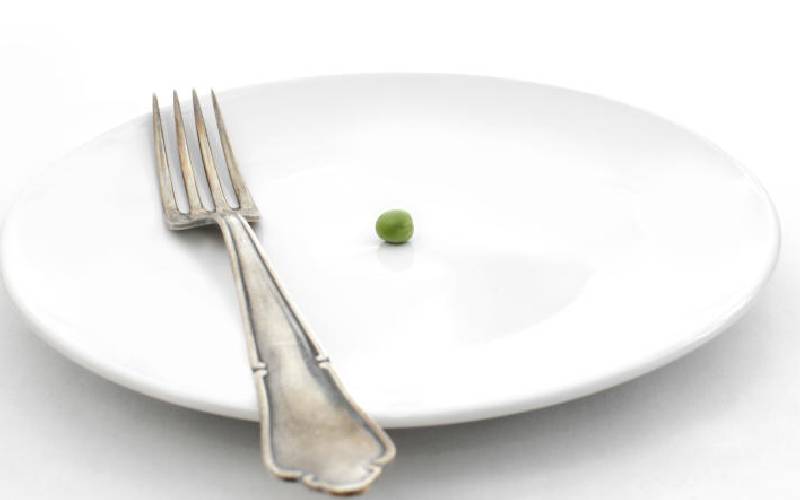 There are heavy feeders and under-feeders – people who eat food like quinine. There are health hazards associated with overeating as there are with undereating: weak immune system, malnourishment, stunted growth, nutritional deficiencies (including iron), anemia, weight loss, inadequate body mass and sometimes premature death.
Other medical conditions related to underfeeding include skin rashes, thin skin, thinning, loss of height, osteoporosis (weak bones), dryness of body and skin. Under-feeders also give birth to unhealthy babies who lack iron, calcium and are generally vulnerable to infections.
Other medical effects include less calories, low metabolic rate, fatigue, low blood pressure, slow heart rate and heart rhythm abnormalities.
Although people mostly try to lose weight through under-feeding, Prof Richard Muga, former Director of Medical Services, advises that exercising is a better route than skipping meals as the body loses out on essential nutrients and "for those wishing to remain slim, avoiding eating is not one of the best options."
"If you want to lose weight," advises Dr Willis Wanjala, "eat fewer calories, exercise adequately to ensure that energy intake is less than energy out."
On the opposite end of under-feeders are heavy feeders who may suffer obesity, which scientists have linked to genetics.
Obesity is a disorder that arises from the effects of multiple genes plus environmental factors. Low level of D2 (Dopamine) receptors are correlated to increased weight and elevated eating habits, says Dr Steve Waluanda, a physicist. He says neuro-genetics are correctly associated to transfer of overeating addiction from one related person to another. "Behavioural pattern, disinhibition is the tendency to develop greediness when you are surrounded or associated with those who overeat. It is called behavioural genetics."
Related Topics