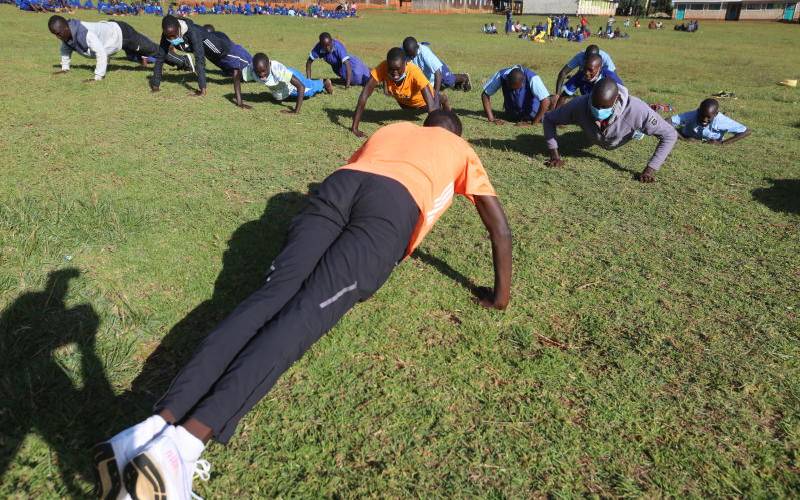 Kennedy Anjejo was diagnosed with kidney failure at the Metropolitan Hospital in Nairobi. The health of the 38-year-old from Mamboleo in Kisumu town has also been deteriorating.
Anjejo is among hundreds of Kenyans ailing from diseases likely to occur at 40, that age when majority are settling in family life, careers, business ventures, enrolling for a second degree, relocating countries for greener pastures.
For most, 40 is that age they stop caring what others say, know what they want. They have made all the mistakes and atoned for them, and are about to play their second-half in the pitch of life. Most have some disposable income, have acquired a property portfolio, money is no problem.
"I at times look back, paint a bright future that I worked towards attaining, then just like that, everything was turned by a click of a moment," says Anjejo in retrospect.
Dr Jemimah Kamano, a lecturer at Moi University, School of Medicine, said kidney disease is among Non-communicable Diseases most likely to occur at 40 years and above.
The hormone specialist (endocrinologist) and chronic disease researcher adds that at least 60 per cent of kidney disease is associated with diabetes and hypertension.
"If we prevent diabetes and hypertension, we are most likely to control high cases of kidney disease," said Dr Kamano who includes diabetes, hypertension, heart diseases, hormonal diseases, cancers and thyroids and mental health problems as the other conditions likely to come calling once one celebrates their 40th birthday.
It is also at that age when erectile dysfunction, osteoarthritis, obstructive airway diseases (for those who use firewood), urinary tract and prostate infections begin showing up. Add too, genital urinary infections, enlargement of prostate, lung cancer for chain smokers and depression.
For Anjejo, three incidents of collapsing and eye pressure led to a medical examination in 2019 which revealed that he had Stage 4 chronic kidney disease and after medicine failed to improve his condition, was put on dialysis in May last year, followed by a fistula surgery in June.
Even though his condition is managed well, he regrets the ailment was diagnosed at the prime of his life.
Anjejo, who studied anthropology at the University of Nairobi, had just enrolled for his Masters in Development Studies at his alma mater. But health problems forced him to relocate to Kisumu, as he needed close care and monitoring.
"My health has turned everything upside down. I had started life, but now I am depending on individuals for support," mourns Anjejo who can hardly secure a job owing to being on constant medication and undergoing dialysis every Wednesday and Saturday leaves him fatigued.
Anjejo is currently jobless, and survives helping friend with reports and research of which "I can only work for three days a week, but not that I am strong, because dialysis at times leaves me so weak, and cannot concentrate."
Anjejo undergoes eight sessions of dialysis every day at Kisumu Special Hospital which cost Sh76,000 and which the National Hospital Insurance Fund (NHIF) caters for, but he wishes it also took care of his regular checkups.
Blood boosters
Dialysis exposes him to anemia, forcing him to use blood boosters and "routine work is hectic at the moment. I realised I need to give more attention to my health," he says adding that he spends an additional Sh5, 000 on blood boosters. Averagely commercial blood boosters cost between Sh1,000 and Sh6,000, depending on quality.
For his diet, he has to avoid plant proteins and fruits rich in potassium.
"I am spending about Sh50,000 to manage my health. I wish this problem was discovered earlier, before escalating to such a critical state that requires heavy financial muscles to manage," regrets Anjejo who appeals to the Ministry of Health is to have awareness on non-communicable diseases.
He is scheduled for kidney transplant, but will have to spend between Sh50,000 and Sh100,000 monthly on immunosuppressive medications and argues that people should know the health risk factors associated with some choices including reckless drinking and smoking.
Though the aforementioned diseases hits most people at 40, Dr Kamano says most diseases don't just happen, rather, they gradually develop from conception, childhood, adolescent and are influenced by one's lifestyle and diet.
Having health problems at 40 cuts across the gender divide, though women are most times safer as they constantly seek medical attention and advice unlike men. But both genders experience depression associated with the pressures of life that come with middle life and crisis.
Eunice Javoga started experiencing abnormal virginal bleeding for three continuous months at 41years in 2015. Prior to bleeding, she experienced painful intercourse and the bleeding was accompanied by weight loss and dizziness, lower abdominal pains and backache.
A biopsy examination at the Moi Teaching and Referral Hospital (MTRH) in 2015 revealed that she had cancer of the cervix Stage 2.
To Javoga, now 48, cancer spelt like a death sentence, she was in denial, and as she worked towards acceptance while managing her sugar levels through medication, she developed hypertension.
"Battling cancer and being diagnosed with hypertension took a toll on my life. I lost hope," she recalls but the surgery to remove the cancerous cells and counseling "made me stronger each day."
Javoga is a research assistant at Academic Model Providing Access to Healthcare (AMPATH), oncology unit, in Eldoret where she has observed that majority of patients are diagnosed with cervical and breast cancer at 40.
"I am lucky to have healed from cancer because it was discovered at an early stage. This is why we encourage women to undergo regular screening," she advised.
Dr Jairus Maling, a physician (internal medicine specialist) said most diseases that start at 40 are related to lifestyle including obesity, cardiovascular diseases, stroke, perimenopausal symptoms, erectile dysfunction, osteoarthritis, urinary tract and prostate infections.
Lifestyle diseases
Dr Maling explains that, though there are no specific diseases for a given age bracket, advancing years come with certain health conditions and "at 40 years and above, the body is not able to keep up because organs suffer fatigue, for example, the heart has been pumping strongly against blood pressure and the body tries to adapt in various ways," but compensatory mechanism are sometimes weathered down leading to kidney failure, diabetes, stroke and heart attacks.
Dr Maling singles out common diseases in women as including breast and cervical cancers, hypertension and menopause related symptoms. But on average, women are likely to be less predisposed to diseases at 40 than men whose health complications also include prostate and lung cancer.
"More men experience health problems like enlargement of prostate and urine flow, unlike women, unless they have menopause symptoms at around 48 years and mood swing," said Dr Maling.
Some diseases start from childhood
Most diseases that start at 40 are triggered way earlier according to Dr Jemimah Kamano, an endocrinologist and chronic disease researcher.
She argues that lifestyle and diet are major culprits with children who are fed junk food without physical activities being at risk of diseases that plaque people at 40, a situation aggravated by post-teenage and young adults who hardly consume vegetables, fruits or drink adequate water and "young adults should always keep fit and exercise too helps promote mental health," she said.
Some conditions like kidney diseases says Dr Kamano might be genetic, but certain infections and forms of antibiotics that react to the body and misuse of painkillers also cause kidney problems in kids from childhood and which is carried in adulthood.
The 40s Club should check sugar levels, prostate
There are several ways of dealing with diseases which start at 40 including exercise; good dieting and weight loss are key preventive measures besides increased intake of fruits and vegetables for hydration purposes.
"Exercise is important as it helps shade excess calories, reduced intake of salt and alcohol," said Dr Maling advising the 40 and above in rural Kenya and who use firewood to cook from outside to improve ventilation and prevent obstruction of the airways.
Regular screening for early diagnosis and treatment of cancers is important as it prevents complicated management and deaths.
Vaccination also helps prevent some cancers like Human papillomavirus (HPV), for cancer of the cervix.
"Men above 40 should undergo prostate screening, if caught early at stage 1and 2, they can be managed through medical intervention, but at stage 3, they become guarded in terms of outcomes," said Dr Jairus Maling who also recommends regular medical checkups.
Every three months, he says, the 40s Club should check sugar levels for early diagnosis of hypertension and diabetes. Their proper management helps avert diabetic related complications like loss of vision, heart attack, stroke, amputation, and kidney failure and nerve damage.
[email protected]
Related Topics