Home
/
Health & Science
Hospice improves quality of life for cancer patients in great pain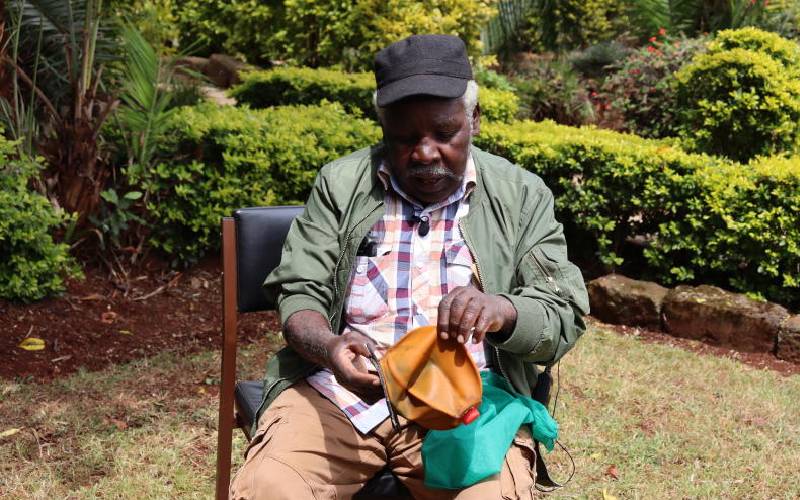 Eliud Kaburu from Nyeri County was diagnosed with colon cancer over 30 years ago.
When doctors told him what the treatment entailed, he retorted that "as long as the treatment is not from the forest, I am ready. The doctors laughed and said they liked his confidence.
Kaburu, 70, recounts his journey battling the disease and recalls how one day "in 1989 while I was working as a driver, I fell terribly ill, my stool had blood in it, I collapsed."
He was working for an insurance brokerage firm, which took care of the hospital bills, including buying colostomy bags, which he had to use after surgery.
Kaburu was, however, retrenched and he retreated to the village where life's hurdles took a toll on him: he could not afford colostomy bags and base plate.
But when he discovered the Nyeri Hospice lifted all his burdens from the physical and spiritual counsellors to lawyers who offer legal advice in case of a Will.
Kaburu recalls the cost of the colostomy bag was Sh150 and the base plate, which could serve him for five days, was Sh250.
"Even today, the biggest challenge is the base plate. But now the hospice came in handy in giving us bags and base plates but since there is a nationwide shortage, I had to improvise and make base plate," he says, showing his base plate made from a piece of tyre and homemade colostomy bag made from a basketball tube.
Shortage of colostomy bags
This is what most patients requiring colostomy bags go through and in Kaburu's case, he grounds garlic and spreads around his stomach to prevent the smell as he is not using proper colostomy bags.
Nyeri Hospice CEO Stephen Maswili says the nationwide shortage of colostomy bags has affected over 150 patients.
"It's been hard to import the bags due to the pandemic. The ones in the market are very expensive, one goes for Sh1,000," says Maswili. "We've had patients using paper bags and that is not healthy."
Another patient receiving palliative care at the hospice is Wilson Kabiru, 69.
He had multiple myeloma, a type of cancer of plasma cells, which damages the bones, immune system, kidneys and red blood cell count.
In 2014, it got him into unbearable mental anguish. "I was in so much pain, I could not walk properly and I had to use crutches. I had surgery that went well. But after a while, the pain resurfaced. After chemotherapy, I thought I was better, but in 2016 I was in hospital again."
In 2019, he was advised to buy morphine which alleviates severe pain but which he could not get from chemist shops and hospitals. He was finally advised to look for a hospice, and the Nyeri Hospice came in handy.
"I used to spend between Sh7,000 and Sh15,000 just for medication, but now I get the drugs at a very affordable price. With Sh2,000, I have drugs that can last for two weeks," says Kabiru.
Apart from outpatient services, there are also inpatient services and home visits for those who cannot make it to the hospital.
Dominic Mwangi, 69, from Mukurwe-ini, which is about 40km from the hospice, has prostate cancer. Mwangi's caregiver is his elder sister, Felshyna Wambura Mugane, 76, who converted one of her rooms into a ward. Wambura's daughter, Nancy Wachira, comes from Murang'a to check on her uncle every two weeks and "if she goes beyond two weeks Mwangi will refuse to eat or take drugs," says Wambura.
Nurses from the hospice also come to dress his wounds and give him medication.
"I started taking care of him from the time he was born, so I was not going to stop now. I always make sure he's eaten and had his medicine though nowadays that's a huge task, sometimes he just doesn't want to eat so I have to force him. One of my sons is the one who changes and bathes him," says Wambura.
Financial constraints
Nyeri Deputy Governor Caroline Karugu, who is the national ambassador of palliative care, says patients seeking palliative care face financial constraints.
"Discussions are ongoing to have palliative care in the NHIF oncology package. I hope the county governments can embrace hospices and palliative care centres," says Karugu.
Besides training palliative care nurses and supplying hospices with enough free drugs, Karugu reckons that the county governments should fuel vehicles that can do outreaches to destigmatise cancer and make sure loved ones get the necessary help."
Eunice Nderitu, a nurse, says palliative care entails "taking care of the patients and relatives" and does not mean one is in the final stages of life, but it includes psychological and spiritual issues and "counselling includes anticipatory grief".
"We help them get rid of any guilty conscience."
The pro bono lawyers who visit the hospice every third Wednesday of the month also help patients to write Wills or allocate property, which has reduced the number of inquiries from relatives.
Related Topics