Palliative care through the eyes of a cancer patient
THE STANDARD INSIDER
By Rosa Agutu | October 11th 2020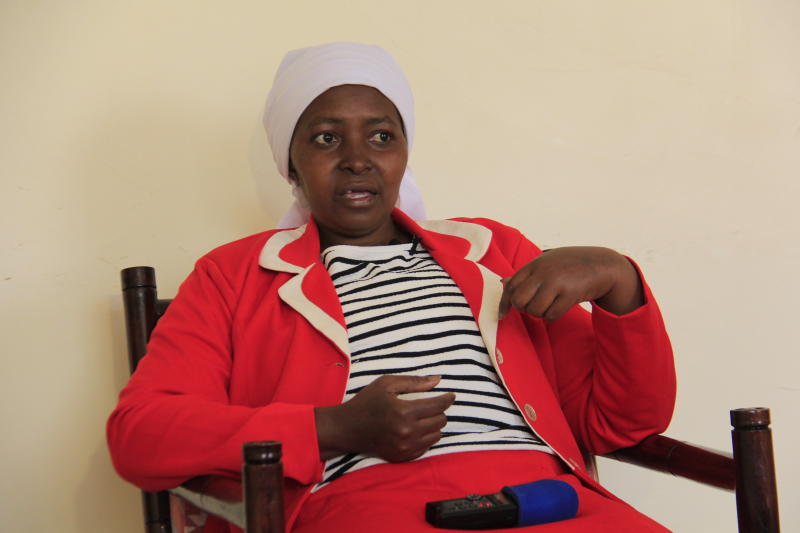 Ruth Kaburu Kamau, 39, waits patiently inside one of the rooms at Nairobi Hospice along Hospital Road in Nairobi.
Dressed in a red skirt suit and a white headscarf, Kamau who is undergoing treatment for Stage 3 breast cancer, keenly listens to one of the facility's staff as she's being briefed on the interview she is about to have with this writer.
She sits cautiously, careful not to hurt the wound on her breasts that are still bandaged. As the lapel microphone is gently fixed for the interview, she asks whether she can do it with her mask on since chemotherapy has affected her teeth.
She eventually removes the mask after being assured that no one can notice the changes in her teeth. For Kamau, Nairobi Hospice has kept her going even in the moments when she felt like life was meaningless.
"During one of my chemotherapy sessions, a friend I made during the treatment process told me about palliative care and referred me to Nairobi hospice, I had never had of the facility or the term palliative care but I decided to pay a visit," says Kamau.
She says the facility has been her source of strength and has played a big role in helping her deal with pain in addition to offering psychological support through counseling.
"I came here with a painful wound, they dressed my wounds with a lot of care, gave me pain killers that made everything bearable. At least I can do my normal chores and move around, they also provide special brassieres for women who've had a mastectomy," she adds.
Apart from medical help, the hospice also provides food for less fortunate patients.
For patients like Kamau, Nairobi Hospice has given them a reason to believe there is life after cancer. The facility has put in the effort in erasing the misconception that it is only a place for those staring at death.
When one walks into Nairobi Hospice they are welcomed by a banner that reads: "Put life into their days and not days into their life." A clear indication that there's more to palliative care than meets the eye.
"They give us foodstuff to take home and also sometimes they hold parties for us. We eat, share our experiences, and motivate each other, by the time you are leaving here, your stomach is full and at least you go back home a happy person," says Kamau.
When Kamau, a mother of three was told she had Stage 3 breast cancer, all she thought of was dying and living her children behind.
"When I started my treatment, I chose to fight and be positive even when the pain was unbearable. Nairobi Hospice offered me a safe space where I get to share my story with people who are also on the same journey with me," she notes.
For Florence Akoth, 44, also a breast cancer survivor, helping other patients live more fulfilled lives even when medical records state otherwise is what inspires her to offer them spiritual nourishment and hope through her own story. Florence who lost her left breast to cancer says the experience changed her take on life.
"The reason I chose to preach the word of God and motivate others suffering from cancer is that I believe no one should die of cancer. I went through chemotherapy, radiotherapy and even the surgery with the hope that I would conquer," adds Akoth.
Akoth says she also lost her father to breast cancer. "Losing my father hit our family hard, but I had to soldier on. He's living through me and that is why I live my life encouraging others."
Elsy Gaitugi, a Nursing Officer at Nairobi Hospice says palliative care is an approach to improve quality of life for patients facing life-threatening illnesses as well as their families.
"When a family member is diagnosed with a life-threatening disease, everybody in the family is affected. That is why we encourage people to seek palliative care help immediately and in case a patient dies, the support continues even for the bereaved families," says Gaitugi.
Palliative care, the nurse adds, is more than physical treatment. Patients are offered both psychosocial and spiritual care.
"You cannot do palliative care without being counseled. We are in these patients' lives for a while, it's a journey, so when they die it affects us big time," says Gaitugi.
Forgive me, Uhuru says
Inter-faith meeting was convened to pray for the country caught in the grip of the Covid-19 pandemic and rising political temperatures