Home
/
Health & Science
Second dose of coronavirus vaccine to be delayed as shortage bites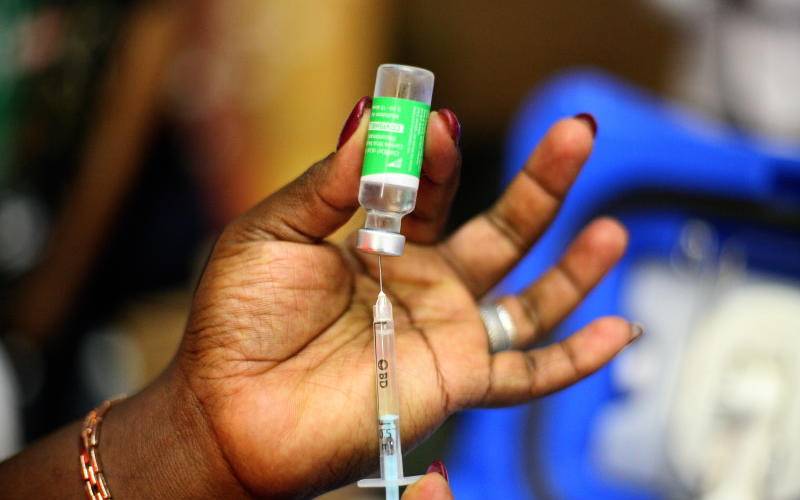 The Ministry of Health has revised the duration between the administration of the first and the second dose of the AstraZeneca vaccine from the current eight weeks to 12 weeks.
Health CAS Mercy Mwangangi on Saturday announced that the shift was occasioned by an advisory from the World Health Organisation (WHO) on the effectiveness of spreading out the vaccination of the two doses, and delays in shipment of the vaccine.
"Guidance from WHO and the current evidence shows that taking the second dose at twelve weeks provides a higher immune response and better protection. With this evidence and considering the ongoing global supply constraints, this shift is justified," she said.
Dr Mwangangi noted that the government anticipates getting a delivery of more than 2.5 million doses next month out of a plan for over 3.5 million doses.
That means the first recipients of the second dose are expected to receive it during the first week of June, should there be no further delays.
"We have noted that there are concerns from Kenyans who have already received their first dose and they're worried if they'll receive their second dose as scheduled.
"Similar concerns have also risen in other countries due to delays in shipment of AstraZeneca vaccine."
Kenya received a consignment of 1,20,000 AstraZeneca vaccine from Covax with more than 800,000 doses being administered in the country.
"The Covax facilities current forecast is that additional doses will be available in May and this is pending further confirmation from India," she added.
With the current supply crisis in India, which is the major manufacturer supplying Covax, Mwangangi said the ministry will consider the administration of multiple vaccines.
"There are vaccination protocols and they don't include mixing the different brands. Even as we plan to bring in Pfizer, Johnson and Johnson or any other vaccine, it does not mean that you're allowed to mix them."
However, the CAS noted that there is no specific dates given to receive the vaccines from Covax facilities.
The CAS said that the number of people who have received the vaccine stood at 822,651 by Friday.
The numbers comprise the targeted groups including healthcare workers, security personnel, teachers and people aged over 58 years.
Out of the 208,418 targeted healthcare workers, only 152,469 have received the first dose of the jab, representing 73 per cent. The ministry targeted 330, 671 teachers with only 38 per cent reached and 66, 677 vaccine doses administered to security personnel.
In 24 hours ending yesterday, 1153 people tested positive from a sample size of 9,316 with a positivity rate standing at 12.4 per cent. Twenty deaths were reported pushing the cumulative number to 2,603.
Jacinta Mutura
Related Topics