Home
/
Health & Science
Shot in the arm for counties as Uhuru flags off vaccines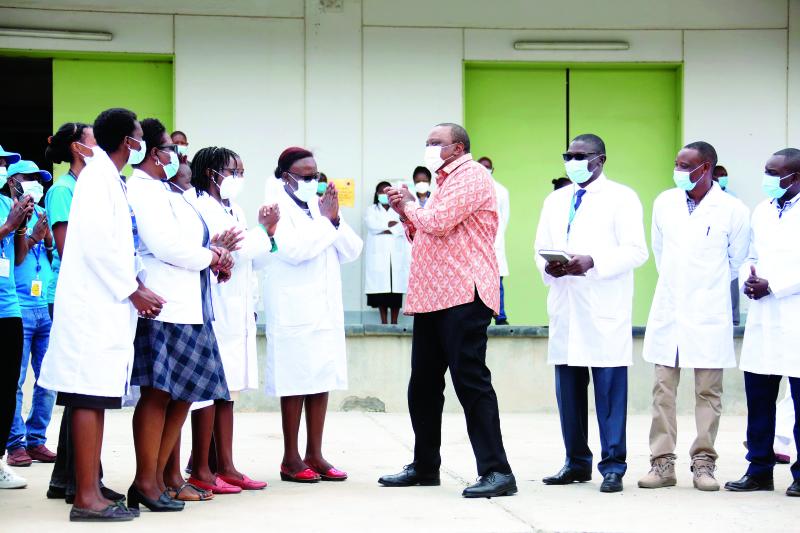 The trend around the world has been for leaders to be vaccinated in public to prove the safety of the Covid-19 vaccine and inspire confidence in their citizens who harbour doubts. President Uhuru Kenyatta, however, will not be immediately following suit.
While flagging off trucks transporting hundreds of thousands of doses of the vaccine to the counties yesterday, President Kenyatta said there is a policy that guides how the vaccines will be distributed, and that it will be up to health experts to tell if that is the way to go.
"These are the people who will tell us. As I have told you, we have a policy. You (media) will be the same ... if you see me being vaccinated, you will say the big shots are being inoculated.
"If the experts tell us this is the way, then we will follow. If the professionals tell us this is what we need to do and lead by example, we will abide by that," Uhuru said.
Healthcare workers, security personnel, teachers, persons aged above 50, and those with underlying conditions are among those who have been prioritised for the vaccine. At 58 years, the President falls in this group.
On Monday, Ghana's President Nana Akufo-Addo, 76, became the first president in the continent to be vaccinated.
President Kenyatta warned that the arrival of the vaccines should not be a license for life to go back to normal.
"We still have to wear masks, wash hands, and social distance because the disease is still with us," he said. "I know we are tired because this pandemic has inconvenienced our livelihoods, but while we can recover this, we cannot get back lost lives."
The first vaccine will be administered today at the Kenyatta National Hospital.
The 1.02 million doses of the Oxford/AstraZeneca vaccine arrived in the country on Tuesday night. Uhuru said more doses are expected either at the end of this month or April. "We will continue receiving more until we have enough."
Storage Depots
So far, nearly half a million doses have been distributed to regional storage depots, including Level Six hospitals.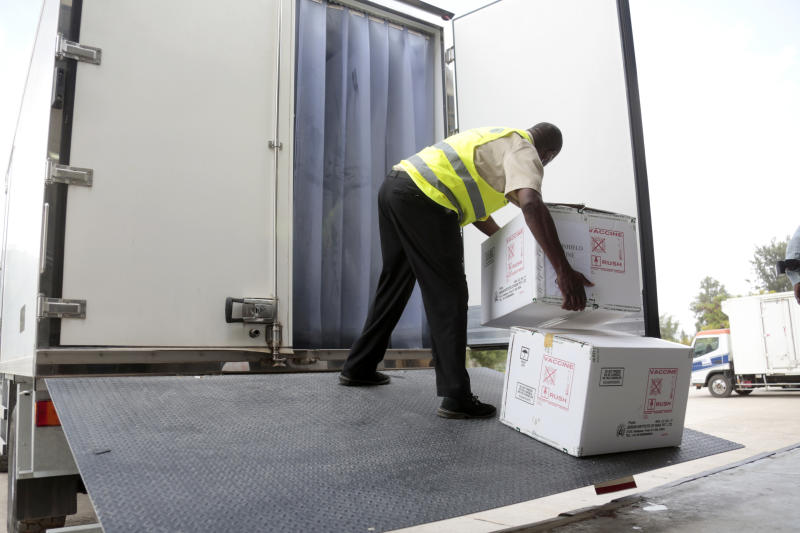 Apart from the Oxford/AstraZeneca vaccine, which Kenya has been allocated 4.1 million doses under the COVAX Facility, the country is also seeking access to vaccines made by Johnson & Johnson and Moderna.
COVAX was launched in April last year by the World Health Organisation as part of efforts to ensure that poor nations have access to Covid-19 vaccines once they become available.
The Oxford/AstraZeneca vaccine has been attractive to low- and middle-income countries because it does not require special refrigeration facilities, with storage at between two and eight degrees Celsius. It is also relatively cheap at between Sh440 and Sh880 a dose.
The vaccine developers signed an agreement to have Serum Institute of India manufacture doses specifically for these countries as a way of cutting down on costs.
Health Cabinet Secretary Mutahi Kagwe said the country's depots can also store the Moderna vaccine that requires temperatures of minus 20 degrees Celsius.
The only exception, he added, is the Pfizer/BioNTech vaccine that requires temperatures of minus 70 degrees Celsius.
Kagwe also disputed claims that the country bought the vaccines at a higher price compared to other nations.
"What we have has not been bought; not a single shilling has been spent," he said.
The National Vaccines Depot in Kitengela, Kajiado County, is the largest in the country with the capacity to store more than 130,000 litres of different vaccines, for example, polio and measles.
The depot was established in 2013 by the national government in collaboration with the Japanese Government.
Kagwe said the facility stores the vaccines before they are distributed to Kakamega (Western), Meru (Eastern), Garissa (North Eastern), Nyeri (Central), Nakuru and Eldoret (Rift Valley), Kisumu (Nyanza) and Mombasa (Coast).
Related Topics