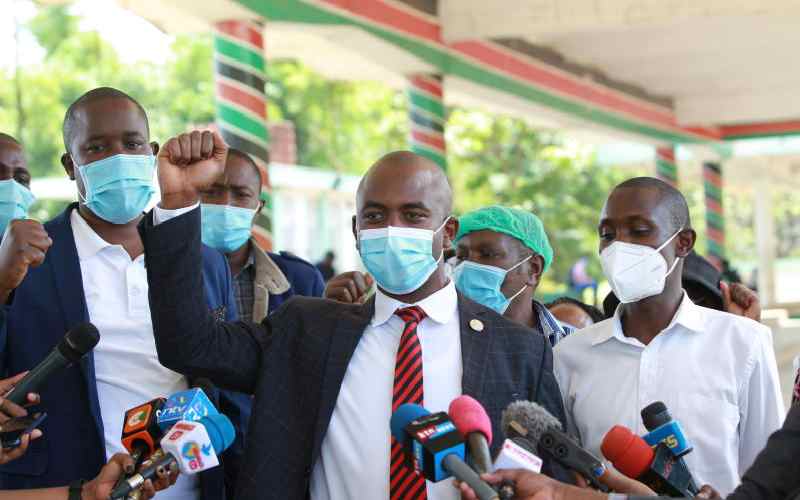 Nurses and clinicians across the country yesterday made good their threat to boycott work over poor working conditions.
Patients seeking services in public hospitals were turned away as the healthcare workers kept off their work stations.
Kenya National Union of Nurses (Knun) Secretary-General Seth Panyako said 23,000 nurses started the industrial action and will only resume duty after their demands are met.
Panyako said they will not suspend the strike like the doctors because the government has not shown any commitment to address their plight.
He also told the State to compensate families of the 26 nurses who have died of Covid-19.
At the Rift Valley Provincial General Hospital in Nakuru, one of the biggest referral facilities that serves at least four counties, patients were left unattended as some opted to seek treatment in private facilities.
Ibrahim Mungai, 65, who arrived at the hospital at 6am to be reviewed by a specialist was forced to return home unattended.
Mungai, from Engashura in Bahati, had acute stomach pains.
No service
"I woke up by 5am so that I could make it on time. But none of healthcare workers has bothered to serve me," said Mungai.
Florence Ekale from Gilgil, a patient with reproductive health problems, was also stranded at the facility.
Francis Mwangi, 41, whose five-year-old daughter suffered burns on her legs, was disappointed as he could not get services at the hospital.
A distraught Mwangi lashed out at the government for failing to address the issues raised by nurses and clinicians.
A visit by The Standard established that there were no admissions, with medics only attending to emergency cases.
Relatives who had taken patients to the facility turned rowdy and demanded to be reimbursed money they had paid for services.
The patients were among those turned away from the facility that serves about 2,000 patients from Nakuru and the neighbouring counties of Baringo, Narok, Kericho, Nyandarua, Laikipia and Samburu.
In charge of the hospital Joseph Mburu admitted that the strike had paralysed some services, but critical cases were being attended to by clinical officers and nurses on contract.
Nakuru Governor Lee Kinyanjui said the county had met over 90 per cent of healthcare workers' demands.
In a statement, Kinyanjui added that the county had met hospital bills for medical staff who contracted Covid-19.
Further, he said quality Personal Protective Equipment (PPE) had been supplied to all hospitals.
But Kenya Union of Clinical Officers (Kuco) chairman Peterson Wachira dismissed the governor's statement, saying their demands had not been met.
Wachira said they have not been supplied with quality PPE hence increased infections among healthcare providers.
"The governor says they have offset medical bills of healthcare providers, but this is not our demand. We want to be provided with a health cover that will enable us receive quality healthcare without begging the county," Wachira said in a telephone interview.
Other demands by the union include harmonisation of risk allowance and increased pay to cushion clinical officers from financial constraints, employment of 3,000 clinical officers on permanent and pensionable terms, having a constitutional health commission and promotions and payment of their arrears.
Services were also scaled down at Kabarnet Hospital in Baringo County, with doctors not being able to serve all patients.
Services at Longisa Hospital in Bomet County were also paralysed as clinical officers and nurses kept off.
The facility serves patients seeking general care as well as cancer services.
In West Pokot, striking medics vowed not to resume duty unless the county government implements a Collective Bargaining Agreement (CBA) signed in 2017.
The medics have been on strike for the last two weeks and primary health care in the county has been adversely affected.
A Kenya Medical Practitioners, Pharmacists and Dentists Union (KMPDU) member who spoke to The Standard on condition of anonymity, accused the county government of allegedly ignoring their concerns.
North Rift branch KMPDU secretary Ismael Aiyabei, while addressing the Press, said West Pokot County doctors were on strike after the county government failed to hold a consultative meeting with them to clarify on the promotion of doctors.
However, Health Executive Jackson Yaralima said they have employed more than 400 new health workers.
A spot check by The Standard in several other public health facilities across Kakamega County showed nurses and clinicians had joined the strike.
Most patients who were admitted at the county general hospital were cleared and asked to seek treatment elsewhere on Sunday evening, with some leaving on Monday morning save for those who were in critical condition.
Medics on internship also left the facilities citing frustrations and delayed payments.
Knun Kakamega branch Secretary Renson Bulunya confirmed that services in all health facilities in the county had been paralysed.
In Busia, Vihiga and Bungoma, nurses and clinical officers kept off hospitals leaving patients on their own.
At the Busia County Referral Hospital, patients sat desperately at the outpatient section in need of services, but there were no nurses and clinical officers to attend to them.
Facilities deserted
Efforts by the Medical Superintendent Namudala Emukule to persuade clinical officers to serve patients bore no fruits.
The casual workers at the referral hospital were also on strike as they have not been paid for eight months by Governor Sospeter Ojaamong's administration.
And in Nyanza, the health facilities were deserted with patients left on their own.
The hardest hit were Covid-19 patients in a number of ICU and isolation units who were abandoned.
A spot check in public facilities showed that some patients were discharged prematurely.
Private hospitals reported a surge in the number of admissions barely 24 hours after clinicians and nurses downed their tools.
The Standard witnessed little activities at the Jaramogi Oginga Odinga Teaching and Referral Hospital (JOOTRH) and Kisumu County Hospital, the largest health facilities in Kisumu County.
Both male and female wards were nearly empty, with patients being turned away.
Kisumu Kuco secretary Cruas Okumu said his members would not 'blink' until all the contracted healthcare workers were absorbed on permanent and pensionable terms.
In Nyamira, the union officials asked residents with patients in public hospitals to take them elsewhere.
Addressing journalists, the health workers said no services would be offered in all public health facilities as from yesterday.
They accused the county government of failing to address their welfare.
Nyamira Kuco branch chairman Boniface Kegusu said the county administration had failed to promote health workers who have served in one job group for up to 10 years thus discouraging them.
Knun branch secretary Bernard Mose said the professionals were tired of empty promises and that they recently lost a medical worker to Covid-19, noting they were not well protected to fight the pandemic.
Nyamira County Secretary James Ntabo denied claims the county administration had neglected health workers, noting that everything was being done to ensure their concerns were addressed.
In Siaya, Knun branch Secretary Sylvester Nganda said they were on strike.
Nganda said their Sh3,000 risk allowance was inadequate and wanted it enhanced.
The medics also want a comprehensive medical cover and group life insurance cover.
In Migori, Health Executive Isca Oluoch confirmed that contracted nurses were working even as union officials shied away from addressing the matter with the press.
However, sources at Migori County Referral Hospital indicated that medics were on a go-slow.
In Homa Bay, services at public health facilities were paralysed after nurses and clinical officers downed their tools.
The health workers protested over government's failure to improve their working conditions.
In Tharaka Nithi, union branch officials advised its members to keep off their working stations and join their colleagues in the nationwide strike.
[Reports by Mercy Kahenda, Irissheel Shanzu, Nathan Ochunge, Abigael Chepkemoi, Ignatius Odanga, Mactilda Mbenywe, Edwin Nyarangi, Olivia Odhiambo, Caleb Kingwara, James Omoro, Dickson Mwiti and Renson Mnyamwezi]