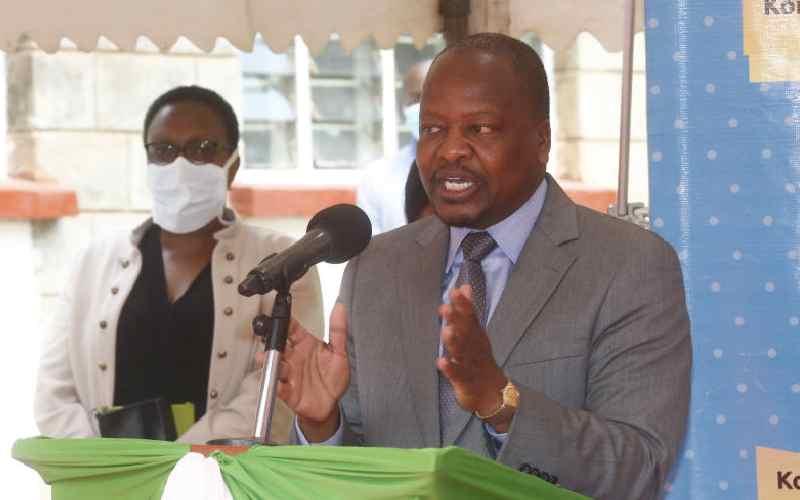 Some 396 people have tested positive for coronavirus in Kenya today from a sample size of 4,717 tested in the last 24 hours.
These bring to 88,380 the number of confirmed positive Covid-19 cases in the country.
From the cases, 373 are Kenyans while 23 are foreigners. In terms of gender 254 are men and 142 women.
The youngest is a two-year-old child, while the oldest is 85.
The distribution of the cases by counties is as follows; Nairobi 154, Kiambu 40, Busia 31, Bungoma 30, Mombasa 23, Murang'a 19, Nakuru 14, Garissa 14, Kakamega 12 and Nyeri 8.
Today, 397 patients recovered from the disease, 318 from the Home-Based Care Programme, while 79 have been discharged from various hospitals. Total recoveries now stand at 68,929.
Unfortunately, eight patients have succumbed to the disease bringing cumulative fatalities to 1,526.
There are 1,178 patients admitted in various health facilities countrywide with 8,113 on Home Based Isolation and Care.
Eighty-six patients are in Intensive Care Unit (ICU), 36 of whom are on ventilatory support, and 49 on supplemental oxygen.
This comes as Kenya is yet to procure or make firm commitments to acquire a Covid-19 vaccine.
The country is not among 34, mainly wealthy countries, which had purchased or reserved nearly 10 billion vaccine doses as they become available in the next two years.
In Africa, only Egypt has confirmed reservation of 55 million doses, according to Duke University's online vaccine procurement tracker.
On Thursday, Chief Administrative Secretary for Health Rashid Aman said they are closely monitoring the progress in vaccine development globally and will engage at the right time.
"Whether we will be able to have access to the frontrunner vaccines is the question. We are working hard to see how we are going to get the vaccines," said Dr Aman.
He also confirmed there has been no engagement with China or Russia on acquiring their vaccines, which he said are still undergoing final clinical trials. "But we are open to any vaccine that demonstrates acceptable efficacy and safety after going through the required scientific and regulatory procedures."
Vaccine in February
Aman was responding to media questions during the Health ministry's Covid-19 briefing following reports that Kenya might get a vaccine by February.
He said there are talks to access the Oxford University/AstraZeneca vaccine. "We are already in some form of discussions on the availability of this vaccine when approved."
Among the frontrunner vaccines, this is the only one being tested in Africa with trials currently going on in South Africa and in Kilifi under the Kenya Medical Research Institute (Kemri).
Related Topics