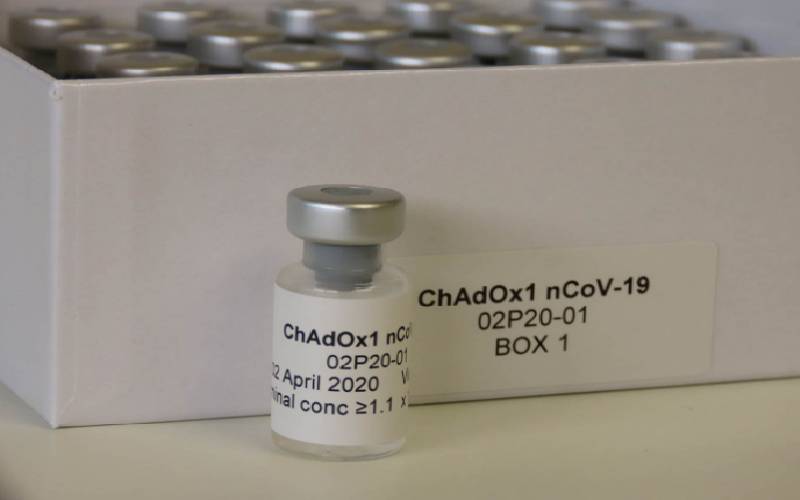 Kenyan researchers have successfully begun Covid-19 vaccine trials after the first two participants received the jab developed by the University of Oxford University and AstraZeneca.
The researchers under the Kemri-Wellcome Trust Research Programme led by Principal Investigator George Warimwe hope to enlist 400 participants in the two-year research programme to receive the ChAdOx1 nCoV-19 vaccine administered through an injection.
The research, he says, will involve two groups; one receiving the ChAdOx1 nCoV-19 trial vaccine with the control group that will receive a control vaccine, which is the Rabies vaccine.
"The control group will receive the Rabies vaccine which does not protect against Covid-19, but it will give participants protection against rabies as a benefit for taking part in the trial," Warimwe said.
In its first phase, 12 experts who include nurses, clinical officers and lab technologists will monitor 40 participants to confirm the safety of ChAdOx1 nCoV-19 after which Phase Two of the research will proceed with 360 other volunteers.
The vaccine, which is also under trial in the United Kingdom, South Africa and Brazil is targeting healthy participants in the 18-55 age bracket who are Covid-19 negative and mainly frontline workers without any chronic illnesses and those without suppressed immunity.
The Research Coordinator, Naomi Kamau, said the vaccine does not cause Covid-19 but if a participant becomes infected through contact with an infected person, they will then be treated according to Ministry of Health guidelines.
"They will also be reminded to avoid infections by following set guidelines of hand washing and social distancing," she said. The data generated will inform deployment procedures based on generated evidence that will happen in collaboration with other global organisations including Global Alliance for Vaccines and Immunisation, Vaccine Alliance, Coalition for Epidemic Preparedness and the World Health Organisation (WHO).
The Trials Project Manager, Irene Njau, said they will enrol six more participants this week after the requisite screening and a detailed one-hour informed consent taking process.
Kenyan researchers hope these trials will end up being good news for the world, especially after Pfizer announced its vaccine candidate showed 90 per cent efficacy in preventing one from getting Covid-19.
Dr Rudi Eggers, Kenya's WHO country representative hails this development but warns the country will face challenges even after the vaccine is available because it will be available in staggered doses due to scarcity of the commodity.
Countries such as Kenya will rely on Covax, the vaccines pillar of WHO's Access to Covid-19 tools (ACT) Accelerator, which hopes to raise two billion US dollars through donors, philanthropies and private sector by end of 2020 so that 92 lower-middle and low-income economies can be supported.
"You start off with a small amount, say about 50,000 doses at the beginning given to the first people, then you get another 200,000 doses, unlike the vaccines we have at the moment where there is an abundance of the vaccine," said Eggers.