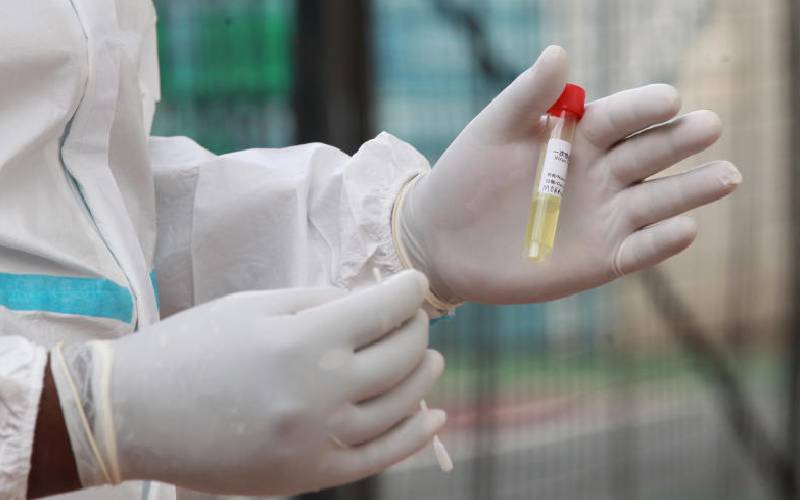 Kenya recorded the highest number of deaths from coronavirus after 24 more patients were yesterday reported to have lost the battle to the disease.
The 21 deaths reported on August 1 were the highest number of fatalities until yesterday's update by the Ministry of Health. This brings to 1,154 the number of people who have died from coronavirus to date.
In a statement yesterday, Health Cabinet Secretary Mutahi Kagwe said 1,344 more Kenyans had tested positive for Covid-19 within 24 hours. This brings the tally of confirmed cases to 64,588.
While the ministry linked increased deaths to the surge in new cases, it also confirmed some of the deaths reported did not necessarily occur within 24 hours.
"The deaths reported in the last 10 days are not entirely deaths that occurred in the 10 days. The numbers are based on a mortality audit which Ministry of Health commissioned. "Our teams thus found deaths that may have occurred even months ago and which had to be accounted for," said Health Director General Patrick Amoth during his virtual question and answer session.
He said deaths that are linked to Covid-19 are those of patients who test positive for the disease and also meet a certain clinical presentation.
We however continue aggregating the other deaths," Amoth said.
A few days before President Uhuru Kenyatta's address on November 4, Kagwe had noted that the government was facing challenges in documenting deaths. He said that more people are dying from the virus.
This time however, the blame was shifted to hospitals, which he said are not submitting death records on time.
The tally of confirmed cases of 64,588 are from 753,959 samples.
A World Health Organisation publication dated October 12, which sought to determine the infection and fatality rates, deduced that the number of deaths from coronavirus is an approximation since it is not easy to know exactly when one was infected.
The study notes that in places where patients were in hospital for long before dying, deaths may be underestimated — and if the patients die soon because of poor or inappropriate care, deaths may be overestimated.
"Whether or not the health system became overloaded may also affect the number of deaths. Moreover, because of imperfect diagnostic documentation, Covid-19 deaths may have been both overcounted and undercounted in different locations and at different time point," it reads.
A study, published in May and titled; Revealing the Toll of Covid-19: A Technical Package for Rapid Mortality Surveillance and Epidemic Response, notes that while ideally countries have a digitised, unified death notification and registration system, in many low and middle-income countries, the coverage and completeness of civil registration of deaths is often below 20 per cent.
"Hospitals, the main source of cause-of-death data, are not integrated into the civil registration system, and many systems are only partially digitised, leading to lag times in reporting," reads the study.
It says not all countries use international standard form of the medical certificate of cause of death, hence are unable to apply the International Classification of Diseases rules of mortality coding.