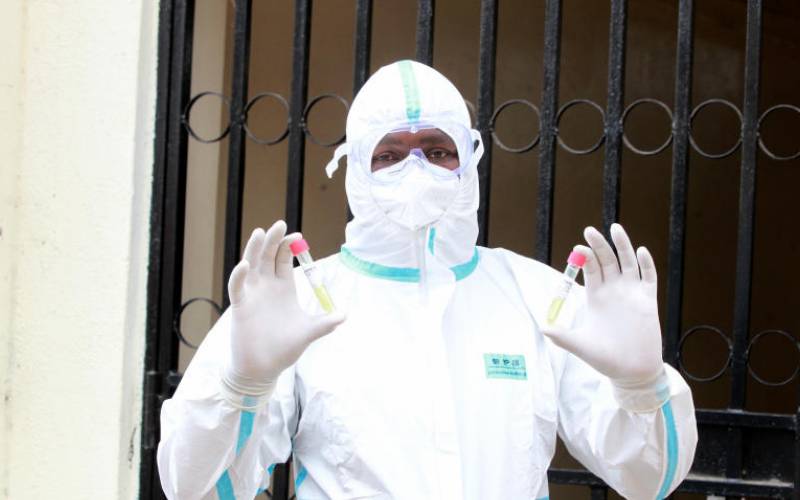 Some 2,108 healthcare workers have tested positive for the virus since the pandemic struck. Twenty-two of them are dead.
While the national government has acknowledged the risk the healthcare workers continue to face, workers have criticised efforts set in place to protect them.
Last month, at least nine healthcare workers at the Rift Valley Provincial General Hospital (PGH) in Nakuru contracted Covid-19.
The facility in-charge Dr. Joseph Mburu at the time said the employees were manning various departments, including maternity, theatre, Mother and Child Health, and eye clinic.
On May 19, the Covid-19 diagnostic laboratory at the Coast General Teaching and Referral Hospital was closed for a week after two technicians tested positive for the coronavirus.
The hospital suspended all testing and transferred samples to the Kenya Medical Research Institute (Kemri) in Mtwapa and the National Influenza Institute in Nairobi, causing delays in diagnosis and relay of results that the hospital is just recovering from.
Testing resumed after one week with officials denying that the infections emanated from the laboratory that was launched in April with support from the national government and Washington State University.
County hospitals are showing signs of fatigue after being overrun by Covid-19 patients, yet there is a shortage of beds, medical stores and worse, PPE are in short supply despite kits worth Sh6.2 billion lying idle at Kemsa.
In August, governors asked President Uhuru Kenyatta to help them hire 611 specialised medical staff to be deployed to the counties to help in the fight against the coronavirus.
In a statement presented to Kenyatta, the county bosses also wanted issues of inadequate protective personal equipment (PPEs) and other medical supplies, home-based care and countrywide testing capacity addressed.
"There is a need for more 611 specialised staff on top of the ones hired to deal with the pandemic. We need five ICU staff per county, two chest physicians per county, two clinical anesthetists per county, four medical officers per county and extra specialist officers," said Council of Governors (CoG) chairman Wycliffe Oparanya.
In July, Kenya lost its firs doctor to Covid-19. The 39-year-old Dr Adisa Lugaliki succumbed to the virus within 48 hours of being admitted at a private hospital in Nairobi.
The death came as a wake up call on the vulnerability of healthcare workers in the line of duty, and a need to focus on their wellbeing at a time when community transmission of the virus is rife.
Meanwhile, the Health ministry in a statement on Tuesday stated that 1,344 people had tested positive for coronavirus in the last 24 hours from a sample size of 7,162. The national tally now stands at 64,588.
In the new cases, 1,299 are Kenyans and 45 are foreigners. More men than women continue to test positive for the virus seeing as 815 male cases were reported against 529 women.
In terms of age, the youngest was a one-month-old baby, while the oldest is 96.
Nairobi led with 322 cases as Mombasa followed with 133. Laikipia recorded 72 new Covid-19 cases as Uasin Gishu reported 66 followed by Kericho (65), Nakuru (63), Kajiado (43) and Kilifi (40) among others.
Some 436 patients recovered from the disease with 297 from the home-based care programme while 139 have been discharged from various hospitals. The total recoveries now stand at 43,095.
Twenty-four patients have succumbed to the disease, bringing the fatality tally to 1,154.