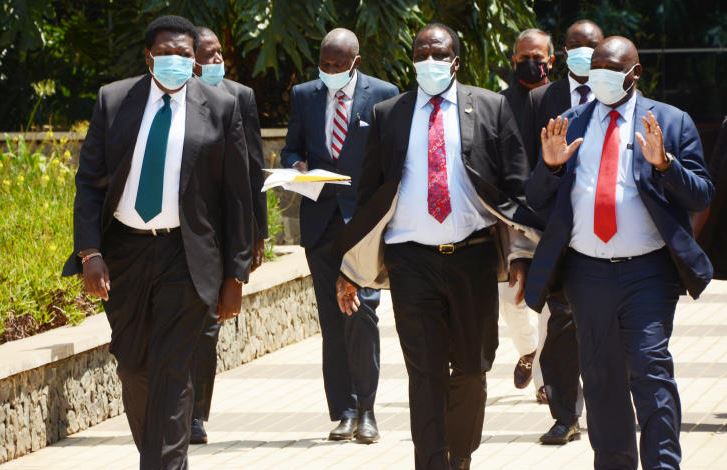 Governors (above) have asked President Uhuru Kenyatta to help them hire 611 specialised medical staff to be deployed to the counties to help in the fight against the coronavirus.
In a statement presented to Kenyatta, the county bosses also want the issues of inadequate protective personal equipment (PPEs) and other medical supplies, home-based care and countrywide testing capacity addressed.
"There is need for more 611 specialised staff on top of the ones hired to deal with the pandemic. We need five ICU staff per county, two chest physicians per county, two clinical anesthetists per county, four medical officers per county and extra specialist officers," said Council of Governors (CoG) chairman Wycliffe Oparanya.
He said all 47 counties are still grappling with the challenge of inadequate PPEs, adding that there is need for clarity on their availability from Ministry of Health since no county has so far received them.
PPEs supply
"After the 4th Summit meeting, counties were asked not to procure PPEs, that Health ministry would distribute PPEs to the counties through Kenya Medical Supplies Agency (Kemsa)," Oparanya said.
The governors also want the choice of PPEs to be based on certain aspects like climatic conditions.
"It is difficult for the healthcare workers in Coastal and ASAL counties to don the PPEs for long due to heat," Oparanya said, adding that the need for PPEs will surge with the commencement of the implementation of the home-based isolation and care.
The council said so far 38 counties out of the 47 have said they having cases under home-based isolation care but the roll out is having some challenges.
"Several households in the rural areas do not meet the threshold for home-based isolation. Ministry of Health has an ongoing process of developing guidelines for community isolation like schools and social halls, this is not complete," Oparanya said.

He also added that the cost of home-based isolation may not be afforded by many due to poverty.
Oparanya said up to now, only 26 laboratories conduct Covid-19 tests and counties are having challenges in delayed period of results transmission.
Covid-19 testing
"Some counties are vast and transportation of samples is quite expensive and takes a lot of time. The national government did a survey of the counties and identified 151 GeneXpert machines that are able to do Covid-19 testing. What they require are cartridges for these machines to enable them to undertake tests," he said.
The CoG chairman wants West Pokot and Samburu to be allowed to self-isolate to avoid infection since they have not reported any case of Covid-19.
"There is need for a scientific criteria on sharing of resources for mitigating Covid-19 and a transparent, accountable process on how Covid-19 funds are being utilised. We need consideration be made on alcohol consumption and closing of bars and the curfew period to be maintained," Oparanya said.
The governors want Ministry of Health to expedite completion of health projects under the Equalisation Fund and hand over these projects to the counties.