More healthcare workers test Covid-19 positive in Nakuru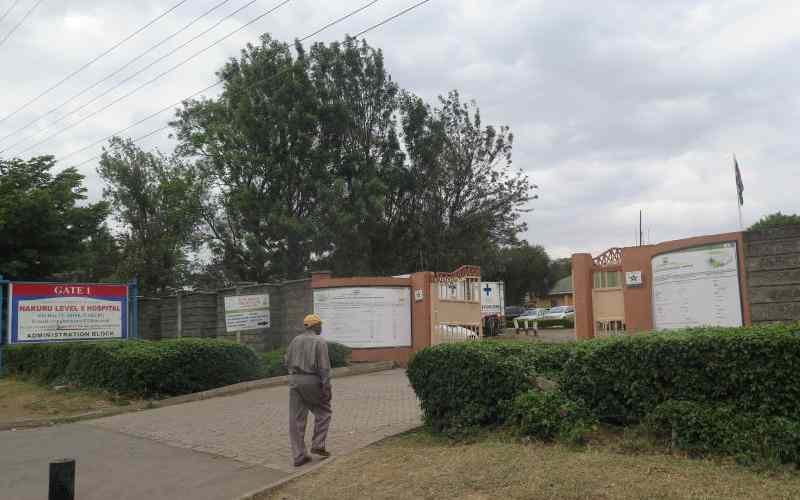 At least nine healthcare workers at the Rift Valley Provincial General Hospital (PGH) in Nakuru have contracted Covid-19.
The facility in-charge Dr. Joseph Mburu said the employees were manning various departments, including maternity, theatre, Mother and Child Health, and eye clinic.
The medics include doctors, nurses, laboratory technicians and clinicians, who are all managed under home-based care.
"All the health employees are stable, and are closely being monitored to guarantee their speedy recovery," said Mburu.
In August, PGH private wing (Annex) was set aside to manage healthcare workers infected with the virus while in the line of duty.
The private wing is equipped with ventilators, Intensive Care Unit (ICU) and isolation beds.
However, Mburu said the nine are managed at home because they are all asymptomatic and in stable condition.
Case management protocol set by the Ministry of Health dictates that all patients under home-based care should observe personal hygiene, including washing their hands with soap and water.
Patients are also expected to wear face masks and limit their movement to avert contamination of the virus.
"Family members of the employees have been trained on management of the disease and general personal hygiene," he said.
Mburu added that the management at the facility has commenced contact tracing for patients and more healthcare workers who interacted with the patients.
"Documentation of those who might have come into contact with the sick is ongoing. After establishing them, they will be expected to undertake Covid-19 tests and further isolate themselves," he said.
The facility with a capacity of 850 beds serves at least 2,000 outpatients each day.
The nine brings to 15 medics who have been infected at the Level Five facility since the pandemic was reported in the country on March 13.
According to documentation by the Ministry of Health, Nakuru is among the counties with leading infections, alongside Nairobi, Kisumu and Mombasa.
On October 2, Nakuru recorded the highest cases of 75, followed by Nairobi with 36, Mombasa with 15 and Trans Nzoia recorded 13.
On October 7, Nakuru recorded 37 Covid-19 positive cases after Nairobi county that had 109 cases.
County chief officer of public health Samuel King'ori said target testing is ongoing as well as door-to-door Covid-19 campaigns.
Samples for Covid-19 are extracted at PGH, Naivasha and Mahi Mahiu Covid-19 isolation units for tests at the Kenya Medical Research Institution (Kemri) in Kisumu.
"We are encouraging the public to adhere to set public health measures to avert the spread of the virus," he said.
The Standard established a worrying trend among residents who do not wear face masks and do not observe social distancing at public places like markets.
Unlike in the past where handwashing was a must to people visiting marketplaces and supermarkets, the regulations seem to be overlooked in the past few days.