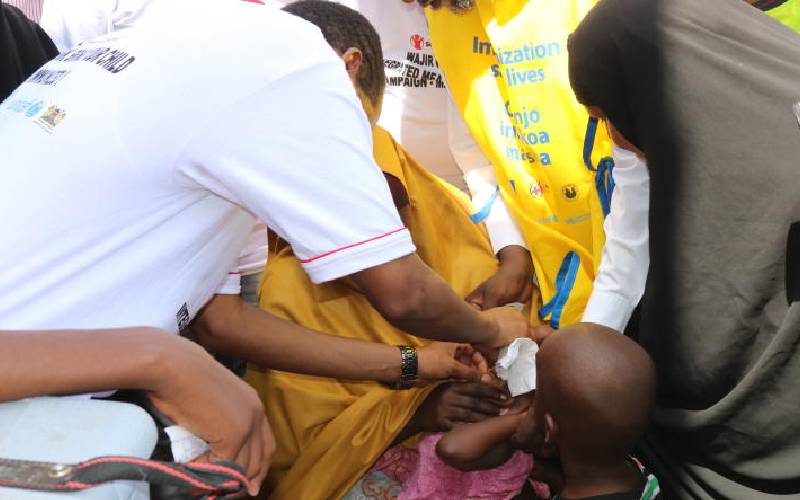 The Ministry of Health has attributed a spike in measles cases in five counties to low immunisation coverage amid the fight against Covid-19.
The outbreak of the highly contagious disease caused by a virus has been reported in West Pokot, Tana River, Wajir, Garissa and Kilifi counties.
According to a disease outbreak report by the ministry, dated October 29, since October 2019, a total 586 cases of measles have been confirmed and two deaths reported.
Director of Public Health Francis Kuria said most counties scaled down outreach programme when the Covid-19 cases were reported in Kenya.
"The biggest issue with measles outbreaks is the low immunisation coverage in the affected sub-counties," Dr Kuria told The Standard yesterday.
The report says the strain of measles was there in October 2019, and that the outbreak is still spreading in West Pokot.
A total 11 new cases have been reported in West Pokot North Sub-county in the last one week, bringing a total of 480 - cases in the county.
West Pokot Health Executive Jackson Yaralima said at least 45 cases had been reported in the last one month at Pokot North. "The county has had sporadic cases of measles since April, May and June, but we are yet to contain because parents have shunned hospitals," said Yaralima.
In Tana River County, Bura and Galole sub-counties have been affected, with up to 56 suspected cases, seven confirmed, reported.
The outbreak has affected Wajir East, and Garissa's Dadaab, Fafi and Lagdera sub-counties.
In Kilifi, Ganze Sub-county has had cases. "Most of the affected cases are children under five years, and the majority not vaccinated," reads the ministry's report.
In January 2019, an outbreak of measles was reported in Kwale County.
According to ministry records, 12 cases of measles outbreak at Dadaab Refugee Camp in Garissa, in June 2017.
Those affected were children below the age of five, who traveled from Somalia.
The ministry, in collaboration with the United Nations Children's Fund and the United Nation Refugee Agency, immunised 61,000 children against the disease.
Following the outbreak, the ministry has directed counties affected to conduct contact tracing of cases and case searches in the community and from the affected health facilities.
Counties have also been asked to stock measles-rubella vaccines and Vitamin A and ensure cold chain equipment is maintained.
The measles vaccine is given to a child at nine months to protect them against measles, mumps, and rubella.
In Kenya, the measles vaccine falls under childhood immunisation established by Ministry of Health, with an aim to improve immunisation against six killer childhood diseases namely polio, tuberculosis, diphtheria, tetanus and whooping cough. "Counties are directed to find ways of reaching all children who require vaccination to contain spread of measles and other childhood diseases," said Kuria.
Symptoms of the disease include dry cough, sneezing, watery eyes, runny nose, swelling of eyelids and inflamed eyes.
Chief Executive Officer, Kenya Paediatric Research Consortium Fred Were said all children should be immunised to prevent childhood diseases.
"Parents, health caregivers and hospitals should explore alternative ways to reach all children in need of immunisation," said Prof Were.
Related Topics