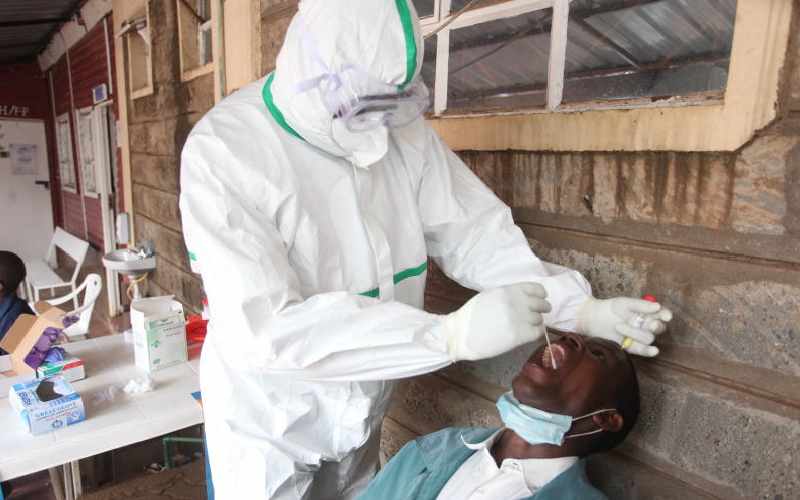 At least 4,093 Nairobi residents participated in a free Covid-19 mass testing exercise at the weekend.
The exercise carried out by the Nairobi Metropolitan Services (NMS) on Saturday and Sunday covered all the 17 sub-counties in the capital.
This was the second mass testing following Phase One that was done in March.
Data relayed by NMS indicates that 2,146 people were tested for Covid-19 on Saturday but the figure dropped to 1,947 on Sunday.
NMS Health Director Josephine Kibaru-Mbae explained that the random testing was meant to give an indication of how widespread the virus infection was in the city.
Ms Kibaru-Mbae said that would be done by calculating the positivity rate, especially after the easing of the containment measures.
"The results will help us to track the state of the pandemic and the information will guide decision-making. A higher positivity rate suggests higher community transmission. It will show that there are likely more people with coronavirus in the community who haven't been tested," she said.
During the two-day exercise, residents from Embakasi North recorded the highest turn up at 464.
Dagoretti North had 168 people tested, Dagoretti South (315), Embakasi (197), Embakasi East (225), Embakasi South (187), Embakasi West (202) and Kamkunji 273. A total 223 people were tested in Kasarani, Kibra (364), Langata (217) and Makadara (387).
On Sunday, 1,947 people got tested, where Dagoretti South recorded the highest number at 247.