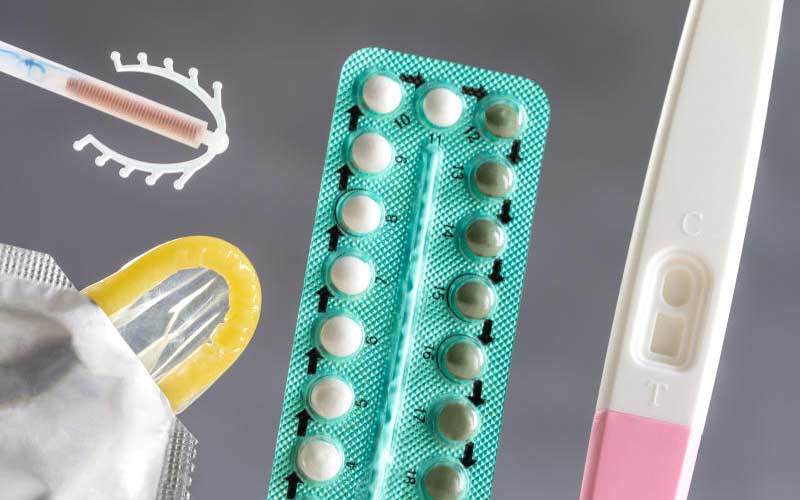 Women of reproductive age in Busia are opting for long term contraceptives as opposed to daily oral pills.
Details from the County Reproductive Health Department show that majority of women prefer implant and Depo Provera injection for birth control.
In 2019, statistics show that a total of 22,013 women went for the implant while 30,650 received injection to prevent them from conceiving.
Between January and June last year, at least 10,583 women went for the implant, compared to 14,500 recorded within the same period in 2020.
In the first half of 2019 at least 10,926 women received the Depo Provera injection compared to 26,356 recorded between January and June 2020.
Consequently, data from Reproductive Health directorate shows that in 2019, only 6,320 women across the county collected oral pills from public health facilities.
A total of 4,678 women picked family planning pills between January and June this year.
Last year, 639 women underwent bilateral tubal ligation which is a permanent family planning method compared to 36 who underwent the procedure between January and June 2020.
Alice Yaite, the Reproductive Health Coordinator in Busia, disclosed that women who went for tubal ligation (TBL) said they were comfortable with the number of children they have and were no longer interested in giving birth.
"The chances of conceiving once you undergo TBL are very limited and the method is administered to men and women," Yaite said.
She noted that family planning uptake in the county was still low.
Yaite attributed the low uptake of contraceptives to myths and misconceptions in the society, "that the woman is going to be promiscuous" when she goes for family planning.
Do not SET targets
"We do not set targets for family planning because that will amount to coercing women to go for contraceptives," she said.
She noted that most women prefer injection or implant for birth control.
"Most women hate taking pills daily for 21 days, break for seven days and resume. One fears they may even conceive during the break," Yaite said.
There are two types of implants: Jadelle that is perceived to be 99 per cent effective and works for five years while Implanon is effective for three years.
Yaite explained that the implant is a 4-centimetre long flexible plastic that is placed under the skin on the arm of a woman.
Depo Provera injection contains progesterone which is similar to one of the hormones produced naturally in the ovaries.
The injection is given every 12 weeks to prevent pregnancy by stopping the ovaries from releasing an egg each month.
"We have seen that many women are coming for injectables and implants as opposed to oral pills. The feedback we got from our clients was that some experienced nausea and headache whenever they took pills," Yaite said.
Before any method is administered to a woman, Yaite disclosed that the couple is first counselled and educated on every family planning service that is available.
"The couple will have to discuss the best family planning method they want that is why we always encourage male involvement because some of the side effects for injection may be bleeding and this will require assistance by the husband at home," said the County reproductive health coordinator.
She added: "We target women of reproductive age between 15 and 49 years but when those in adolescent stage come, we counsel them and make choice of the type of family planning they want."
Yaite disclosed that some women go for the injection without their husband's knowledge as opposed to pills.
Beatrice Nyagol, a research clinician at the Kenya Medical Research Institute, said a woman is at liberty to choose suitable family planning method after counselling by a reproductive health expert.
"Strict adherence to pills has always been a challenge because some forget (to take the pill) that is why we are seeing majority of women embracing either injection or implant," Nyagol said.
Rosebellah Mata, 34, from Amerikwai, Teso South constituency is one of the women who have gone for the implant.
Rosebellah and her husband Henry Mata decided to go for family planning methods to enable them plan their family after they got two children.
"We agreed on the type of family planning method to enable us plan well for our children," Rosebellah said.
Records from reproductive health department show that Matayos constituency leads with girls aged between 10 and 19 who take contraceptives.
The demand for contraceptives by teens is high in April, August and December school holidays.
"We do not ask them why they want family planning methods but tell them the benefits which is spacing of the children," Yaite said.
The Standard caught up with Joyce Auma and Leonard Otieno who have three children aged between three and nine.
Auma at first took oral pills but later went for the injection after experiencing side effects like loss of hair, increased weight and appetite and prolonged monthly period.
The couple visited Busia County Referral Hospital for advice on contraceptives.
"We were counselled and advised on every method of family planning then we settled on implant," Auma said.
She has not experienced any side effects since she went for the implant. "We realised that having a space of three years between our children was good," Otieno said.
Carolyne Atyeng from Aget goes for the injection every three months. She experiences side effects but is comfortable with the contraceptive. "I bleed but it is something we agreed as a couple," she said.
Sarah Ajiambo is among the few women who go for pills and she does not experience side effects.
Her husband reminds her every evening to take the pill.
"It is easy to forget to take the pills but I love them because I have not experienced side effects," she said.
Related Topics