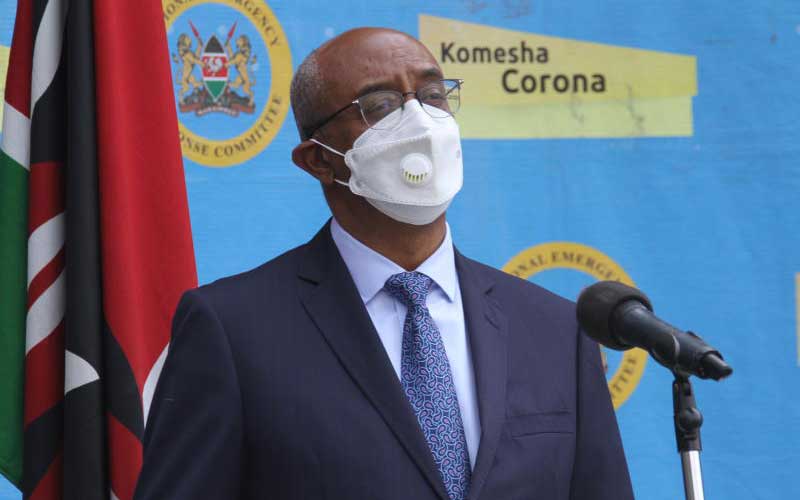 Kenya on Tuesday reported an increase of its Covid-19 cases by 271, the Health Ministry announced in a televised press briefing from Nairobi, as it cautiously lauded containment measures for slowing the spread of the virus.
Health Chief Administrative Secretary Dr Rashid Aman (pictured) said it was too early to make a determination that Kenya was flattening its infection curve as the number of tests kept fluctuating due to "limitations in the supply of testing kits."
The new cases are from some 4019 samples tested in the past 24 hours. This now takes the country's case load to 30,636 from a cumulative 398, 585 tests.
"178 are male and 93 are female. The youngest case is of a 1-year-old baby and the oldest 80 years old," Dr Aman said, adding that save for four, all were Kenyan.
CAS Dr Aman said 208 patients had recovered in the past day, bringing the country' total recoveries to 17,368.
"From this number, 161 have been released from the home-based care program while 42 were discharged from various hospitals," the CAS said.
However, five more patients succumbed to the virus, raising fatalities to 478.
Young and reckless
Dr Aman warned the youth who are the majority of Kenya's population not to drop their guard as those without underlying conditions are also dying from the virus.
"We urge the young people to stop reckless behaviour and the feeling that they are immune to the disease by flouting the regulations that have been put in place so that we don't spread this disease," Aman said.
He went on, "The other danger with the youth is that they are also spreaders of the disease because many of them are asymptomatic."
The Head of Public Health Dr Francis Kuria, who was also present at the briefing, cautioned that the reduced but increasing positive cases occasioned by low testing should implore Kenyans to religiously adhere to virus containment measures -- wearing masks, social distancing and practising proper hygiene.
"We must be very cautious when we are saying our curve is flattening. We don't think it is flattening, yet," Dr Kuria said, but added that indicators such as reduced fatalities in areas such as Mombasa was welcome.
"The best indicator is when the number of those in hospital and deaths start going down, then you can say our curve is going down. By and large, our positivity rate has remained the same," he said.