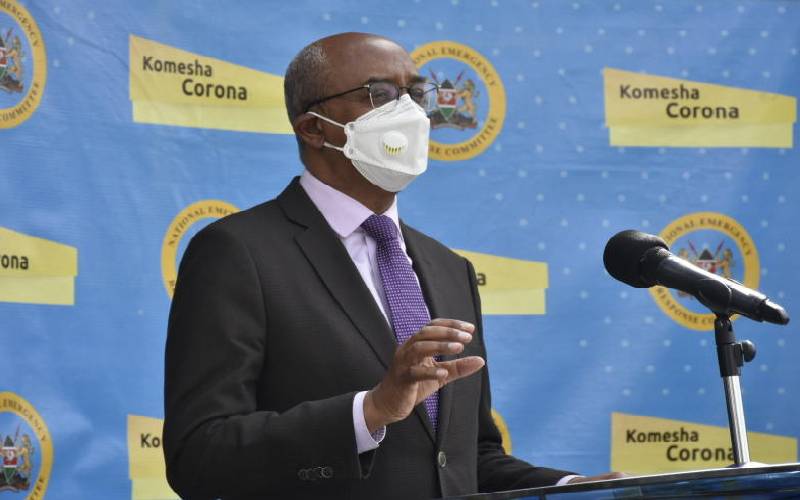 Council of Governors has given as assurance that counties will meet the deadline for the 300 isolation bed capacity even as the Government gambles with the dicey decision to reopen the economy. An additional 120 cases of Covid-19 were reported by the Ministry of Health yesterday as it took stock of what the disease has done in overburdening the health care system with a large number of fatalities. Already, facilities in the country particularly Kenyatta University Hospital and Kenyatta National Hospital have been overwhelmed with Covid-19 patients hence launch of the home-based care programme by the Government for asymptomatic cases. Health Chief Administrative Secretary Dr Rashid Aman (
pictured above
) said so far 144 people have died from the disease from the 6,190 cases reported after testing 167,417 samples. With only a few days to a possible reopening, most of the over 6,070 cases in the country are from community infection.
SEE ALSO: Why reinfections are making search for vaccine hard
"Out of this, 5,538 cases are local transmissions, which accounts for 91 per cent of the total caseload, with the bulk of infections recorded in Mombasa and Nairobi counties," said Aman. Of the total cases recorded yesterday, Nairobi had the highest with 67, followed by Mombasa (17), Kajiado (9), Machakos (9), Kiambu (8), Uasin Gishu (4), Nakuru (2), Kilifi (2) and Narok (2). Globally, there are 498,723 deaths from 9.9 million cases. "These global statistics demonstrate that the situation is not only unique to Kenya. This, however, should not give us a false sense of security that we are not the only ones affected," said Aman. But with the rest of the world reopening, it appears Kenya has gained the courage to follow suit even as questions are being raised on how ready the country is to handle a surge in numbers as this has been the situation elsewhere.
SEE ALSO: State now links virus spread to weather
An example is Florida in the US, which as reported by the BBC recorded over 9,500 new cases from initial 9,000 it had on Friday. When Florida opened back to business on May 18, there were 5,460 new cases that week and 262 deaths. The State's administration allowed beaches, restaurants, gyms and even theme parks to operate. Then on Saturday last week, the State reported 9,585 cases in 24 hours raising the total number of cases to 132,000 with over 3,300 dead. These figures forced the State's administration to order the closure of bars, a booming business since Florida relies heavily on tourism. However, as at yesterday, Kenya did not have the required bed capacity in the face of a similar scenario with just days to possible reopening of the economy. CoG Chair Wycliffe Oparanya said that by the time the pandemic started, most counties did not have money for emergency preparation.
SEE ALSO: Report: It is safe for positive mothers to breastfeed babies
It is for this reason that the national government allocated Sh5 billion for Covid-19 preparedness. "But the Sh5 billion also had to go through some process to be appropriated as supplementary budget," he said. Devolution Cabinet Secretary Eugene Wamalwa said as delicate as the plan to reopen is, all precautions will be taken with consideration of hot spots like Nairobi, which seem to have the majority of the cases and people are likely to travel out of the city. "That is why the President insists that counties should be ready with enough bed capacity. This is a big test for devolution," he said. New Zealand is one of the nations that has proved to be efficient in treading carefully on reopening. After two weeks of not reporting a single case, the country's Prime Minister Jacinda Ardern announced the reopening of the economy on June 8.