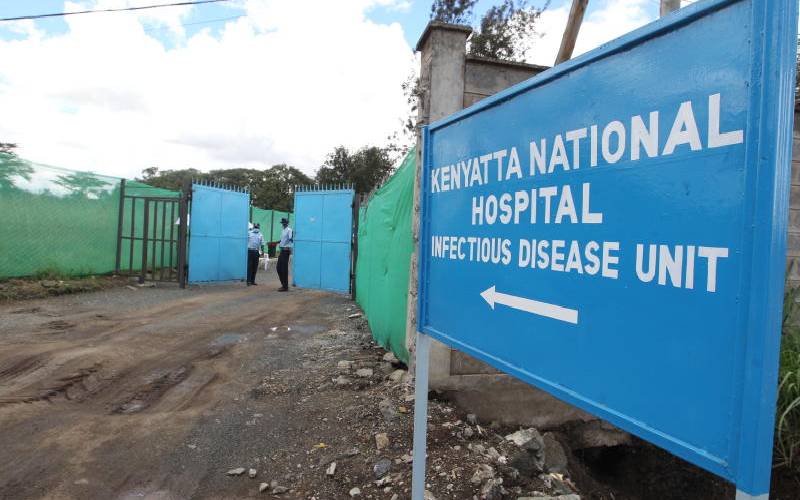 Doctors have partially blamed the recent spike in Covid-19 deaths to delays in taking patients to hospital.
In a daily Webinar organised by Kenyatta National Hospital (KNH) on Friday, doctors urged Kenyans to take patients to hospital as soon as they see early signs of Covid-19 related troubles.
"Patients are dying at the door or soon after entering the hospital," said Loice Achieng of KNH.
By the end of last week, more than 120 deaths had been recorded with 10 fatalities reported on Thursday, the highest rate in a single day.
Dr Achieng said while most of the patients will almost certainly recover, some of those being lost was because they were being brought in when they were already too weak.
"We are appealing to family and caregivers to help us by bringing in the patients as soon as trouble is noticed," said Achieng.
In a candid one-hour discussion, doctors from across the country told of their experiences in managing the new disease.
The mood was of a bullish team confident of winning the war despite what appeared to be 'mission impossible' to an outsider.
For example, the doctors told of long delays in getting diagnostic test results within the hospitals.
"Tests once ordered can take up to 24 hours on average and sometimes more," said Marybeth Maritim of Nairobi.
Dr Maritim said this delays patient care and also leads to the use of many Personal Protective Equipment that could have been better utilised.
Delay in getting results, she said, also increased the risk of suspected persons spreading the virus to others within the hospital.
The doctors are contemplating having every patient coming to the hospitals tested for Covid-19 before any treatment is offered. Currently, only patients with signs of respiratory problems are being tested.
Explaining the dilemma, Mbuvi Mutua of KNH said this had been prompted by a recent road accident case at the hospital's emergency unit.
In the case, a 50-year-old man who died while undergoing treatment for severe head injuries was also found to be Covid-19 positive.
A test for every patient, the doctor said, would inform on the course of treatment as well as help staff adopt the necessary infection control measures.
However, the doctors said delays in getting lab results and shortage of testing kits would make a 'testing all' policy difficult, especially when responding to emergencies.
The answer, they said, possibly lies with having a rapid test kit that would give results quickly compared to the current molecular test. But they noted an accurate rapid enough test for Covid-19 does not exist yet.
The shortage of specialised equipment is still a significant problem as explained by Irene Njeri of Kiambu County.
Dr Njeri told of how they lost one patient after failing to get him admitted to Kenyatta University and KNH. "By the time we got a bed at Thika Level 5 Hospital, it was too late," she said.
But it was Mohammed Sood of Mombasa County who lit up the Webinar with their progress in rolling out the home-based care.
"We have released all the paediatric patients because they were asymptomatic and now they are being cared for at home," said Dr Sood.
He told of a family of five where everybody had turned positive but were being cared for at home with close supervision by health workers.
"We are able to ensure all stay at home and if somebody leaves they are followed up and told to go back," he said.
On the thorny issue of collecting contaminated waste from home-care patients, Sood said they had provided the families with red bags for Covid-19 related waste. The bags, he said, are then collected by health workers for safe disposal.
But Edward Kibochi of Alupe Isolation Centre in Busia said they face a major challenge with home-based care because almost all their positive patients are truck drivers who do not have homes in the area.
"Some come from as far as Somalia and Eritrea with no homes here so we have to put everybody in a hospital," said Dr Kibochi.
Fielding questions from participants, Rhoda Kalondu said they had received complaints that some landlords were chasing away tenants receiving home-based care in their premises.
"We will seek the legal position on this and advise accordingly," Dr Kalondu told community health workers who had reported of patients being harassed by landlords.