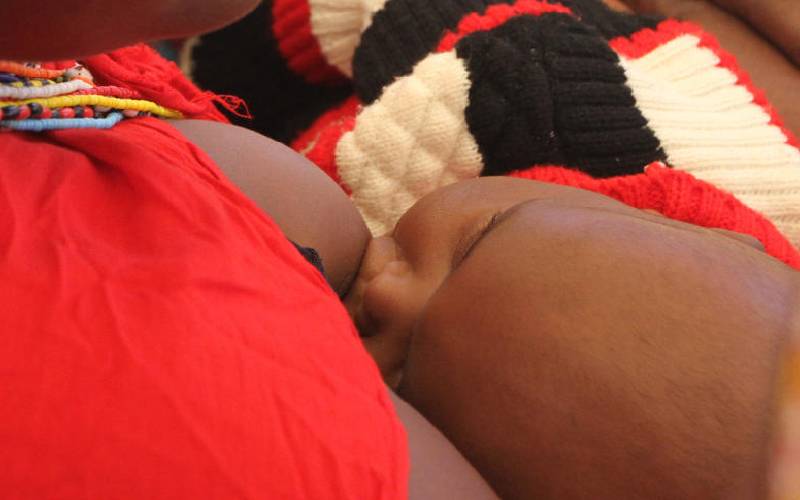 The World Health Organisation has urged mothers to continue breastfeeding, and not fear that they may transmit the disease to the child.
Director-General Dr Tedros Adhanom said, "Based on the available evidence, WHO's advice is that the benefits of breastfeeding outweigh any potential risks of transmission of Covid-19."
Speaking at a media briefing on Covid-19, Dr Adhanom further added that while children are at relatively low-risk of Covid-19, they are at high risk of numerous other diseases and conditions that breastfeeding prevents.
"Mothers with suspected or confirmed Covid-19 should be encouraged to initiate and continue breastfeeding and not be separated from their infants, unless the mother is too unwell."
As coronavirus numbers in Kenya continue to hit triple digits, the global health agency has called for continued attention on the health of women, children and adolescents.
While numbers in areas previously hard hit by the pandemic are slowly declining, the pandemic is accelerating in low- and middle-income countries.
These three special groups, according to the WHO Director-General, already struggled to access health services before the pandemic.
"Early evidence suggests people in their teens and 20s are at greater risk of depression and anxiety, online harassment, physical and sexual violence and unintended pregnancies, while their ability to seek the services they need is reduced."
The Ministry of Education is worried of a possible rise in cases of teenage pregnancies, early marriages, child labour and school dropouts sparked by prolonged closure of schools.
A proposed ministry emergency response plan in April said confinement of children at home due to school closures poses long-term consequences.
The draft Kenya Basic Education Sector Covid-19 Emergency response plan says if the schools closure is prolonged, adolescent girls are twice likely to be out of school. This group of learners face greater barriers to education and vulnerabilities such as domestic or gender-based violence when not in school.
Dr Adhanom admitted that the pandemic has overwhelmed health systems in many developing countries, Kenya included, and women may have a higher risk of dying from pregnancy and childbirth complications.
Maternity services at the Kenyatta National Hospital, which receives referrals from all over the country, have been affected by the pandemic. An obstetrician/gynaecologist said the hospital is no longer doing elective caesarean sections but for emergency cases.
"Even for women in labour, you don't just come and we admit you. You have to be in active labour, having dilated 6cm and above. That's because we don't want crowding and we also want to shorten your length of stay, to minimise your exposure to the virus," says the doctor.
By June 14, three months after coronavirus was first confirmed in Kenya, Health CS Mutahi Kagwe said the country's cases had shot to 3,594 after 137 people tested positive.
The WHO, Dr Adhanom said, has developed guidance for health facilities and community activities on maintaining essential services, including for women, newborns, children and adolescents.
This includes ensuring women and children can use services with appropriate infection prevention and control measures, and respectful maternal and newborn care.