Home
/
Health & Science
Warning on pre-existing conditions challenge as Covid-19 cases spike by 137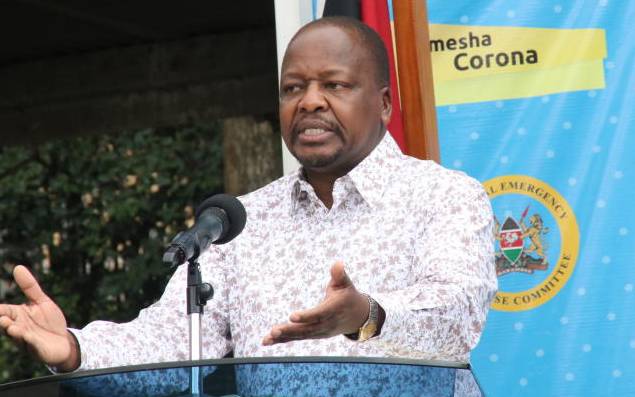 Health Cabinet Secretary Mutahi Kagwe (above) has warned of lurking dangers posed by non-communicable diseases which he said could jeopardise the war against Covid-19 if under looked.
Speaking in Othaya, Nyeri County, where he and a host of other leaders commissioned a regional referral hospital, CS Kagwe said the "the national government's vision on health is healthcare for all", and such implies covering all the health conditions.
Because of the daunting challenges caused by diseases diabetes, HIV/AIDS, high blood pressure and cancer, Kagwe said the government had embarked on a sensitisation campaign as a preventive approach.
He painted a gloomy picture of the negative impact of the NCDs. According to him, the non-communicable diseases lead to one in every three deaths. This could translate into over 50 per cent of deaths by 2030.
The CS gave an example with Nyeri County which he said was in the red zone as far as NCDs are concerned in the country.
"Nyeri is one of the high burden counties with NCDs… has also high prevalent cases of cancer," he said.
In his Sunday afternoon press briefing, Mr Kagwe said that he was involving the Ministry of ICT, under CS Joe Mucheru, who was also in attendance to ensure that technology is integrated into solving healthcare puzzles.
He said: "We want to predicate by using ICT to modernise and fight NCDs in the country..."
Meanwhile, CS Kagwe said that the country's coronavirus cases had shot to 3,594 after 137 people tested positive in the 3,167 samples tested in the past 24 hours.
Caution against laxity
He noted that there was a secret trend creeping back where Kenyans are disregarding the coronavirus safety rules.
To this, he fired a warning as he hilariously pointed out that his colleagues who had joined him at the press conference were likewise not following the social distance rules.
"Assume the next person next to you is Covid-19 positive…if he or she doesn't have a mask then that's the first instance to suspect him or her," he said.
Kagwe went on to use an analogy where a trader would handle a cabbage then a chain of her customers pop in at her stall to handle the same cabbage ending up infecting one another.
After the recent incident where politicians traded blames for convening gatherings flouting Covid-19 rules, the issue came up in the press conference. Kagwe said that the law was not tailored for a section of Kenyans only. He went ahead to ask law enforcers to apprehend those who flout the rules regardless of their social class.
"There are no two laws in Kenya. The laws apply to everybody…We are asking the law enforcers that we follow the regulations strictly," he said.
"Yet there is leadership that is setting an example on how to break the law…We do not condone any breaking of the law by anybody."
Burials
At the same function was Murang'a Women Representative Sabina Chege, who is also the Chairperson of National Assembly Committee on Health. The legislator said that there was Sh150 million set aside to equip the facility and ensure that it is a fully-fledged referral hospital capable of serving the entire region. At the same time, she challenged the health ministry to clarify the burial safety rules that uphold the cultural and religious values.
While responding to Chege, Health Director-General Dr Patrick Amoth said that Kenya recommended the WHO guidelines which charge public health officials with the handling of the bodies during burials. He said that the WHO guidelines do not interfere with burial rites and should only be used to observe safety.
He said: "We are going to send an alert to counties so that we have a dignified burial for those who die of the virus."
This is after Ohangla singer Abenny Jachiga was hurriedly buried on Saturday morning against the wishes of his fans who wanted his burial delayed for better preparation and send off.
Related Topics