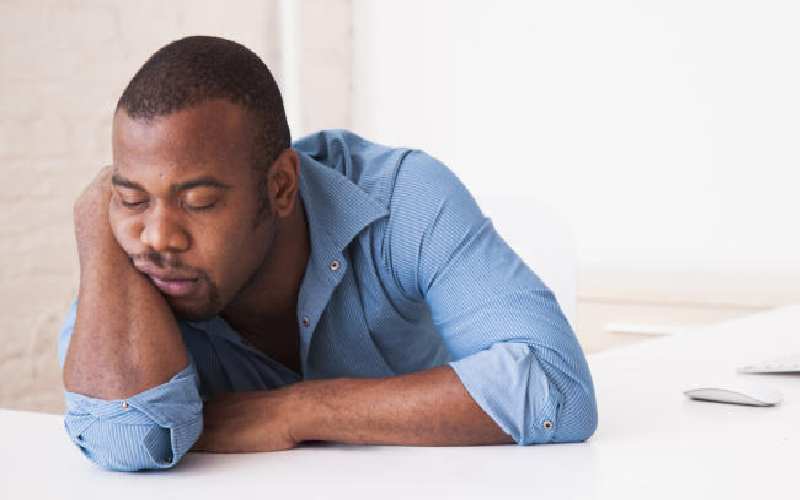 In my second year of high school, I started experiencing different sleep patterns. In class, I would doze off and get into really heavy sleep, even experience dreams. And then at night, I would lose sleep in the middle of the night. I'd sleep so much during the day, that I'd be sleepless at night. This became a cycle. I didn't understand what was happening, and my classmates would tease me while it landed me in trouble with the teachers. Some thought I was lazy, or eating too much. Others said I was bewitched. This got me somewhat depressed because no matter how much I tried not to nod off in the day, it would happen.
Even my parents thought my appetite was to blame. It began affecting my studies. One day, when home alone with my dad, I fell asleep three times when we were eating. That is when he realised that I had a problem. Later in the day, he took me to see a doctor. The first doctor thought I had diabetes.
One of my dad's friend then recommended that I see a neurologist. And when he did, he ordered an electroencephalogram (EEG) test. That was basically the neurologist looking at my brain waves and the patterns after inducing me to sleep. That's how I was diagnosed with narcolepsy.
I was prescribed a drug, a powerful stimulant that was supposed to keep me awake. It was doing that, but I was always extremely tired. I didn't think it was helpful. In class, I'd be awake but I drowsy. Because it was a stimulant, it'd look like I was high. I used the medicine for a while because, while in school, I didn't have another option. I told myself that I'd rather be awake than miss the lessons. Although i did stay awake, I was very tired.
The medicine was also expensive. One tablet cost Sh80, and I was supposed to take two every day. And one couldn't buy the rare drugs without a prescription. I then found out that the reason one couldn't access it without prescription was because it could lead to addiction. I didn't want to become dependent on it. Further research showed that it had other side effects like developing a stammer. I had also packed up the weight while on the drug. At the time, I had changed schools to a very strict one and I couldn't keep up with the regulations. I was always tired and drowsy, and the school management didn't understand my condition. So I told them and my parents that I was leaving the school. My dad jokes that I expelled myself from the school.
Management by diet
I eventually weaned myself off the drug. I'm not on any medication now. My mom did some research and found that a ketogenic diet would help me manage the condition. We even had it pasted on our kitchen wall. A ketogenic diet has less carbohydrates and more proteins. Certain proteins like peanuts are supposed to help improve the brain function. That diet has been working. If I eat certain foods right now, I'll fall asleep immediately. Growing up, I was hooked to wheat. If I eat a lot of wheat and sugar, I'll fall asleep at the drop of a pin, even if we're in the middle of a conversation. I think the gluten in wheat has a hand in it.
I also exercise a lot daily. Most people with narcolepsy are overweight. Also, knowing one's sleep patterns helps in managing this condition. I have specific times that I have to go to bed. I don't use any gadgets like cellphones two hours before bedtime and I maintain a clean sleeping environment. I have to take a shower before I go to sleep. Following the routine gives me good sleep at night and reduces my chances of falling asleep in the day. During the day, if I can, I will take a 10-minute nap. It helps me stay focused if I have a later meeting or class.
I'm an evening student at KIMC, with classes between 4pm and 8pm. The schedule works perfectly for me. I also avoid the sun. When one with narcolepsy is exposed to sunlight for long periods of time, it makes them drowsy.
Sometimes my condition catches up with me and still fall asleep randomly. I have once fallen asleep on a date and now, I let a girl know upfront that I have narcolepsy. I know how to drive a car but I have accepted that it's a skill I can't fully utilise. A person with narcolepsy goes directly into deep sleep, and directly out of it. There is no transition like other people have from light sleep to deep sleep. It thus can be risky if you're driving or operating heavy machinery. I have dozed off while operating the camera, and when cooking, leading to burnt food food and utensils. I now only make quick meals that don't require much wait time. I'm in a support group called, Narcolepsy Africa. It felt good to meet people with my condition. That has helped stop my pity parties and maintain a positive attitude.
Related Topics