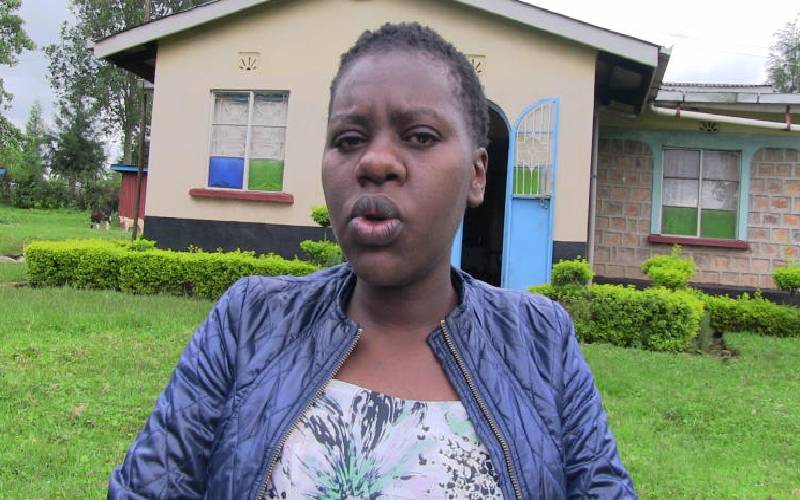 A trip to India for a brain tumour surgery has turned into a nightmare for 27-year-old Linnet Cherotich (pictured), following the suspension of international flights due to the coronavirus pandemic.
A post on a WhatsApp group chat co-ordinating Ms Cherotich's medical fundraising revealed the desperate condition she is in together with her mother, Joyce Langat, who accompanied her early this year.
In the post, Mrs Langat said they were supposed to fly back on March 7 after Cherotich's surgery, only to find themselves stranded after both India and later Kenya suspended international flights.
"This has caused us a lot of challenges, both psychologically and financially, because everything has gone beyond our budget and expectations," reads part of the post.
Cherotich stated in her own update that their flight had been rescheduled thrice since Covid-19 hit the two countries.
The lawyer from Soin/Sigowet Constituency said she flew to India after a surgery at Moi Teaching and Referral Hospital in Eldoret did not yield the desired results.
"I have been battling a nuisance known as pituitary tumour for a number of years now. In November 2018, I had a normal surgery to reduce the recurrent tumour that was messing up my hormone production, thereby causing metabolism issues. The timing for the Gamma Knife radio-neurosurgery was not complete, so I had to wait," she said.
Cherotich, who graduated in 2014 from the Moi University School of Law, added that the tumour recurred in June last year.
"The hormone production was irregularly high. Neuroscience, oncology and endocrinology doctors then recommended I undergo the Gamma Knife radio-neurosurgery to help hasten the tumour removal procedure," she said.
Complex situation
Cherotich's father David Langat said he has spent more than Sh3 million over the seven years that his daughter has been in and out of hospital.
"We are in a very complex financial situation right now. We had to even take bank loans, which have now accrued huge interests," he said.
Former nominated MP Esther Keino, who has been leading Cherotich's medical fundraising, has appealed to well-wishers to help the lawyer and her mother to cater for the costs of their extended stay in India, and their return home once flights resume.
Contributions can be channelled through M-Pesa Pay Bill 281 307.