Home
/
Health & Science
Landmark facial transplants give hope to Kenyans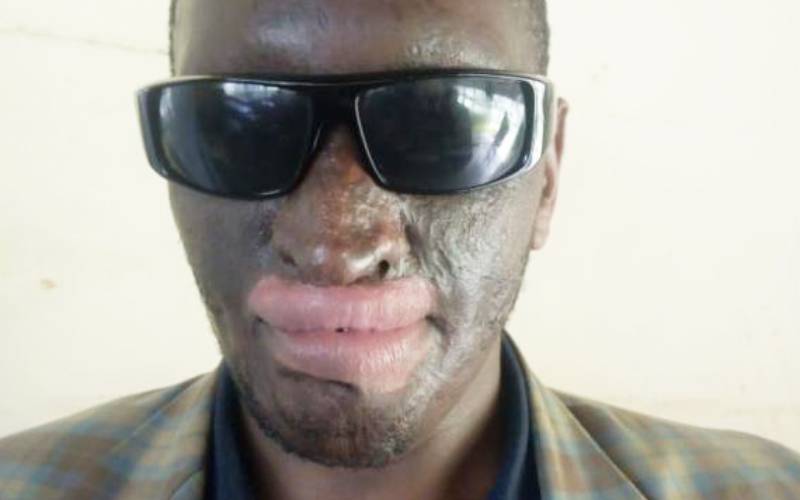 Whenever Margret Rop, 35, runs her fingers across her face, she is reminded of what she lost – her face.
The scars that remained after her husband poured boiling oil on her speak of a past she wishes she could erase, and a future of living with uncomfortable stares wherever she goes.
"The stares are a constant reminder that there is something wrong with my face. I miss having a normal face," she says.
Her desire for the perfect face is not isolated. The face is the canvas upon which we draw our emotions. A wink, a smile, a frown and a wiggle of the nose can all be plastered on the face to communicate the universality of what we are feeling. Faces scream words that our tongues refuse to utter. They are the gateway to the sensory world; harbouring sight, hearing and taste. Yet, there are some people without faces. They carry a distortion of their former selves after losing a portion of their whole faces in accidents or incidents that altered their lives forever.
For Mr Alexander Chege, it happened when strangers attacked him and poured acid on his face two years ago. "I lost my face and sight. I keep praying that I get my eyesight back, with a new face," he says.
Ms Wilikista Nafuna has a similar prayer. When a flaming ceiling board landed on her face as she was running from her burning house, she got severe burns. She spent two months in ICU and three years getting facial reconstruction. So destroyed was her face that she can barely open her mouth fully to take solid foods.
"Doctors tried their best to grow my skin and harvest it to replace what had been burnt. My face has never been the same. I dream of a new one," she says.
Her dream for a new face is not a wild thought. Last week, a 68-year-old man in California, US, became the first black man to get complete facial transplant. He had been involved in a road accident in 2013. Even though the procedure happened thousands of kilometres away, it awakened hope for many Kenyans with distorted faces that someday, in the near future, they too could get new faces.
"I followed the news of the face transplant with excitement. It means we might finally live a life where we do not get so many questions on what happened to our faces," says Dan Matakayia, a domestic violence survivor.
Ruined face
His face got distorted after his wife allegedly poured acid on it. The incident caused an instant loss of sight and nasal system. He went through several reconstructions and was recently in the USA for further surgeries, but doctors told him restructuring his face will take a long time. The option of a face transplant sounds exciting for him. "If you have a ruined face, any news that gives possibility of changing it is big," says Matakayia.
Face transplant surgery is a treatment option for people with severely disfigured faces. It is a complex surgery that involves taking off skin of a dying patient, preserving it, and stitching it to a patient with a disfigured face.
"Facial transplants work and can be done in Kenya. The challenge is the legislation around it. For one to be a donor, it means a doctor has to stop life. Euthanasia is illegal in Kenya," says Dr Nangole Wanjala, a plastic surgeon in Nairobi.
Dr Wanjala says the face can only be harvested when the donor's heart is still beating, bringing in the debate on when life ends and who should decide when to terminate it.
He says a facial transplant needs a team of medics to work on one case, as it will often involve a plastic surgeon, Ear, Nose and Throat (ENT) expert, doctors versed in immunity issues and many other medics.
A facial transplant done last year to a Canadian man who got an injury in a hunting incident involved more than 100 medics and lasted close to 30 hours. It solidifies the fact that even with the hope it beams, facial reconstruction is still a high-risk procedure.
Since the first successful facial transplant was done in 2005, only 40 of such transplants have been done globally. When the possibility of a facial transplant started seeping into the medical world, skeptics called it science fiction.
The first report published by Lancet in 2002 on facial transplants indicated that while the concept sounded like a fantasy, it could be the future of treatment for people with extreme facial damages.
Questions lingered on the viability. Some medics argued that it was too risky and unnecessary on patients since it mostly focused on aesthetics. The concept is still too complex to understand, especially in Kenya where organ donation is seldom discussed.
"If one gets a transplant, will they resemble their donors, won't it be a sad reminder to the donor's family?" asks Elijah Mutua whose sister's face got disfigured from a road accident.
Dr Meshach Onguti, who specialises in maxillofacial and oral surgery, clarifies that with a facial transplant, the face takes up the bone structure of the recipient. He says even though the continuing developments on facial surgeries are exciting, it is too early for Kenyans to celebrate since the investment for doing such a surgery is massive.
"Even if we had laws allowing face transplant, it needs several specialists and technology where donated organs can be kept. All the structures must be in place," says Dr Onguti, adding that he is confident that Kenyan doctors can do facial transplants if the medical standard in the ones done abroad are replicated.
For Ms Rop, the fact that people are discussing facial transplants globally gives her a thrill. She says it makes her know that people are finally having a discussion on the depression that comes when your face gets completely ruined.
Related Topics