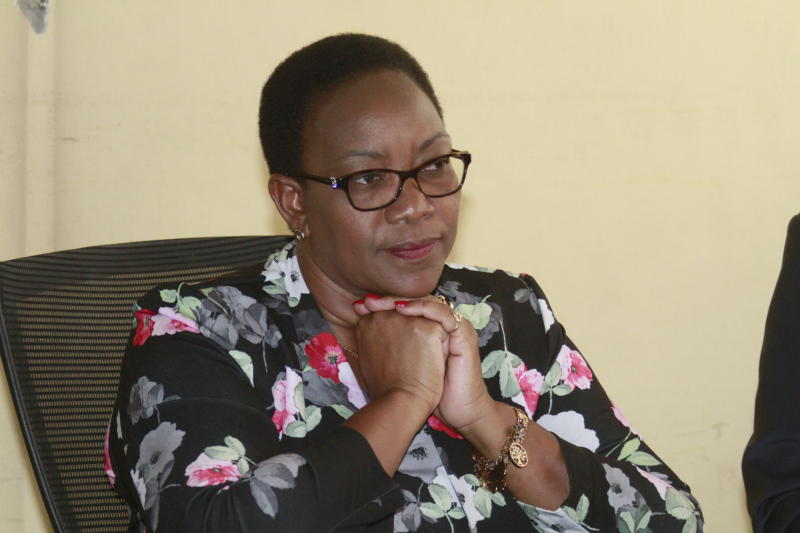 Health Cabinet Secretary Sicily Kariuki has revealed that Kenya has a shortage of 140,000 health workers. These include doctor, nurses and clinical officers. Ms Kariuki (pictured) said the shortage puts Kenya below recommended staffing levels by the World Health Organisation (WHO). "This state of affairs must simply not continue. We must curtail it," said the CS, who was speaking yesterday during the Kenya Health Forum 2019.
SEE ALSO: Nyong'o ordered to promote medics
The two-day event, whose theme is Partnering for #UHC: Delivering Affordable Quality Healthcare, is being held at the Safari Park Hotel in Nairobi. According to the latest Health Sector Performance Report 2017/18, Kenya has just 11,000 doctors. Of these, the public sector has 3,400, the private sector has 2,740 doctors while 4,860 doctors are in the informal sector. Kenya also has 76,000 nurses, according to the report. According to the WHO recommendation, the ratio of doctor to population should be 1:1,000 while that of nurses to population should be 1:40. But with the current numbers, and the country's estimated population of 47 million people, the ratio of doctor to population stands at 1:4,272 while that for nurses is 1:618.
Health technologies
SEE ALSO: Kisumu medics defy return-to-work order
Ms Kariuki said that apart from health technologies, human resource is the other area that needs key investments. "Kenya, like many countries around the globe, faces a severe shortage of human resources across the different cadres." Kariuki said it was disturbing that despite the shortage of health workers, a recent report by the State population agency had revealed a 50 per cent absenteeism rate in hospitals. The CS warned that this absenteeism, coupled with the frequent unrest by medical workers, poses a threat to the delivery of health services and attainment of universal health coverage (UHC). Kariuki said with the implementation of UHC, which is already running in the four pilot counties of Kisumu, Machakos, Nyeri and Isiolo, there has been a surge in patient numbers and increased demand for access to health services.