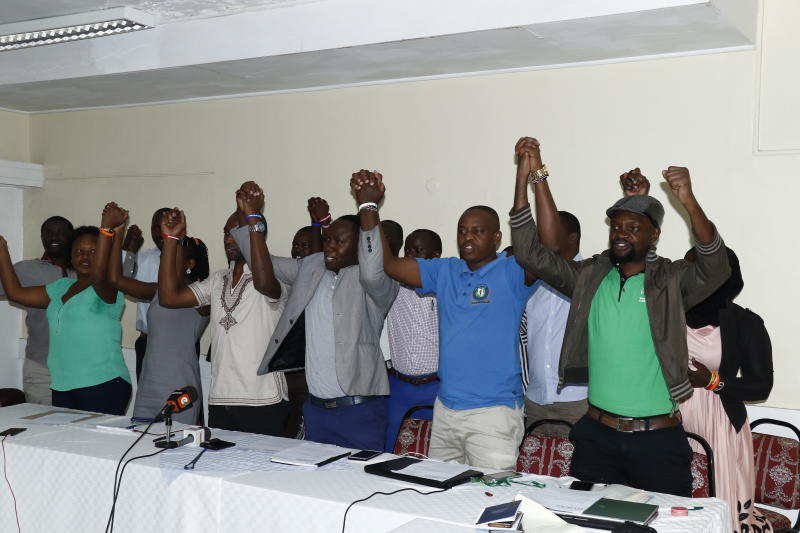 The Ministry of Health has finally signed an agreement with clinical officers which has forestalled an impending strike.
The Recognition Agreement, signed on Monday, gives the Kenya Union of Clinical Officers (Kuco) the legal grounds to engage the National Government on matters around their working conditions and remuneration.
"We wish to inform Kenyans that both sides have agreed to continue engaging in good faith so as to ensure uninterrupted delivery of health services to Kenyans," read a statement signed by both Health Cabinet Secretary Sicily Kariuki and Kuco General Secretary George Gibore.
The union on February 9, 2019, had announced that talks with the Government on a Collective Bargaining Agreement (CBA) had collapsed.
This is because the 47 county governments and the Ministry of Health, who are the employers had failed to sign a recognition agreement with the union as stipulated in a Return to Work Formula signed in October 5, 2017.
The RTWF stipulated that the union will sign a recognition agreement as per the existing labour laws within 60 days.
The union said its negotiations dragged all through to 2018 and several petitions were done latest being January 28, 2019, but the Government did not barge.
The union hence resolved that a meeting will be held an advisory council will be convened, which will issue the directive to call for a nationwide strike.
However, yesterday both the union and the ministry denied any plans to strike, which would cripple even further health services as nurses are currently on strike.
"It is therefore notified to the general public that the media reports to effect that clinical officers have issued a strike notice are incorrect," read the joint statement.
Last week, Kenya Union of Medical Laboratory Officers also issued a 21-day strike notice claiming that even after they had their union registered, the government has refused to recognise them, hence stopped any engagement to better their pay.
"Most of our officer shave been on contracts for over six years, while others have stagnated on one job group," said the union Secretary General Enock Wanyonyi.
It is only through a recognition agreement that a union can start engaging an employer on working conditions or agitate for better pay.