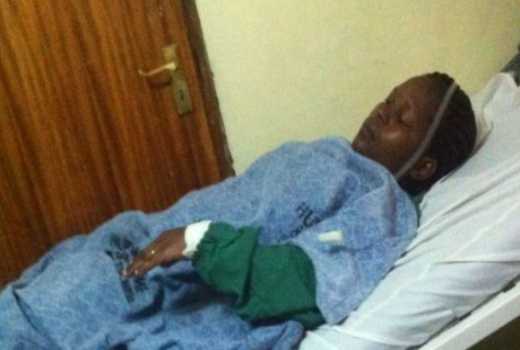 A woman was stunned when she was told she had a stillbirth, only for her baby to be brought to her following furious protests.
This is the situation Lydia Kiluma found herself in after a delivery through Caesarean section at Huruma Nursing Home in Nairobi.
After she gave birth to a bouncing baby boy, the doctors took her baby to clean him. But what was brought back was the body of a dead child, wrapped in leso and placed in a box.
"When I went into the room where my sister was after hours of waiting, I found Lydia lying alone on her bed, still unconscious. There were three doctors in the room and I asked them where the baby was," said Lydia's sister Sharon Kiluma.
Sharon said she fainted when one of the doctor's informed her that her sister had a stillbirth.
"The doctor told me he was sorry that my sister had a stillbirth. He showed me the box with a dead baby inside. I was shocked to the point I fainted immediately."
When she regained consciousness, Sharon says she confronted the doctors, asserting that the dead baby could not be her sister's.
"I could not understand how they asked me to go buy diapers for the child yet it was stillborn. In fact, one of the nurses in charge came down to the reception and took the diapers. Were they taking them to a dead baby? I insisted that the dead child was not Lydia's," said Sharon.
However, after the argument with hospital staff started to draw attention, Sharon said one of the doctors went into the nursery and brought another baby, wrapped in the covers Sharon had bought for her sister.
"In a span of less than five minutes the doctor had brought the child, alive and wrapped in the covers that I had bought, saying it was a mix-up," she recounted.
When we spoke to Lydia by phone after the hospital security stopped anyone from visiting her, she expressed fear about remaining in the hospital after the incident.
"I was not aware of what transpired until my sister told me about it. During the operation, my entire body was numbed therefore I did not see or feel anything. I am not sure I'll be safe staying here anymore," she said in a frail voice.
Lydia said she was admitted at Huruma Nursing Home at around noon on Monday, April 16, after she went into labour. Like her first-born, she thought her second pregnancy would be delivered normally but the hospital told her otherwise.
"I was in a lot of pain so when I arrived at the hospital, I was given medication. However, after sometime, the doctor in charge informed me that my child had difficulties breathing and that I would require to go through an operation to make sure the delivery was safe," she said.
All this time, she said, her husband was with her before her sister arrived. But that is all she recalls.
"I thank God we found her baby, whom we hope is genuinely hers. I had overlooked the graveness of the issue until I informed my husband Javin Ochineg' who posted it on social media before reporting the incident at Huruma Police station," said Sharon
Attempts to reach the hospital for comment were futile as the management declined to speak to us. A caller who had earlier phoned Sharon's husband introducing herself as Elizabeth from the hospital refused to give any information, saying it was a police case."
Related Topics