Home
/
Health & Science
Why donor billions is a headache for new Health CS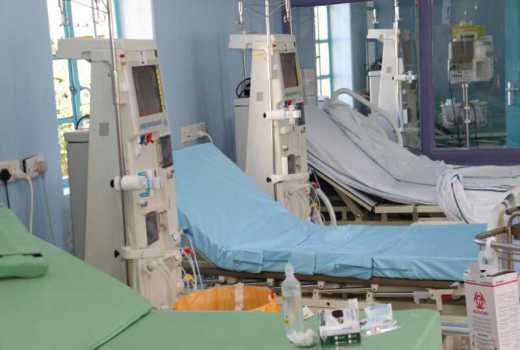 Cabinet Secretary Sicily Kariuki has taken over at the Ministry of Health with a promise to deliver on universal health.
"We will deliver universal healthcare as envisaged under the big four agenda," she tweeted on Wednesday soon after a handover ceremony, referring to President Uhuru's second term goal.
But first she has to address the urgent issue of whom between Afya House and governors get to manage billions of donor cash and projects.
"We want all monies for health sent to the counties and we want it now," says Council of Governors' Chairman Josphat Nanok.
A recent budgetary analysis by the Ministry and USAid shows that despite devolution of health services to counties, loans, grants and donor financing to Afya House have grown dramatically since 2014.
By holding onto the free maternity initiative and the Sh38 billion medical Equipment Leasing Scheme, the analysis shows Afya House to have gone on a borrowing spree.
While in 2015 Afya House had borrowed only about Sh1.7 billion, Sh5.2 billion in 2016, last year's borrowing jumped to Sh6.7 billion. The analysis shows debt at Afya House to have risen from eight per cent of the development budget in 2014/15 to about 22 per cent last year.
These loans are indicated to have gone into supporting free maternity and the now largely moribund Medical Equipment Leasing Scheme. Despite devolution of all health services, the Budget analysis shows donors to have increased their funding to Afya House from Sh19 billion in 2015/16 financial year to Sh30.7 billion last year.
Missed opportunities
"Much of the donor funding was allocated to HIV, reproductive health, immunisation, and health systems support," says the report.
"Donors must realise the health sector has changed and they must respect the Constitution and send money to the counties or else...," says Governor Nanok.
Already Makueni County has embarked on its own Free Health Care Scheme, with several other counties indicating a willingness to follow suit.
This could undermine the National Universal Healthcare plan whose viability depends on the biggest possible number of contributors.
But donors have defended their dalliance with Afya House, arguing that counties lack capacity and structures to adequately safeguard project funds.
While approving a recent Sh38 billion grant to Kenya for HIV and TB control, the technical arm of Global Fund had expressed reservations on the counties' capacity to oversight the funds.
"The fund's Grant Approvals Committee considered devolution to be an opportunity to be fully exploited, but one which comes with the need to implement appropriate financial and programmatic safeguards," said the committee.
Of this particular grant for HIV and TB, Sh27 billion will be controlled by the Government but which the governors want devolved. "Counties have adequate capacity to safeguard such funds," Nanok said in a delegated speech during the grant signing ceremony in Nairobi last month.
But a senior official within the ministry says while donors may be justified over accountability problems in the counties, the biggest worry is their losing control of the HIV agenda.
While the ministry and donors prioritise HIV as the main cause of illness and death in Kenya, many of the counties' development plans do not have this as a priority disease. For example, in the current Nairobi County Health Sector Strategic and Investment Plan, HIV does not feature among the top seven causes of death or illness in the county. Likewise, the County Annual Development Plan 2016-2017 for Siaya, does not indicate HIV as a major priority disease despite high prioritisation by donors.
"Death and mortality data collected from health facilities in the county indicates malaria, pneumonia and diarrhoea as the main causes of illness and death," says the plan.
Several other development plans, including for Mombasa, Kakamega, Kiambu and Turkana have HIV as a lesser priority problem with malaria, pneumonia and diarrhoea emerging the biggest concerns.
"Pneumonia followed by malaria, cancer and HIV/Aids continued to be the leading causes of death from 2012 -2016," says the 2017 Economic Survey.
In 2016, the survey shows pneumonia to have killed 21,295 Kenyans, malaria 16,000, cancer 15,762 and HIV 9,471. HIV, however, remains the most highly funded at an estimated $948 million a year, with the bulk going to import biomedical supplies.
Related Topics