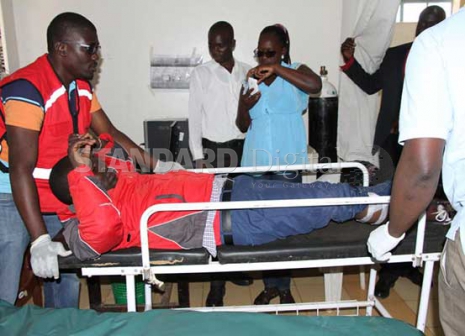 A medical trauma camp has been set up to treat victims of the police clampdown as anti-electoral agency protests resumed on Tuesday.
The camp, named 'NASA Medical Emergency Centre', has been set up by a team of volunteer medical practitioners at the Acacia Clinic to offer emergency services as the nurses' strike continues to derail services at public facilities.
Great Lakes University vice chancellor, Atieno Amadi-Ndede, who is one of the coordinators of the centre, said there were three doctors, a nurse, and psychologists at the facility to treat and offer counselling and psychological support to those injured during the protests.
Prof Amadi-Ndede said the camp was set up to complement services at the Jaramogi Oginga Odinga Teaching and Referral Hospital (JOOTRH), where most of those wounded in the previous clampdown had been taken.
"With this facility in place, we advise friends and relatives to take their injured loved ones there instead of JOOTRH, where they are reportedly not receiving sufficient care," read a message designed to go viral on WhatsApp.
It was shared with emergency service providers, Kenya Red Cross, the county government, and political leaders.
Data at JOOTRH shows that four people have succumbed to bullet wounds over the past three weeks.
Eleven others are nursing bullet wounds and at least 70 others have been treated and discharged.
Related Topics