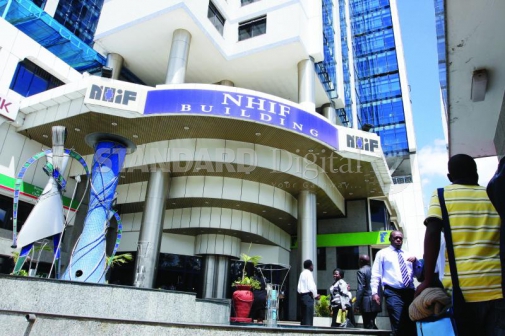 Contributors to the National Hospital Health Insurance Fund will soon get outpatient cover for chronic diseases such as cancer and diabetes.
NHIF Board Chairman Mohamud Ali revealed Thursday that the new package may be rolled out in January next year, after the NHIF Board approves its implementation, and will also cover high blood pressure and renal dialysis among others.
Previously, the contributors to the recently-launched NHIF outpatient cover only received basic care for ailments like malaria, pneumonia, typhoid, burns and other minor services.
Chronic diseases had been excluded raising concerns among Kenyans who begun paying more monthly contributions to NHIF to support the outpatient cover.
Ali said that the package will be available in a select number of facilities that have the capacity to offer the service.
"Not all the facilities that have signed contracts with NHIF have the capacity to offer care to persons with chronic diseases. That is why we will create a pool of funds that will be sent to selected facilities that have the equipment and personnel to do so," he said.
Kenyans from low-income households are often unable to raise funds for treatment of chronic diseases whose incidences have recorded a sharp rise in the recent past.
Defrauding NHIF
Mohamud also revealed that NHIF is carrying out investigations on health facilities that could be defrauding the fund millions of shillings in false claims.
He said that investigations are ongoing to identify the fraudsters who may be working with officials of NHIF to claim payments for treatment not offered.
"We are also investigating some managers within NHIF to determine their role in this anomaly. If they are found culpable, they will be sacked and prosecuted," he said.
He was speaking Thursday in a stakeholders meeting to enhance understanding of the organisation's mandate.
On his part, NHIF CEO Simeon Ole Kirgotty said that the facilities working with NHIF to offer outpatient services have risen to over 900, including private, public and faith-based ones.
He said that the major challenge facing NHIF outpatient scheme has been slow uptake and enrollment by the members of public, despite efforts to market and build awareness.
Latest data shows that the overall NHIF principal membership grew by 14 per cent from 4.8 million members in June 2014 to 5.6 million members in October 2015.
Including their dependents, the overall membership rose from 24.1 million to 27.48 million members during the same period taking an average of 4 dependents per principal member.
The membership contribution grew by 16.1per cent from Sh13.6 billion in June 2014 to Sh15.8 billion in June 2015.
Annual claims payment for 2014/15 as at 30th June 2015 was Sh10.3 billion, the major portion, which was for the national in-patient scheme at Sh.6.5 billion followed by the civil service and disciplined services at Sh.3.8 billion.
Related Topics