Home
/
Health & Science
Two die as health workers down tools, ground operations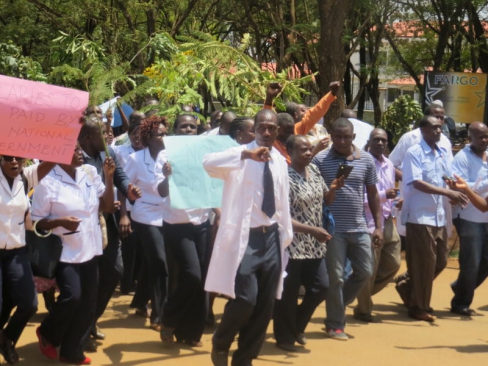 At least two people have died in Siaya County in the ongoing strike by health workers.
The medics are protesting delayed salaries and promotions.
The workers, who were joined by the Union of Civil Servants (UCS) and county government members, demonstrated along the streets of Siaya town yesterday.
Operations at the county referral hospital and county offices were paralysed for the better part of the day as the workers, carrying twigs and chanting slogans, marched to Governor Cornel Rasanga's office.
Led by Siaya leaders UCS Secretary Godfrey Ooko, Kenya National Union of Nurses Chairman Sylvester Nganda, County Government Union of Workers Secretary Tom Opiyo and Kenya Medical Practitioners, Pharmacist and Dentist Union Chairman Evans Oguti, the workers demanded to know from Rasanga why they had not been paid yet their counterparts in neighbouring counties had received their July salaries.
"We are not able to take care of our children and landlords want to evict us from our homes. We have serious loans and debts to settle, yet all you do is make unfulfilled promises. We will not listen any more," reiterated Nganda.
Opiyo said most workers had not been promoted and had never received a salary increment for the past three years.
"Resignation of staff with higher levels of education has not been taken care of and there is a serious shortage of staff that has led to overworking. We will not sign shoddy work formats any more," he added.
Despite pleas by Finance Chief Officer Sijeni Maroko that they will receive their salaries on Friday morning, the workers vowed to continue with the strike until issues affecting them are addressed.
The medics also said they would only be addressed by the county chief, whom they claimed was the county boss who had failed to hear their pleas.
Wrong account
Mr Maroko said the salaries had been sent but had been channelled to a wrong account, thus causing the delays.
"Controller of budgets has approved the money, but it was mistakenly sent to a wrong account. Tomorrow morning you will all have salaries as promised. Kindly bear with us," pleaded Maroko.
The workers have also accused the county administration of being insensitive to their plight and claiming they lack funds.
The medical staff have vowed to stay away from their workstations despite hundreds of patients flocking to the facility with no assistance.
Meanwhile, a spot check by The Standard revealed operations at the referral hospital had ground to a halt.
Speaking to The Standard at the hospital, Solomon Ochieng, a brother to a patient who passed away on Thursday at 11am, said his sibling had not received any treatment since Wednesday.
Ochieng said his 36-year-old brother was suffering from cancer of the legs and had been admitted earlier last week.
"My brother also had other injuries and had been taken for X-ray to determine the cause. We had struggled before his death because there are no drugs for treatment.
More deaths
"We have also spent a lot of money buying drugs in chemists. The Government should pay workers to stop the strike or more people will die," he warned.
Ochieng said some parents with patients at the children's ward were already being told to leave the hospital.
Medical Superintendent Wilfred Basweti confirmed the absence of workers from the facility, noting only medical interns were attending to patients admitted in the wards.
"Patients are not getting medical attention, especially the outpatient wing. So far, there are 50 adults and 14 children in the wards," said Basweti.
Rasanga, when contacted by The Standard, said the delay in payment of salaries was prompted by bureaucracy created by the national government.
He, however, promised that the money would be available today.
"It's unfortunate the national treasury is subjecting us to this mess. When you look at health workers elsewhere, this has been the trend. It's regrettable but the money is finally available and by 2pm tomorrow (today), they should get it," he said.
Related Topics