Home
/
Health & Science
Westgate mall attack and lessons from 9/11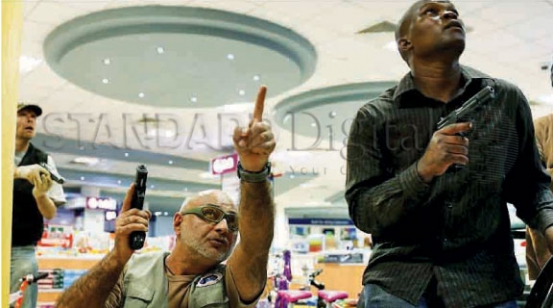 Make no mistake. I agree absolutely with other Kenyans, we should not give in to the propaganda, and provocation of merchants of terror. I support the opening of Westgate Mall; it is a sign of community and business resilience. However I would like to argue that the key failures that caused the terrorist attack in the first place, have not been adequately addressed.
Terrorism started during the Roman times, has been around for centuries and will be with us for a long time. The goal of the counter terrorism legislation should be to assure Kenyans of security within our border and wherever Kenyans are abroad, so that they can go on with their lives in safety and confidence.
The first main failure in our opinion was the Anti-Terrorism Act 2012. This legislation unfortunately had not addressed previous gaps in sharing of intelligence between security agencies - intelligence a, security and police. This is notwithstanding, ignoring critical intelligence shared by the Israeli security.
During and after the attack, the disagreements in public between the National Intelligence Services, Special Branch and Police were telling. Linked to this failure in intelligence sharing, is the coordination and cooperation operational issues between the police and the military in rescue and recovery situations.
Best practices from Western countries show that the police or specialized paramilitary force (GSU) should have taken a lead role, the Military Commander in turn should have presented their rescue and recovery plans to the Police Commander for approval and integration into the Police rescue plan. According to media reports, there were serious disagreements between the security agencies, leading to the escalation of the hostage situation to days instead of hours with many casualties.
The other failure of the Act was that it did not address vulnerability and education issues in terms of public awareness, national infrastructure and businesses. Business and the public have to play a role in preventing and preparing in case of terrorist attacks. I can bet Westgate does not yet have an Emergency Management and Evacuation Plan. If they did, they would have mentioned it during the opening last Saturday but they did not. This plan would have addressed the vulnerabilities of Westgate Mall in terms of vehicle and pedestrian access and evacuation plans in case of an assault.
The terrorists gained access to the Mall from either Peponi Road or Ringroad Parklands. As far as I am aware, nothing has been done to improve security of these junctions. As it is, pedestrians queuing at the main entrance for security clearance are a ready target, exposed to weather and therefore a bad idea. When it rains, security checks will be compromised.
Have lessons been learnt from Westgate Mall attack?
The unfortunate Garissa University College terrorist attack says it all. The starting point should be updating of the Anti-terrorism Act 2012 to address the various flaws in our countries counter-terrorism strategy. They should cover matters such as lack of intelligence sharing, cooperation and coordination of police, security and intelligence including international cooperation. Important lessons from 9/11: America was unprepared for the Al Qaeda attack due to lack of intelligence sharing, cooperation and coordination between security and intelligence agencies
L.G. Mwacharo is an Urban Design Specialist
Related Topics