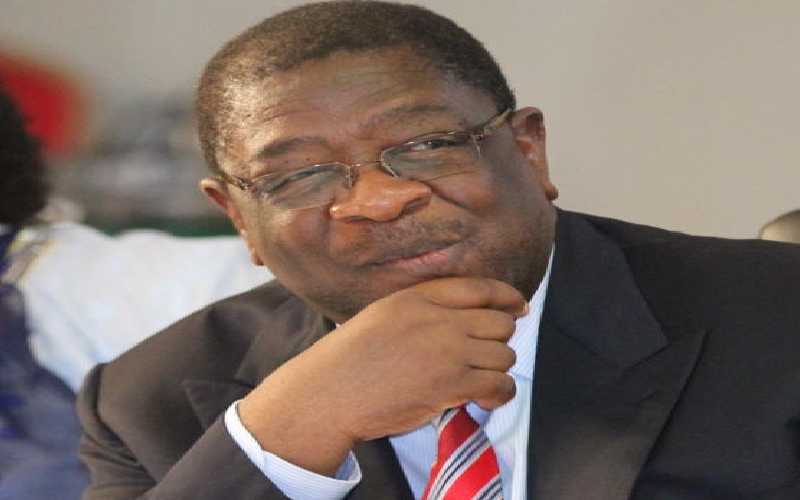 "I was taking vitamin supplements and steaming even before I tested positive [for Coronavirus]. So, when the symptoms came, I thought it was not Covid-19."
Those were the words of Busia Senator Amos Wako (pictured) on Sunday, April 25, when he opened up about his battle with Covid-19.
Wako, who was speaking on national broadcaster KBC, narrated how he was put on oxygen support immediately he was confirmed to be Covid-19 positive. Doctors stated had he delayed seeking treatment for another two to three days, he would have died.
"They told me the virus had affected my [respiratory] system," said the lawmaker.
Wako revealed that after being diagnosed with the contagion, he was treated as a high-risk patient.
"I was told can only go home in an ambulance with about six health professionals to pick a book. I never wanted to be lonely [in hospital]."
"While being taken home in an ambulance, I'd hear the siren sounds. At home, I went to the toilet, and one of the medics carrying [an] oxygen [container] followed me to the washrooms," he said.
The senator was under oxygen support for two-and-a-half weeks.
He was also put on steroids to aid in his lung recovery.
Wako, who is living with diabetes, said the steroid introduction affected his health. The doctors, however, found a way of stabilising him.
The Covid-19 effects resulted in him developing kidney problems, which were detected and treated early.
He revealed imagining his death and asked God to "spare him so that he could correct his wrongs".
The senator said he wasn't sure where he contracted the virus.
From his experience, he has urged Kenyans to observe Covid-19 safety measures to avert hospitalisation or even death.
Related Topics