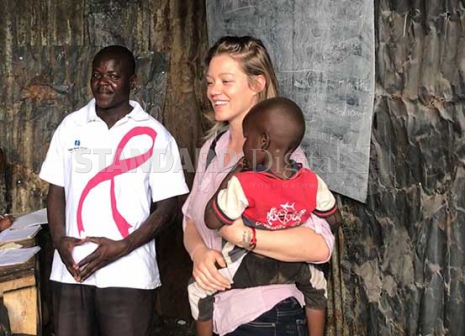 A prominent 25 year old American HIV activist, is in the country to add her voice against the deep-seated stigma that is still impeding the fight against HIV/AIDS in Kenya and around the globe.
Born with HIV and abandoned by her father when she was 14 years, Lexi Gibson is known in the US for her efforts in taking on the myths that fuel stigma against people with HIV through her organization "Stop Hate Educate" (SHE).
Her story of resilience against stigma and discrimination since childhood, including the passing away of her mum with HIV when she was only 4 ½ years, has struck a chord with many in the US and around the world.
"HIV/AIDS has been around for over 30 years but sadly the stigma against it still remains strong around the world. The stigma is fueled by a lack of education about HIV," she said in Nairobi yesterday.
"Stigma and lack of education are the reasons the spread of the virus continues as people fear to get tested, disclose they are HIV positive and seek or adhere to treatment. Stigma keeps people in the dark about their personal health. HIV is just a virus and should not define who people are. I take one pill a day that keeps the doctor away," she said.
As part of her activities in minimising stigma and misinformation about the virus, she will meet and engage Kenyans who joined her online HIV support group.
Her itinerary will also see her visit various parts of Kenya, Uganda and Tanzania to speak out and distribute flyers to connect those who are HIV positive or have questions, to a safe place where they can be empowered and educated about HIV.
On Valentine's Day, she was at Nageya Children Home & School in Mathare informal settlement in Nairobi, engaging the orphaned children living with the virus with a message of hope. She also donated funds to rebuild a section of the facility that was burnt down last month.
Lexi recently helped persuade a 9-year old child in Nairobi to resume taking her HIV medications and regain hope, through a video and phone call from the US.
While growing up, the activist struggled to remain strong amid harrowing discrimination especially in school where classmates not only avoided her but heaped taunts and insults on her because of HIV.
Despite the odds, she came to accept herself as a worthy human being regardless of having HIV. She went on to graduate from University of Phoenix with a bachelors in Human Services and is now working as a traveling HIV Care Specialist.
"People with HIV need to seek treatment without fear, since doing so would reduce the virus to undetectable levels, enabling them to live normal lives including dating, marrying and having children," she said.
Lexi runs an online support programme for HIV positive people, where they meet, share information and enhance self-love and confidence to overcome the stigma surrounding them.
She is available for free consultation online. She also offers one-on-one guidance through messaging, Skype/Face-time calls or through the phone to persons across the world.
She also has a popular YouTube channel where she challenges myths and stigma about HIV and spreads awareness about the condition.
The World Health Organization cites fear of stigma and discrimination as the main reason why people are reluctant to get tested, disclose their HIV status and take antiretroviral drugs.
An estimated 1.6 million people are living with HIV in Kenya. Every year an average of 89,000 adults and about 11,000 children in Kenya contract HIV. There are roughly 11,000 AIDS-related deaths each year, a quarter of which are children.
Related Topics