Home
/
Health & Science
Understanding deep vein thrombosis
Health & ScienceBy Rose Mukonyo | Mon,Nov 08 2021 00:00:00 UTC | 3 min read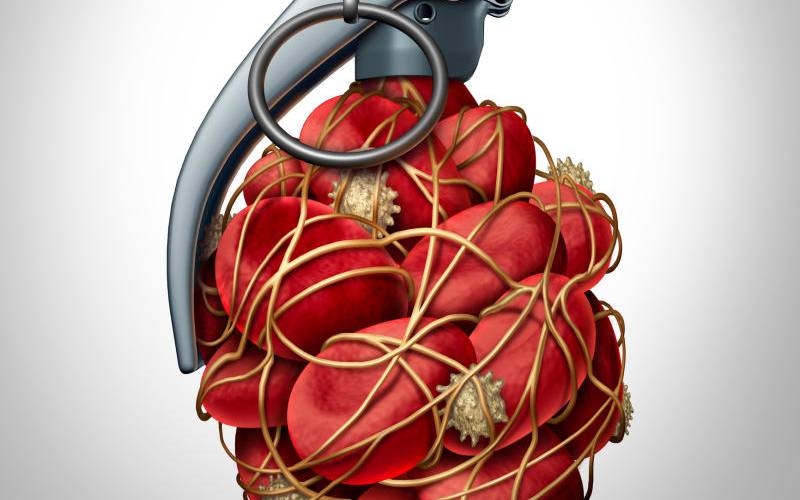 David Mutinda, 34, almost died from thrombosis after he was involved in a road accident. Thrombosis is a blood clot in the veins or arteries. The accident broke his femur (thigh bone) and he bled for a long time before rescuers took him to hospital.
Mutinda underwent surgery to fix his limb but later his oxygen saturation dropped so fast that "I couldn't breathe well, my skin colour was changing and I had to be put on oxygen immediately". A CT scan revealed he had blood clots in his lungs, which an expert referred to as a pulmonary embolism.
Dr Henry Ddungu, a haematology consultant at Uganda Cancer Institute in Kampala, explains that there is deep vein thrombosis, which occurs in the lower leg or thigh, but can also occur in the groin or arms, then there is pulmonary embolism, which occurs "if the blood clot in the deep vein breaks off and travels through the bloodstream, to an artery in the lungs and blocks blood flow."
This is what happened to Mutinda. The blood clots in the lungs caused difficulty in breathing. He was later put on blood thinners for three months to help clear the clot.
"They used to inject me for the first two weeks after the diagnosis and kept monitoring my pulse rate. After I was discharged from the hospital about a month later, I was put on oral blood thinners," he said.
Dr Ngami Mutwa, a physician at Machakos Level 5 Hospital, says a blood clot presents itself as pain in the lower limb or one swollen limb.
The doctor probes whether the patient has travelled for long hours in the recent past, had surgery, been bedridden for long, had a fracture or if they are on oral contraceptive pills. Breathing difficulties, says Dr Mutwa, may be an indication of pulmonary embolism which is a life-threatening condition requiring immediate medical attention.
"There are people you hear have just collapsed, it is because if the blood clot was massive, it went and blocked the whole lung vessel and one can easily die," he says, singling low blood pressure as the other indicator.
According to Dr Ddungu, genetics can predispose some people to thrombosis, and others at risk include "those who are overweight, one who has been pregnant or is pregnant, one who is on hormone replacement therapy, and people who smoke or if one has cancer."
Treatment, the doctor says, will depend on the cause of the blood clot and includes blood-thinning medication to break up the clots and prevent new ones from forming.
However, Dr Mutwa warns that a patient on a blood thinner should be well monitored to ensure the blood is not too thin and medication should be administered according to the cause of the blood clot.
Most medications last for three months if the cause was due to injury or surgery but may take longer if caused by cancer. Blood clots from genetics may mean being on blood thinners indefinitely.
Late diagnosis leads to a post-thrombotic syndrome where one's leg will always remain swollen, painful and sometimes cause terrible wounds.
The best way to prevent blood clots, advises Dr Mutwa, is to avoid staying in one position for long, check the pulse rate or any swelling in the legs.
Related Topics